Top 5 Content Marketing Strategies For B2B Businesses in 2014
DCI
It is an oft stated fact that having a solid, well-planned content marketing strategy is vital to both B2B and B2C companies. However, it is only recently that B2B companies have begun to realize the importance of a properly documented content strategy. According to the annual report, "B2B Content Marketing: 2014 Benchmarks, Budgets, and Trends—North America", by the Content Marketing Institute (CMI), 93% of B2B companies use content marketing and 42% considered themselves confident and competent in running successful content marketing campaigns.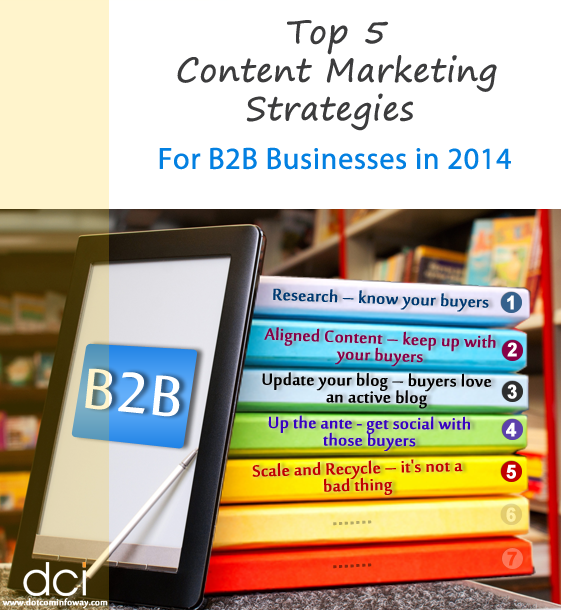 The conclusions drawn from the study imply that as B2B companies gain a better perspective on content marketing, the need to have a solid content marketing plan becomes imperative for businesses that intend to stand out from the competition.
So, what exactly is a content marketing strategy?
A strategy involves meticulous planning and decisions about the kind of audience you are targeting, the kind of content that your target audience would benefit from and the modes of content dissemination that will ensure that the content is channeled effectively to the audience. When your target audience is a business that you are planning to convert into a sustainable lead, you need to make sure that your content draws them in and keeps them engaged right from the lead generation through to the lead nurturing phases of the cycle.
Here are five of the top content marketing strategies that B2B businesses can employ:
Research – know your buyers:
Before you begin to populate your blog with content or start sending out those newsletters, you should remember that in a B2B sale, it's not an individual that you're targeting, but a group of individuals, each with their own role within a business. Therefore, identify the personas in a business that are likely to influence the sales decisions at every stage of the buying cycle. Targeting the right roles within a business is a first step to gaining a prospective lead's trust in your brand.
Aligned Content – keep up with your buyers:
A well-defined content strategy should ensure that your content marketing tactics closely follow your prospective buyer's path towards a successful deal. Right from creating brand awareness, generating interest, and sealing the final purchase, B2B companies need to ensure that their content fulfills the needs of their buyers at each point in the buying cycle. This means that before you start creating and promoting your content, it is important to ensure that your content is answering all the questions your buyer personas might be having at that stage, and your content will actually reach them through the right channels.
Update your blog – buyers love an active blog:
The study published by the Content Marketing Institute states that blogging is one of the 13 tactics employed by 76% of companies. Another study postulates that B2B companies that updated their blogs generated 67% more leads than those that did not. Having a blog for your business is a step in the right direction to drawing visitors to your website. However, in order to be able to retain your customer base, it becomes a necessity to keep the content in your blog fresh and engaging. A blog that is not frequently updated is tantamount to not having a blog on your website. Scheduling regular updates to your blog gives prospective leads an idea of your expertise in the field, and in most cases results in successful conversions.
Up the ante – get social with those buyers:
Social media has emerged as the top content dissemination tactic over the last year, with 87% of companies putting themselves out on multiple social platforms with an aim to connect with prospective customers. The key to a cohesive social media content strategy is to ascertain which social channels work best with your target audience and using those channels to promote your content effectively. It is also vital to remember that the way you promote the content on these social channels is just as, if not more, important than the content itself.
Scale and Recycle – it's not a bad thing:
According to CMI's survey, some of the major challenges faced by B2B content marketers are the ability to produce fresh, engaging content and to churn them out on a regular basis. 69% of B2B companies have also cited a lack of time as the major challenge faced over the last year. However, it is possible to keep your content engaging by recycling or repackaging previously put out content in different ways. For instance, you can re-use the contents from an e-book and recycle them into separate articles or blog posts. Multiple posts centered around a certain theme can be consolidated into a longer format like a white paper or e-book.
There is no surefire guide to building an effective content strategy. Some strategies and tactics will work, while others will not. However, as long as you have the essentials down and stick to them, you could be well on your way to snagging that perfect deal.