Top 5 Must Have iPad Apps
DCI
Over the past two months we are dumped with iPad rumors, official announcements and finally we got it on our hands. So the long time wait to reveal iPad, probably the most anticipated gadget of this year is over and its out in wild. In response to iPad's impact on gadget industry, popular application developers and designers marched to grow with iPad's success and over the past few days we had watched an increase in number of iPad apps from few tens to 2000. According to Apple around 300,000 iPad's are sold on the day of launch and the sales has resulted in download of 1 million apps on the first day itself. There are plenty of iPad apps surfacing in iTunes store and initially it would be tough for us to pick out the best. So here are our five must have iPad apps which takes iPad experience to a step ahead.
Kindle is one of the best gadget for ebook reading created by Amazon. Some say iPad a Kindle killer, but actually its not. The perspective and features of Kindle is totally different from what is offered by Apple in iPad. However, Kindle app for iPad has brought cheers to many Kindle users who had purchased iPad. The Kindle app comes with visual page swipes and book cover navigation view to give a feel of reading a virtual book. If you are a book lover, just go for it.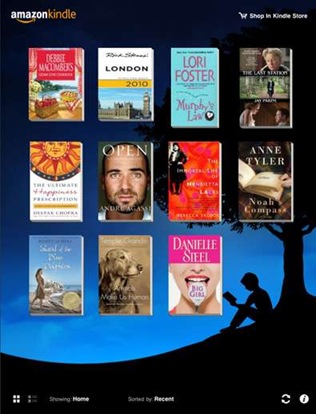 Kindle iPad App
Price: Free
Are you a racing game freak, looking to utilize iPad as a gaming device, then this must be the app for you. Asphalt is one of the popular games available on mobile platform and now its on iPad. This is one of the awesome racing game ever made for iPad with HD graphics and audio. This app proves iPad is not just a tablet PC, but also a gaming device. So just tab, touch and tilt the iPad to drive the car and this app would really iPad a true gaming device.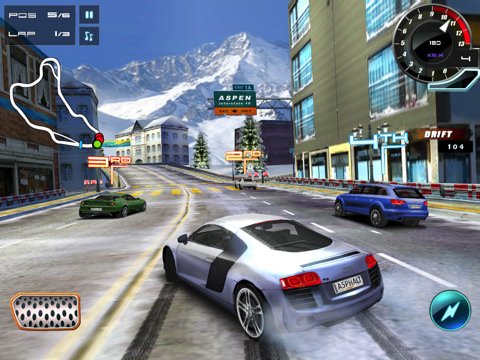 Asphalt5 iPad App
Price: $6.99
WordPress recently came with an announcement of their WordPress iPad app. This move would really help to blogger to get connected to their blog using their iPad. The app was excellently designed to fit into the screen which makes editing and publishing content easier from your iPad. This app supports both WordPress.com and self hosted blogs which runs on WordPress 2.9.2 or higher. There are some disadvantages with this app, but overall its a must have app for bloggers to stay connected using their iPad.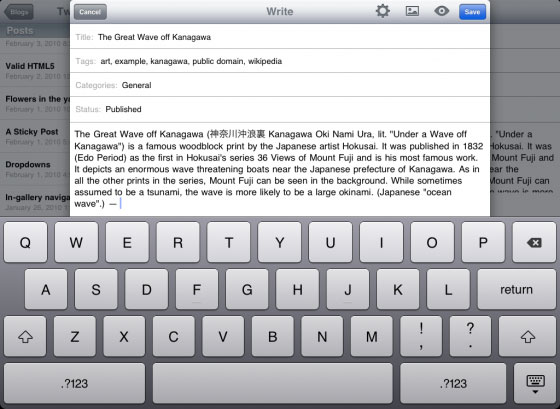 WordPress iPad App
Price: Free
Twitterrific one of the popular Twitter client for iPhone, Mac and now its also available for iPad. There are many Twitter client available over the iTunes, but nothing seems to stand with Twitterrific. Its because of its easy to use interface and elegant design. So talking about their iPad app, it comes out in two variants. Add supported free version, which can support a single twitter account and the other a paid version which removes ads and lets you to add multiple twitter accounts. It all under a price tag of $5.00. Its really a cool app to manage your Twitter account.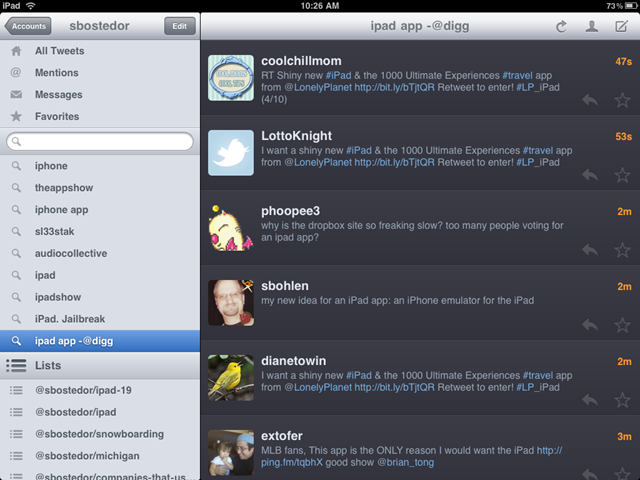 Twitterific iPad App
Price: Free and paid version for $4.99
Desktop connect lets you to connect your PC or Mac to your iPad. This app lets you to access your computer over the web and good things is, it supports Windows, Mac and Linux operating system. Desktop connect also lets you to open programs and perform any task right from your iPad. So this app will surely make your iPad a true personal computer.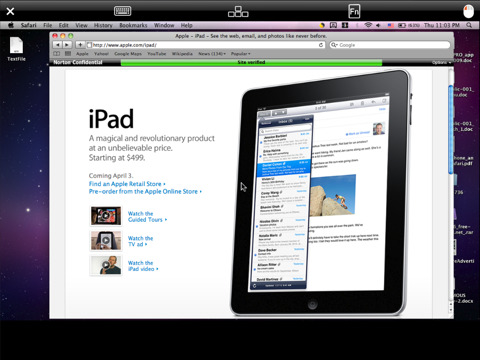 Desktop Connect iPad App
Price: $11.99
Dot Com Infoway is an iPad application developer with many popular apps to its credit. To know more about our iPad services, visit our  iPad app development page