Top 5 Things to Consider while Designing a New Website
DCI
This article is a continuation of 'Top 5 Web Design Trends to Watch Out For in 2013'. In this article, we are going to look at 5 more web design trends that are popular in 2013.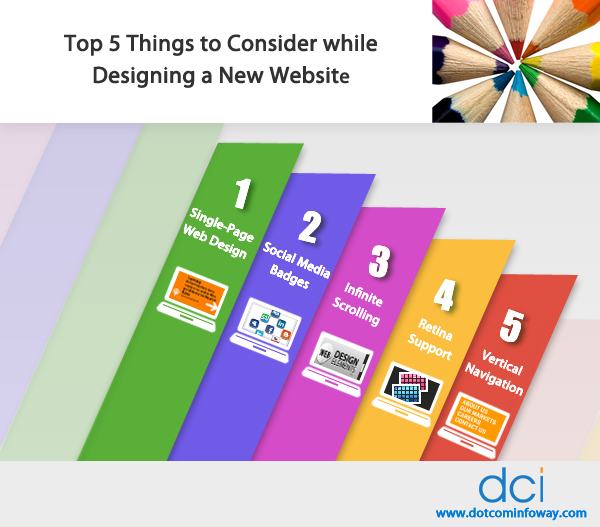 Single-Page Web Design
Although single-page websites have been around ever since people started designing websites, over the past few years, designers have been utilizing this type of design. In this type of design, the content is split up using horizontal containers. Another important aspect of a good single-page design is that the navigation bar remains fixed at the top of your browser window as you scroll down the website.
Social Media Badges
If you have a website, you must be aware of the crucial role played by social media in promoting your website. Social media and viral marketing have become very important marketing tools for website owners. By placing social media badges on your site, you make it easy for your readers to share your content in social sites such as Facebook, Twitter, Google+, and LinkedIn.
Infinite Scrolling
Infinite scrolling has gained popularity in recent times. This trend is expected to remain intact for the foreseeable future. Pinterest is a good example of how the infinite scrolling technique can produce a beautiful layout. With a close look at Pinterest, you will notice that the page will continue to load as you scroll down.
Another great example of the infinite scrolling technique is seen in Tumblr. In this website, you can blog as well as reblog posts of people whom you follow. When you log in to the site, all the recent posts will scroll down infinitely. It is however important to note that this technique will not work well with all website layouts.
Retina Support
Retina screens are twice as dense as ordinary LCD screens. With the increase in the number of people using retina devices, there has been a corresponding increase in the number of designs that match these devices. Apple was the first company to employ the retina screen display in the iPhone 4 and later on in the Macbook and iPad.
Vertical Navigation
Vertical navigation, when implemented properly, can result in a stylish and aesthetic design. This technique involves displaying the main navigation menu on either side of the site. This system of navigation allows the menu items to be categorized in a vertical structure that can be expanded or collapsed. It is ideal for websites that have a large number of menu links.
Web design has come a long way and these trends are likely to persist over the coming years. A web designer needs to stay abreast of the changing trends in the industry because what is relevant today may not be so, tomorrow.