Top 5 Tips for Creating Unique Content For Your Website
DCI
There is a skill to writing great, unique original content. However, the best content is content that is effective in many ways. This includes content that increases your SEO ranking, increases traffic and generates leads as well as content the builds customer engagement and it is one of the best internet marketing strategies. Below are five great tips for creating unique content for your website.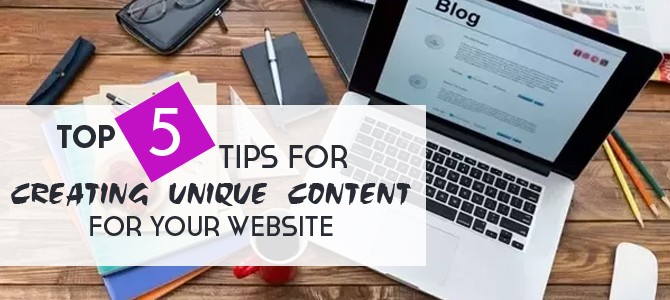 Start by Creating Original, Unique Stories
We've all heard the phrase "there's nothing new under the sun" which means that everything tends to repeat itself. However, when it comes to writing content, one of the things that make your content stand out from the crowd is your specific story. No one can tell your story like you can. Part of storytelling helps build your brand. Expounding on or rehashing similar industry based concepts may be unavoidable at times within, as many ideas tend to overlap. However, when it comes to your own personal experiences combined with relevant keywords, not only do you have original content but you can easily be found on popular search engines.
Becoming sensitive to the relevant keywords may also allow you to write content in response to inquiries in a unique and relevant way.
Capture Your Audience's Attention With a Strong Headline
Nothing catches the attention of your audience like a good, strong headline. Taking the time to create one can lure in your targeted audience and provide you with more readers.
Provide Useful, Relevant Answers
When web users visit your site, it is usually to perform research or to gain information about a product or service that they're interested in purchasing. Putting users at ease by providing them with all the answers they need also makes good quality content. You can do this by getting a sense for the keywords that are often used in your industry. This will determine what users are seeking and are in need of. Alternatively, you can also have a frequently asked questions section whereby you can allow your users the opportunity to ask questions directly.
Become the go to site for Resources
Nothing makes a user continue to revisit a website like valuable resources. If you provide your users with free valuable resources they will continue to return to your site.
Add Relevant Visual Content to Your Site
Adding relevant visual content to your site is a great way to show originality. Visual content such as images and videos is one way to better tell your story. Visual aids have been responsible for helping people learn and retain information. The use of diagrams, pictures, infographics, and other visuals can tremendously help illustrate the point that you were trying to bring across.
It may be a bit challenging to continue to write great original content. But the more plugged in you are to your industry, and the more you interact with your customers the more experience you gain and the more unique stories you'll have to tell. That way keeping it original and unique is a lot more simplified.