Top 6 Steps to Build Your Business on Instagram – Part I
DCI
Instagram being an image and video sharing platform, allows businesses to get creative with their social networking: right from showcasing products to engaging their customers with visual, yet relevant, treats. Businesses can tap into the potential that this platform offers by tailoring their profile and their content in the right way. Here is the first part of a two-part series on steps that businesses can follow to capitalize on Instagram's capabilities.
1. Get that profile right:
Your profile is the first step towards building a strong presence on Instagram.
Choose your username carefully – ideally, keep it the same as that of your Twitter handle. This makes it easier for you to cross-post your pictures to Twitter and for your Twitter followers to find you.
Your biography defines you – Those 150 characters next to your username can make a significant impact in defining your business's purpose.
That URL is important – As Instagram doesn't support direct linking in its posts, don't forget to add a link to your company's website.
The profile picture counts, too – Upload your company's logo as your Instagram profile picture.
The Statistics in below image will explain why you should start Branding your Business on Instagram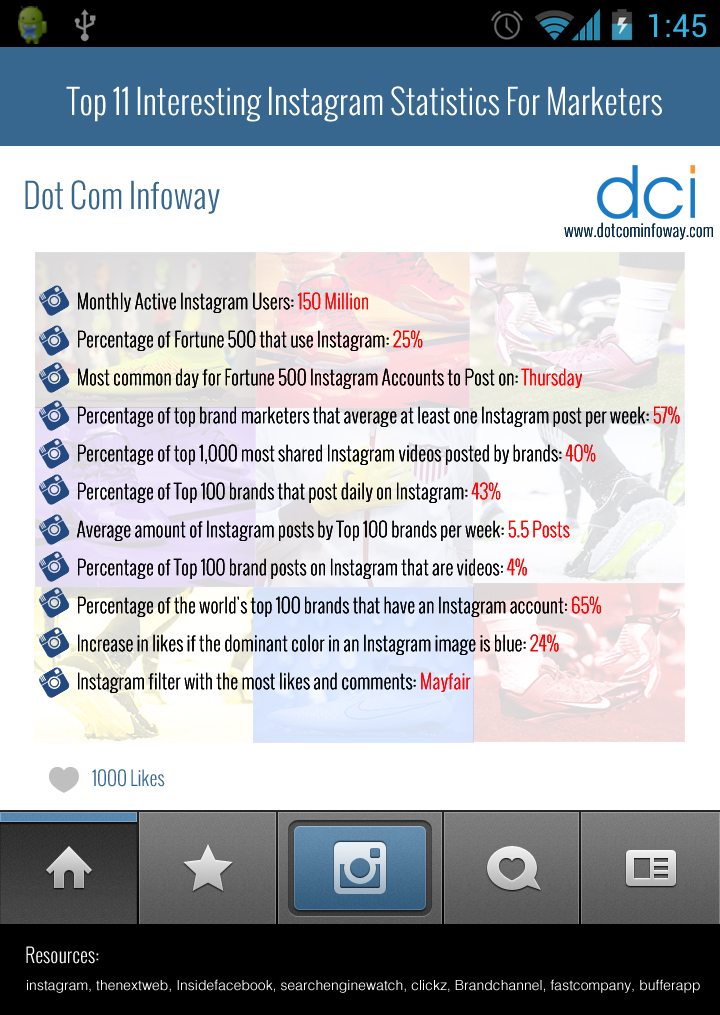 2. Pictures really are worth a thousand words… and maybe more:
Now comes the tricky, yet fun part! Your posts. Before you start playing around with Instagram's filters, plan! Decide how your Instagram profile is going to make you stand out from your peers. Here are some simple tips you can follow:
Let your pictures do the talking – Post images that promote your brand's vision and purpose: right from pictures that present a simple image of your products to pictures of people using your products.
Build a window into your world – Post images that offer customers a glimpse to what goes on behind the scenes. Photographs of your office interiors and your employees' workstations can give your customers an idea of the trust and value that your brand places on the people that work for it.
Strike a balance – Instagram is all about the visual, so it's an excellent platform for you to let your followers get a glimpse of your brand's fun and serious sides at once. Striking a balance between pictures that are related to your products to random images that are thought provoking or funny can keep your followers coming back for more.
Filters – Yes, Instagram has lots of cool filters that you can apply to your images to jazz them up. But, use them judiciously. Remember, you're trying to sell a brand, not a personal image. Filter-less images lend a sense of authenticity to your brand. As stated before, striking a good balance between the serious and the whimsy is ideal.
3. Instagram Ads
Instagram introduced Ads in November 2013 to enable businesses to gain a wider target audience through their Instagram content. Four successful ad campaigns with Ben & Jerry's and Levi's have proved to be promising in terms of reach and awareness. Businesses will be able to get their content featured on users' feeds, the content being tailored according to the users' preferences.
In the next part, we will cover three more ways in which brands can capitalize on Instagram's features to grow their business.