Top 6 Steps to Build Your Business on Instagram – Part 2
DCI
In our previous post, we discussed three of six ways in which Instagram can be an effective tool for businesses to broaden their reach. Let's look at the final three ways below: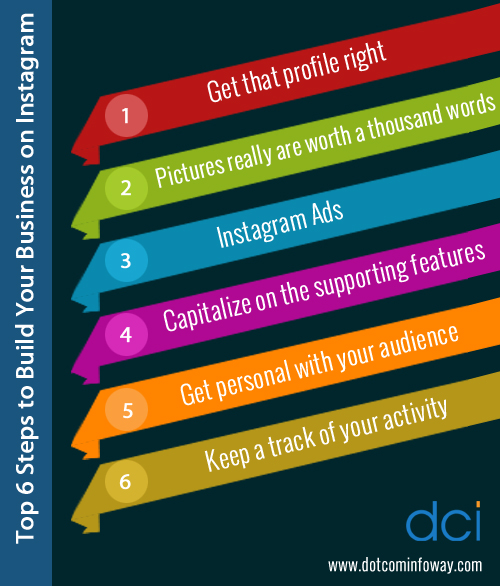 4. Capitalize on the supporting features:
Caption this – Add a caption to your images. The caption on an image can serve as a conversation starter. Questions or thoughts accompanying your images are an effective way to get those comments flowing in.
#HashtagsFTW – Include popular hashtags related to your business in your posts to make it easier for people tracking those tags to make their way onto your brand page. You can also use your own hashtags and encourage your followers to use those hashtags in their images. You can also capitalize on the oft-trending hashtags like #latergram and #throwbackthursday with your images.
Instagram Direct – Instagram recently launched Instagram Direct which allows users to send images directly to a follower or a group of followers. Instagram Direct can strengthen the relationships between businesses and customers, allowing them to interact directly with each other through this platform.
Sync those posts – Connecting your Twitter and Facebook accounts with Instagram will let you cross-post your images to these platforms. This would lead your fans and followers on those social networks to your Instagram page.
Instagram Video – Videos, like images, are a powerful visual media. Intersperse your image posts with videos such as promotional videos, interviews with customers, video contests and product sneak-peeks.
5. Get personal with your audience:
Track your feeds – Make it a point to go through posts that mention or tag your business or posts that are hashtagged with tags relevant to your business. Like or comment on posts to encourage your customers to interact with you.
Shout-outs – A customer's endorsement is sometimes more effective than a well-planned sales pitch. Feature customers using your product or offers in your posts. This will give your followers a taste of your brand's experience, while simultaneously showing an appreciation to the featured customers.
Hold a photo-contest – Hosting a photo-contest is an effective way of boosting your brand's visibility. Encourage your followers to post their photos using a unique hashtag for the contest. Promoting the contests on linked social accounts like Facebook or Twitter will draw more participants into the contest. Submissions to the contest can also be tracked into a feed on your website.
6. Keep a track of your activity
One of the major challenges of growing a presence on a social network is keeping track of the account activity. With Instagram, there is the added challenge of tracking the account outside the confines of a mobile device. The features on the web version of Instagram are limited to tracking your feed and liking/commenting on posts. To overcome these challenges, you can make use of tools that offer a wider range of features to enable users to track their activity with ease. Popular tools include Statigram, Ink361 and Followgram.
Recent surveys have revealed that Instagram has a bigger user-base than Twitter, with more than half of the users on the latter being active on Instagram. As the platform continues to see a steady growth in its numbers, brands will become increasingly aware of its potential to boost their marketing outreach.