Top 6 Tips to Get Your Content Shared
DCI
Getting your content shared is essential for anyone engaged in online marketing of any kind. Going "viral" is the goal, but it's harder to achieve than you might realize. Truth be told, there's no golden rule, no magic bullet, that guarantees your content will go viral. In fact, most marketing experts have no idea why one post goes viral when another doesn't achieve that critical mass. However, while viral spread might be the Holy Grail of online marketing, creating content that get shared is more important. You might never attain "viral" status, but good content that's shared a lot can do wonders for your online efforts nonetheless. How do you ensure that your content gets shared? Here are the top six tips to make sure it does.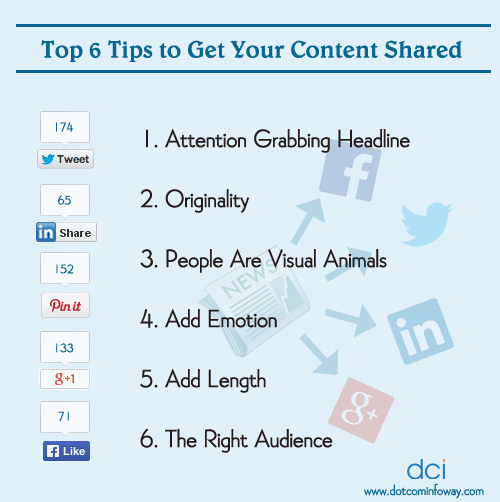 1. Attention Grabbing Headline
One of the most important rules for creating shareable content is to create a compelling, attention-grabbing headline. You don't need to go overboard, of course, but good headlines all have a few things in common. They promise something readers want, they include numbers to let readers know what to expect, or they ask questions to incite interest. They also promise to deliver information on how to achieve a goal.
2. Originality
There's a lot to be said for being original, and that includes putting original content out there for your followers to share. Of course, "there's nothing new under the sun", but you can still add your own unique take, voice or spin to the conversation.
3. People Are Visual Animals
Humans are hardwired as visual animals. Turn that to your advantage by combining graphics with your text content. The more visually appealing or stimulating your content is, the more likely it is that your audience will share it.
4. Add Emotion
In addition to being visual animals, we're also emotional creatures, and when content touches our emotions, we're very likely to share that with others. If you can bring emotion to your content, you'll find your audience is much more likely to share it.
5. Add Length
Conventional wisdom says that today's online audience is essentially geared for ultra-short posts and snippets. While there's some truth to that, you'll find that longer posts can also perform very well, so long as they have something of value to offer readers. Bring the value and you'll find your content is shared regardless of length.
6. The Right Audience
The final tip has less to do with your content than it does with your targeting methods. Make sure you're targeting the right audience with your content. Even the best content in the world will fall flat if it's shared with the wrong audience. Make sure you're putting your content in front of the right followers.
Creating shareable content isn't that difficult as long as you follow a few simple rules. The most important rule of all is to keep sharing – the more content you put out there, the more there is for your audience to share.