US President Obama Joins Google+
DCI
Barack Obama, President of the United States has launched a Google+ page to strengthen his social media participation.
As he knows the influence of social media, Obama used sites like Facebook and Twitter during the 2008 presidential campaign. Particularly YouTube has saved him many millions of dollars on TV advertising costs. As a part of his 2012 presidential campaign, Obama has entered Google+ which has more than 40 million users.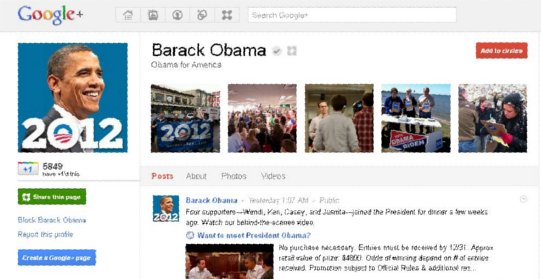 "Welcome to the Obama 2012 Google+ page," posted a member of Obama's campaign. "We're still kicking the tires and figuring this out, so let us know what you'd like to see here and your ideas for how we can use this space to help you stay connected to the campaign." This verified account was created only a couple of days ago and has gained more than 5,800 +1's.
Obama already has 24 million fans on Facebook and 11.2 million followers on Twitter.
Dot Com Infoway helps clients market their products/services through cost-effective Internet Marketing and Social Media Marketing solutions. To get a free quote for these services, contact us.