We are an official Google Certified Partner!
DCI
We are proud to announce that as of today Dot Com Infoway (DCI) is a Google AdWords Certified Partner! This certification recognizes our expertise in creating and operating AdWords, Google's online advertising and pay-per-click (PPC) system, and reaffirms the quality of work we have been providing advertisers with, over the years. It also reinforces our position as a leader in paid search marketing services, and our skill in meeting the demands of the dynamic market.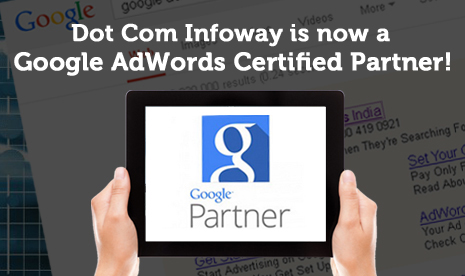 To earn this distinction, we have gone through hours of training, proved our expertise by meeting the budget requirements of our clients' PPC accounts, and passed rigorous exams which demonstrate an in-depth knowledge of Adwords.
As online advertising consumes an increasingly larger percentage of companies' total ad spend, programs like AdWords have become an essential component of the marketing budget. More companies are looking to certified AdWords partners to maximize their online marketing success, and we are pleased to be able to share our expertise as a certified Google partner.
By gaining this certification, we now join an exclusive group of marketing professionals who manage AdWords accounts for clients of all sizes. We offer complete campaigns with detailed performance management, keyword optimization, A/B split tests, bid management, ad copy creation, display marketing, re-marketing, and conversion guidance through a detailed audit report.
Contact us to know more about our pay-per-click services, or if you would like to see how a Google AdWords campaign could help your company. We can compile a report that details the amount of traffic you could expect from a campaign, based on different levels of ad spend.