White Paper on "How to Plan for a Successful App Launch"
DCI
Dot Com Infoway (DCI), has released its third white paper, "How to Plan for a Successful App Launch". The paper shares valuable insights into some of the most important life cycle stages in the process of creating successful mobile applications.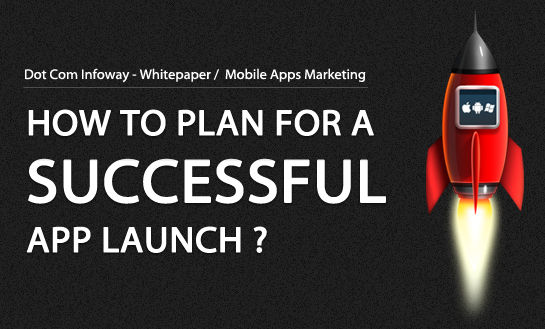 How to Plan for a Successful App Launch is a must read for developers and software development companies who wish to achieve success. How To Plan For a Successful App Launch also takes readers past the initial 'groundwork' stage – 'groundwork' stage – taking the time to thoroughly examine ways in which developers can set their apps apart from the pack, and generate the type of momentum and excitement that is needed for an app to go viral. The paper was composed by a DCI's team of expert analysts, and bolstered by unique, engaging, and informative info-graphics.
The paper clearly explains that the app market has no saturation point in the near future. It describes the various key aspects of marketing for the app. Beginning with the fundamentals, it explains the need to have a good brand name for an app and find a perfect place in the market. Descriptions, screen shots, reviews and videos can be of more help than words to generate hype for the app. The paper also talks about the mistakes to be avoided, the importance of customers and the other trivial aspects that are to be considered.
We all know, by now, that there is enormous potential within the mobile app marketplace – but with enormous potential comes hazards. Given our experience in this space – and our expertise, which we've arrived at by working with developers all over the world – we are happy to share some of our insights. It's important, to us, to support the ever-expanding community of developers and development companies. We know, from experience, what they sometimes do not: which is that to truly succeed it takes more than a good product. It calls for specialized attention to every last detail throughout the marketing process – from initial idea to post-launch review.
The most common and easily-avoidable mistakes that developers make are highlighted in the paper. The white paper "How to Plan for a Successful App Launch", throws light on the 'The No. 1 key' which is choosing the right mobile app marketer to give an app the perfect launch.
The white paper can be downloaded here