Why Discord Marketing? Infographic With Proven Statistics Of Discord
Venkatesh C.R
For a platform that was once made to make communication (and life) easy for gamers, Discord has certainly come a long way. In the US alone, it receives hundreds of millions of users monthly – enough to turn the eyes of every digital marketing agency out there.
Make no mistake, Discord is still a modern gamer's paradise. It's just that it's beginning to shed its "social media for gamers only" reputation, as evidenced by its rise as an all-around streaming and communications platform that can serve everyone. 
Without a doubt, it needed to undergo that evolution to make Discord marketing not only viable but actually favored by marketers in the same vein as social media marketing. And, evolve it did, despite the bumps and hurdles it encountered along the way. 
It turned into a platform where individuals and groups with special interests can build communities and maintain connections conveniently. It didn't take long for it to become a treasure trove for every mobile app marketing agency, in short. 
Indeed, now's the ripe time to start marketing on Discord. If you're still having doubts or are still unclear about the nothing short of the explosive growth of this platform in this regard, then let this infographic dispel any lingering cloud of uncertainty once and for all.
By so doing, you'll also gain valuable insights on how to hone your Discord marketing strategy based on your goals, whether it's maximizing reach, boosting mobile app user engagement, maintaining communication, and building a dedicated community, to cite a few.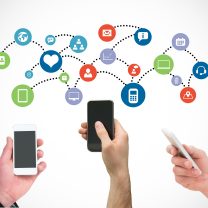 More Effective Connection With Your Audience
By relying on our Discord promotion services, you can get your brand name to spread via your community. Reaching out to us is the simplest way to upgrade your business class right now.
---
What Is Discord?
A Platform for community administration & messaging. A Voice Over Internet Protocol Chat Platform allows registered users to connect with the other members of the servers via text chat, voice chat, and video conference.
Age Limit
Above 13 Years Only Allowed
Mapping the Growth of Discord
Average Monthly Active Users
2019 – 56 Million

2020 – 100 Million

2021 – 140 Million

2022 – 150 Million
Discord Registered Users
2019 – 250 Million

2020 – 300 Million

2021 – 350 Million

2022 – 390 Million
Average Monthly Usage
United States – 4 Hours 67 Minutes
Discord Ranking Positions on App Store's Social Networking Category
| | | | |
| --- | --- | --- | --- |
| Device | United States | United Kingdom | Japan |
| iPhone | 4th Place | 5th Place | 5th Place |
| Ipad | 2nd Place | 5th Place | 2nd Place |
Top Countries Using Discord – Based on Monthly Traffic
US – 228.8 Million Visits

Brazil – 19.1 Million Visits

France – 17.8 Million Visits

UK – 16.9 Million Visits

Germany – 14.8 Million Visits
Tell-Tale Signs Based on Server Statistics
Active Discord Servers
2019 – 4.4 Million

2020 – 6.7 Million

2021 – 13.5 Million

2022 – 19 Million
Server Join-Up Limitations
Without Nitro Subscription – 100 Servers
With Nitro Subscription – 200 Servers
Largest Servers in Discord
Fortnite – 845,000 members
Roblox – 790,000 members
MrBeast – 765,000 members
Engaged Community With Discord Marketing
Proven Tips For Discord Marketing
Encourage the user's own content

Connect with Influencers

Conduct Live Events

Offer Discounts

Monitor Server Insights
Best Marketing Benefits of Discord
Community Groups 

Promotion Brand Relevant Contents

Quick Response for Customers

Events, Live Streams