A New Study Shows Developers Preference for iOS
DCI
According to the recent study of Flurry, iOS is still ruling the hearts and minds of most app developers.
Mobile Analytics firm Flurry calculated the number of new projects launched by developers on both platforms this past year. This study suggests that new app development projects for iOS has outnumbered those for Android approximately three-to-one in the fourth quarter of the year. It says 73 percent of all new projects were created for iOS, compared with 27 percent for Android.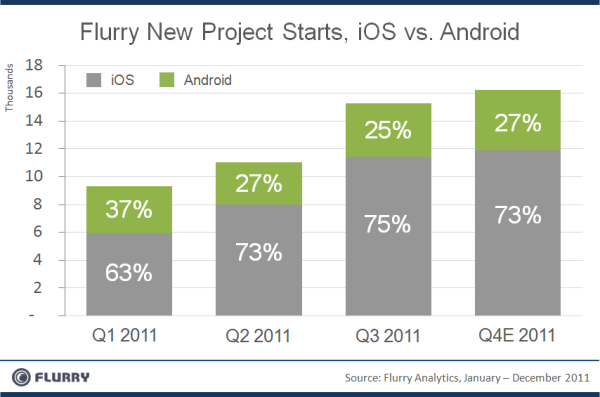 "Over the year, developer support for Android has declined from more than one-third of all new projects, at the beginning of the year, down to roughly one-quarter by the end," Flurry said in the blog post. "While the market nearly doubled for both platforms, we believe key events changed the proportion of support between these two platforms."
Flurry's analytics is used by more than 55,000 developers in more than 135,000 mobile apps.
Dot Com Infoway is an iPhone app development and marketing company with many popular apps to its credit. To know more about our services, visit our iPhone app development page and Mobile apps development page.