Apple Tops Enterprise Activations – A Report
DCI
Good Technology analyzed and released a report recently on mobile devices activated by their enterprise customers over the final quarter of 2011. It stated that Apple dominated the activations in the enterprise for Q4 2011.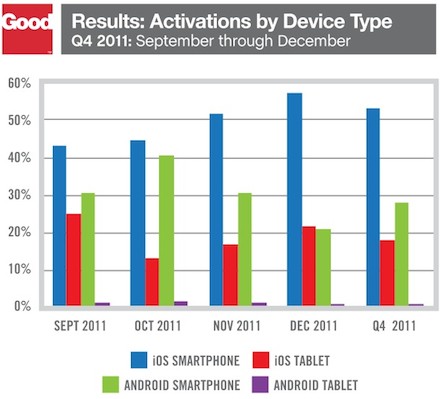 The report took into account the activation of smartphones and tablet devices by many of the Fortune clients. The report revealed that iPhone 4S, iPhone 4 and iPad 2 were the top three products for enterprise activation. 64% of activated smartphones and 94% of tablets in Q4 2011 were Apple iOS devices.
Android accounted for 35% of all smartphone activations and 6% of tablet activations. Samsung Galaxy S II was the top Android device activated in the quarter.This report clearly shows that the enterprise clients prefer Apple products despite Android's gains in the consumer market share.
John Herrema, Good technology's SVP of Corporate Strategy said, "As we expected, iPhone activations slowed in Q3 in anticipation of the iPhone 4S and then jumped significantly immediately after its launch, with 31 percent of Q4 activations coming from that device alone. Android continues to be driven by smartphone activations and we expect to see continued Android growth in 2012 as Good's customers continue to ramp up their BYOD [bring your own device] programs."
Dot Com Infoway is an iPhone app development and marketing company with many popular apps to its credit. To know more about our services, visit our iPhone app development page and Mobile apps development page.