Dot Com Infoway Listed Among Top 15 Web Development Companies
DCI
Research firm SourcingLine has recognized Dot Com Infoway as a leading Web development company, for its high caliber Web application development services. We are proud to have secured a spot among the Top 15 Web development companies in the world.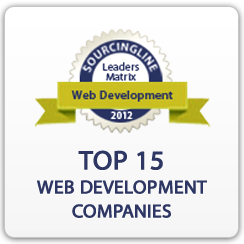 SourcingLine's Leaders Matrix for Web Development Companies ranks top services firms and graphically depicts each developer's areas of focus versus their ability to deliver quality work. Web development companies providing Java, .NET, PHP, Python, Ruby and other development services were analyzed based on quantitative and qualitative factors such as each company's portfolio of past work, client references and overall authority. The companies cover a range of vertical domains from non-profits to gaming, consumer products, retail and government.

We're honored by this recognition, especially considering the stiff competition we had to face. The credit goes to our small but talented team of Web developers who have been able to add significant value to our customers and helped in bolstering their businesses, with their creative Java, .NET, PHP and Ruby on Rails solutions.
DCI has received global recognition from various firms in recent times for its exceptional SEO, Web design and Web development services. This listing by SourcingLine is yet another significant accomplishment under our belt.