Interact With World's Premier Mobile App Company, DCI, exhibitor at GMASA17
DCI
GMASA 2017, the world's most awaited mobile app event is scheduled for 6th and 7th July 2017 at Sheraton Grand Bangalore Hotel at Brigade Gateway. With every passing year, the event has been witnessing more and more attendance and this year is going to be no different. With 2,000+ participants, industry veterans, key executives from top companies such as Google, LinkedIn, Facebook, Microsoft and Twitter, the mega-platform will witness major players in the industry share insights, engage in hot debates over crucial issues affecting the industry, and provide an opportunity for all the people associated with the industry to converge on a single platform.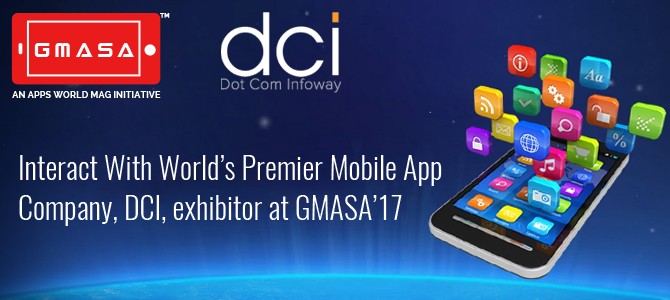 One of the key highlights of the event is the GMASA exhibition that will have leading companies from across the world displaying futuristic technologies and disruptive ideas that would spell the future of the mobile app industry. Dot Com Infoway (DCI), the world's leading IT company and mobile app services provider, would be one of the exhibitors at GMASA17, showcasing ace services provided by the company. Attendees at the event will be able to meet and interact with the key executives at DCI, responsible for launching hundreds of projects for many satisfied clients across the mobile app industry, at stall number: A1.
"GMASA is a global platform that brings together mobile app fraternity from all walks of the industry. It is a great opportunity to meet key stakeholders in the industry, as well as existing and potential clients, at a single place. We are excited to be a part of this key event,"
said Mr. C. R. Venkatesh, CEO & MD of Dot Com Infoway Ltd.
GMASA (Global Mobile App Summit & Awards) is an initiative to bring all the players of the mobile app industry on one platform, providing various members of the value chain an opportunity to interact with each other and build a business network, as well as to recognize major contributions and to foster the startup environment in the industry. The recent event in Jakarta in January 2017 saw stellar participation, and GMASA's popularity amongst the global mobile app industry is only increasing.