Global IT Pioneer Dot Com Infoway Launches Apple Watch App Marketing Services
DCI
As one of the pioneering app developing agencies in India, we are proud to announce the launch of an exciting new service for Apple Watch app developers — the first of its kind in the world. The service is designed for Apple Watch app developers looking for exceptional launch support and campaigns that deliver results.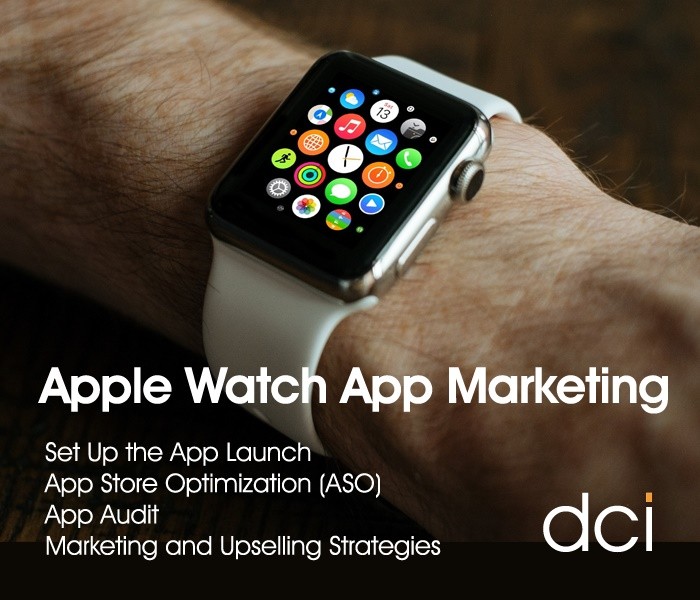 The new DCI services are designed specifically for Apple Watch, bringing the best of DCI's industry experience – experience that spans 15 years and 2,000 projects – to the wearable app market. The wearable electronics market, currently worth about $20 billion, is estimated to value between $70 billion to $80 billion by 2025. And the smartwatch is expected to anchor the wearable market's dash to the summit.
As of Q2 2015, Apple Watch enjoys a whopping 75% market share in smartwatches. Though its dominance is expected to recede in the coming years, it is certain it will remain a huge player in the market.
Dot Com Infoway's service for Apple Watch app developers (which can be accessed here) apprises users of the comprehensive services DCI offers its clients. They include
Building Buzz around Your App
We build on the excitement surrounding the Apple Watch, and create awareness about the wearable app with promotion on multiple channels.
Set Up the App Launch
Expert pre-launch strategic consultation and a full range of marketing vehicles that include press kits, video and ad copy, and media placements.
App Store Optimization (ASO)
Developers can enhance their visibility, ranking and downloads through the ASO metadata, greatly improving the app's chances of being discovered through the app store search. Our developers know the ASO landscape and know how to improve views and downloads with optimized descriptions, keywords, icons and screen shots.
App Audit
A thorough, 360° evaluation of the app to analyze its feasibility with the Apple Watch screen, and provide suggestions on the UI, UX, and overall usability.
Boosting Revenue with Marketing and Upselling Strategies
We seek to ensure that you make optimal returns on investment for your Apple Watch app launch, and we understand the strategies unique to wearables.
"We realized, earlier than many of our competitors, that wearable tech created new opportunities to serve consumers, but app developers and those consumers alike weren't getting the launch and PR buzz they deserved," said C.R. Venkatesh, CEO and managing director at DCI. "With the kind of deep industry expertise that we have, we knew that we were poised to craft the kind of campaigns that really work for the Apple Watch. They create real value for both the products and the developers who deliver them."