Google Chrome Overtakes Internet Explorer for the First Time
DCI
According to recent figures from StatCounter, Google Chrome overtook Microsoft Internet Explorer (IE) as the most popular Web browser in the world for a day on 18 March, 2012. This is because of the strong usage of the browser in India, Brazil and Russia.
The independent website analytics firm StatCounter reported recently that Chrome was the most used browser globally on Sunday, 18 March, 2012. On that day, Chrome gained 32.7% of the market share while its rival Internet Explorer grabbed 32.5%. But later on the next day, IE was back in the lead with 35% whereas Chrome's share slipped to 30%.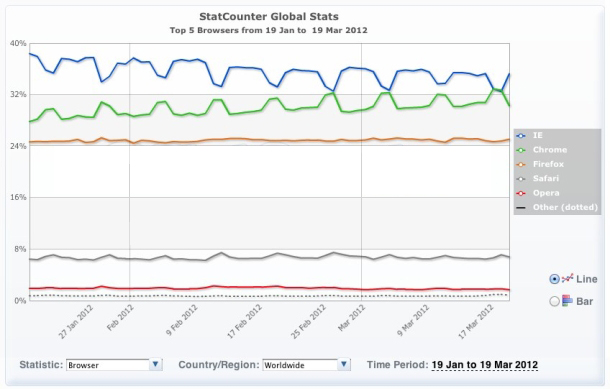 The point to be noted here is Chrome's figures tend to increase during the weekends which might be driven by the home users who prefer to use Chrome rather than IE at home. But during the weekdays, IE figures stay on top, as people might be using IE in their corporate machines.
"While it is only one day, this is a milestone," said Anodhan Cullen, CEO of StatCounter. He added, "Whether Chrome can take the lead in the browser wars in the long term remains to be seen, however the trend towards Chrome usage at weekends is undeniable. At weekends, when people are free to choose what browser to use, many of them are selecting Chrome in preference to Internet Explorer."