Why AI Integration in Mobile Apps Is Essential: The Highlights of AI in Mobile Apps?
Alfred
Artificial Intelligence (AI) is the shiny new object, the state of art creativity and an answer to the pray of every marketer. The latest growth of AI from the backrooms of data science and the arcane halls of academia has been prompted by driverless cars, robots, and stories of drones undertaken by big industries like Tesla, Google, and Amazon. But the growth exceeds the day of reality.
It is a 50 years history of computer and mathematical science experimentation, development, and thought. It has not emerged in a single night. What is exciting about AI is the improved software and platforms, the confluence of large data sets, an emerging cadre of many data scientists hurry to exploit a bigger array of applications, robust and faster processing capabilities.

The prosaic daily uses of machine learning and artificial intelligence will create a bigger difference in brands and lives of consumers than the flashy apps pushed in the press.
Many Smartphones came in existence in the last year have integrated AI in mobile apps and hardware, from Apple's iPhones to Google's Pixel phones to Huawei's Mate line. All these phones utilize AI in all types of clever ways, from photography to imaging, to security, to power efficiency.
All of the major tech companies are involved in AI developments. Those who have not started working on this game are expected to launch Smartphones with special functions soon.
Integrating AI into Smarter Applications:
When it is our thinking that data is moving continuously while changing the context, they consider that the data is sealed somewhere. Today we have come to such a degree where we can take up the machine learning and AI techniques and integrate them into a regular application experience in order to help users to experience smarter applications.
The emergence of artificial intelligence in applications is additionally compared with the Internet of earlier days which began with static web pages when the browser-based tools were not available. Applications are the best ways to interact with the customers. If you are using applications for your business, then you must talk with your technical team to embed AI into it.
In the present time, there are many data scientists and enterprises across the globe have been trying to give additional support to the group of developers that are trying to develop advanced software in order to meet business goals.
Let's Check out the Benefits of AI with Mobile Apps:
1.Helps in Prediction
One can say that after using mobile apps that there are regular notifications regarding discount, products and offers from time to time to draw in the user/customer.
These are an outcome of AI algorithms which use the search history of a client and assume what a client wants to buy. The main motive to develop predictive AI is that it will help to increase the profits of the business.
2. Reasoning
Today, most of the mobile users see their mobile devices as friends, it is time to develop them a reason to enhance the interaction process with it. Developers need to know how applicable inferences can be used to proffer a relevant and reliable answer to a specific circumstance or task.
In iPhone application development, developers can improve reasoning by illustrating suitable inferences to the condition.
3. Problem-Solving
Today, we can't ignore that many mobile users use their devices in order to find solutions to their problems. In order to help users and provide them with the best possible solutions, many mobile app development companies are embedding problem-solving as a facet of AI.
---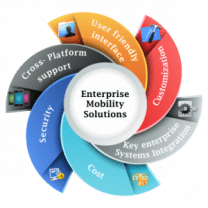 Why AI and IoT Matters a Lot for Exploding Your Enterprise Management Simple and Safe?
50% to 80% of enterprise management processes can be automated with the two rapidly advancing technologies IoT & AI. This article highlights the ways through which AI driven loT is changing business models and processes.
---
4. Personal Profiling
Smartphones have the capability to gather data for personal and behavioral profiling. Users can get assistance and protection dynamically, relying on the activity that is being taken and the condition they are in such as office, vehicle, home or leisure activities.
Various service providers like insurance companies can easily focus on their users instead of the assets. For instance, they will be capable to adjust the motor insurance dependent on driving behaviour.
5. Optimizing the User Experience (UX)
The importance of AI in mobile apps also includes the optimization of user experience. AI in mobile apps automates many of our daily basis tasks. From cab apps to augmented reality (AR), they have existence everywhere. For example, Google lens showing AI helps to make daily task easier.
With it, you just need to point the phone's camera at anything and the application will show the entire relevant information about that thing. This improves the overall user experience.
6. Natural Language Understanding (NLU)
For many of the designers and developers, the AI starts up with the NLU that is termed as Natural Language Understanding where the smart devices can get direct input. Apple's Siri and Google Now are few of the best examples and you can also get many other applications like that.
This is true that mobile app developers had a limited exposure for natural language understanding and conversational computing. Previously, NLU was treated as a costly arrangement with only a couple of organizations knowing to write such apps.
Yet, professionals say that even more, extensive applications could benefit from AI; it may be a retail application which describes merchants regarding the kind of products people want to purchase.
Artificial Intelligence absolutely can't be viewed as a little thing with regard to the development of more intelligent applications and subsequently, the developers are still behind AI which has been offering them the incredible outcomes.
7. AI Helps in Offering Valuable Content to Users
Many mobile applications lose their holding clients as an outcome of the absence of important, exciting and fresh content to draw in the clients. One of the ways of giving the required content is to send the proposals to the clients.
The AI algorithms collect data using the client's behaviour. With the requirements of customers changing day by day, AI will assist in serving clients in a much better way by providing useful content to the users.
Companies that are not using AI will definitely lose something very vital to be successful in the present market.
Conclusion:
Artificial Intelligence and its apps will keep on creating improvement in our daily life, especially via mobile applications. We can definitely expect the upcoming AI systems to function and even include different mobile interplays.