iPhone X and How it impacts the future of Augmented Reality
DCI
Apple's iPhone X (also known as iPhone 10) was expected to introduce the world to more cutting-edge technology compliments of AR and the ARkit. However, fundamental difficulties have left many of the expectations from the iPhone X in a state of lack. Problems with display and optics, as well as, deficiencies in device perception of the surrounding world, are also shortcomings. Another tricky obstacle involves creating hardware small enough to fit in a wearable device.
The challenges are perplexing, however, ground is still being made with the continued advancements in AR technology and Apple's iPhone is still expected to make some splash, however, it's uncertain how big that splash will be. However, the potential is there.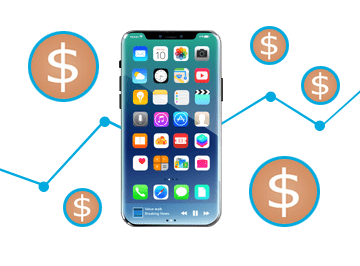 Apple's iPhone X Debut Features
Apple's iPhone X comes full of many racy benefits. Apple's attempt to bring AR into some of the features provided by the iPhone X make it a phone with many capabilities. The TrueDepth camera projects infrared light out into the surroundings to create 3D images. This feature was more than likely influenced by a company that Apple acquired prior to the creation of the iPhone X. TrueDepth is placed on the front of the camera to be used for 3-D face mapping as opposed to the mapping of locations. Animojis is an entertaining iPhone X feature that utilizes face mapping to control the facial expression of emojis. Although the front facing TrueDepth camera has immediate benefits, particularly for FaceID, its impact on AR will not be substantial because improvements in machine learning are moving so quickly that AR won't be necessary.
What are the new features in iPhone X?
TrueDepth Camera/front-facing 3D sensor

A11 Bionic chip with 64-bit architecture

All new 5.8 inch Super Retina screen

Body and face detection

Photo geotagging

Improved local tone mapping

Video geotagging

Video/Body and face detection

Face ID/Enabled by TrueDepth camera for facial recognition

FaceTime video calling over Wi-Fi or cellular

FaceTime audio

Wireless Charging

Calibrated for AR
Will the iPhone X Take Us to new Levels in AR?
The world is poised and waiting to see just how much of an impact Apple's iPhone X will have on AR. Perhaps one of the most impressive features of the iPhone X is its infrared camera capabilities and 4K video support that make it an effective tool for use as a mass market AR device. The iPhone X also boasts the A11 Bionic chip. This smart chip is powered by a neural engine with the capacity to perform up to 600 billion operations per second.
The power of the A11 chip is best displayed in the AR you get to experience in all its different games and apps. In fact, iPhone's games and apps have a more seamless look and feel allowing a more immersive experience as a result of these AR features. Apple is hoping to leave its mark with this new tech trend.
The new iPhone is filled with features that make AR plausible and stimulate thought and imagination among developers.
What is the Impact of Apple's Arkit?
Through the launch of Apple's ARkit, Apple hopes to re-establish dominance through its use of varied frameworks, natural language processing, and combination API's in hopes of creating the largest AR platform in the world. However, these cutting-edge features are not without their own problems. For example, the ARkit only supports plane finding for horizontal surfaces.
Apple's ARkit, although not without its own bugs and growing pains, will still have an impact on the market. Through the ARkit, any iOS user will have access to AR on an everyday basis. Developers will be able to focus on specific applications instead of background technology as a result of the provided tracking. However, Apple's use of AR in the iPhone X may help breathe new life into its dominance in the smartphone universe as well as open up more possibilities and functional uses for AR.
Apple's iPhone X…the Bridge for Future AR
Apple's new iPhone X is the intended blueprint for the future of Apple's new hardware. Apple hopes to mainstream AR with the launch of the iPhone X. Both consumers and businesses will feel the impact that the iPhone X makes with AR. The introduction of the X will mark the beginning of the wave of AR developers that set out to create apps that showcase AR. Apple's rollout of the iPhone X won't be stalled by the fragmentation that was a part of prior launches for iPhone, resulting in more opportunity for mainstreaming AR.
The iPhone X is also projected to encourage many iPhone users to upgrade, which will only help power the mainstreaming of AR. However, other factors will help in this movement;
Headsets and new Hardware will not be required with the iPhone

iPhone X Represents a New Direction Powered by AR instead of Hardware

The absence of fragmentation that impeded previous AR efforts

Developers will be Inspired by the Possibilities of AR through the iPhone X

The iPhone X will stimulate large upgrade cycle
There's no doubt that the iPhone X is going to make an impact on the future prevalence of AR. Apple's AR movement has prompted a shift from hardware and powered a move in the direction of mainstreaming AR. However, the impact may not be felt automatically, instead this movement might be powered by time and development. Developers will be both inspired and encouraged which will be displayed by a plethora of AR that will most assuredly be a part of this wave.
Although many of Apple's developments are not without flaws and bugs, the spark has been planted with the iPhone X. The AR wave will be felt by customers, developers, and enterprises, as the iPhone X becomes a springboard for various different uses and functions for AR. Google's ARkit will allow iOS users to have exposure to AR in their everyday lives, which is a big step toward mainstreaming AR as well. However, its impact will be felt across many industries.
What starts out as a ripple may gain enough traction to become a wave to impact the future of AR for years to come.