How Outsourcing An App Development Can Help You Build A Better Enterprise?
Raja
Starting up an enterprise or a project generally needs working efficiently and quickly. Even though resources are limited, your new venture must provide with convenience, quality, and innovation at any cost, in order to stay ahead of your competitors.
Another vital aspect is hiring an offshore app developer, but you must have the required funds to handle that. We know that it is just an idea that works behind a successful business. There are many young Turks who have outstanding ideas but leave their ideas because of the lack of resources.
For such kind of ventures the best choice to fulfill their dream and that is of 'Outsource development'.

The term is very common and used by various businesses globally, but you would be really amazed to know that some of the top successful start-ups utilize this way to initiate their valuable business.
Mobile App Development: An Expense or Investment?
The drastic increase in the use of mobile phones shows that they are becoming the most trending and vital marketing tool for every business. In order to walk with the competition, it is necessary to be digital, you just need to adopt digital trends, utilizing conventional ways of marketing.
While starting a business, always think like a user not like a businessman. For example, if you were a client, searching for some kind of products or services that your company is providing, which company would be the best fit for your needs and why?
Initially, nobody likes to experiment by using new products. A decent amount of experience is needed in the industry in order to check the reliability of the brand before trying new services of products.
Once the authenticity and reliability have been verified, you required to check whether the selected product or service is as per the latest pattern or outdated. By knowing the mindset of the clients, you require to stay updated with the modern technologies and trends to manage a seamless flow of sales. This assists in developing interaction and engagement with your clients.
Mobile App Development Outsourcing Benefits
There are many benefits to outsourcing app development. Let's check some of them are stated below:
Many new ventures that outsource their app development to a country or 3rd party for a cheaper price call it bootstrapping. Some young businessmen who have nothing to lose even if they outsource their development needs on a shoestring budget.
The penance moderates the burn rate of start-ups expands the runway and give more time to create, analyze and market something like a mobile app.
1. Focus on Your Core Competencies
Do you have an in-house team of mobile app developers or an individual professional app developer? If your answer is no, then there is no mean to waste the valuable time on something you are not familiar with?
It is much better to hire an app developer who can give you the best results according to your business needs. In this way, you can save your time and also there would be no need to learn about the technical aspects. You can invest your time to focus on the other vital things for your business instead.
---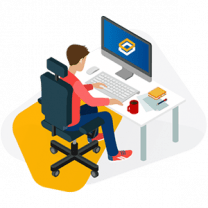 Are You Looking for the Top Offshore Software Developing Expertise?
Our dedicated resources excel in end-to-end web and mobile development. Hire your offshore development team at flexible hiring models to save time and reduce cost over in-house development.
---
2. Faster Time-to-Market
In the present competitive business world, the delivery speed is what counts and matters as well. If you are not able to develop an application within the required timeframe, you would lose your clients. Also, all your work to gather clients for the engagement and interaction would all go in vain.
In another case, if the application is for your company to increase profits and productivity, it would cost very big. Nevertheless, the time you outsource the task to a service provider offering mobile app development services, you would not have to worry.
The team of experts here would ensure you regarding the timeline to complete the work. And without time delays, you would have the app ready at your service. Moreover, professional outsource app development companies tend to take a lesser amount of time to initiate the project. They ensure you to deliver the project before the deadline. It would also offer you additional time to create some changes if required and to test and analyze the application before making it live.
3. Owner of the Project/ You Stay the Boss
Most of the people think that outsourcing mobile app development would leave them in big losses. On the other side, companies or enterprises feel that outsourcing this task to prepare mobile apps, tends they would not have the right authority over the application developed. Definitely, this is wrong.
The companies giving mobile app development services first sign an agreement. This ensures that they would be bound to your needs and can't sell or re-sell your products elsewhere.
In case, if you think that there is an issue in the contract, you can have it resolved. Mobile app development agencies always have a dedicated team of managers and support personnel.
Overall Cost Reduction
It is common for you to stay away from extra charges that could lessen your business profits when you outsource your development needs to other companies. In this way, you can save time, effort and money to hire professionals.
The procedure of hiring can be expensive and also take too much time so we can avoid it by outsourcing. Also hiring an in-house team and giving them huge salary packages would also rid of you spending much.
Well, it is also possible that the new employees hired by you would not be well-versed with new technologies. Also, you would not need to spend a big amount to develop additional infrastructure. So, you can also save all these extra charges.
Maintenance and Support
Mobile app development services are not just about developing an application. There is a lot more work like designing, testing, deployment, promotion, analytics, security measures, platform section and much more. Also, whenever you launch the application people start using it, you have to keep it updated.
Above points state that outsourcing business benefits of mobile app development.
Conclusion
Without proper communication, your customers will not stay for a long with you. Now, with the help of offshore mobile app development companies, you would not lose your precious time and clients over the decreasing traffic towards your business application. It is always a great deal to get help from a team of professionals in order to keep updating the app directly.