How To Implement IoT in Your Business and Why It Matters?
Venkatesh C.R
Many businesses have gazed upon IoT, hoping beyond hope for it to be the magic bullet to slay productivity & other bottlenecks. Unfortunately, not all have prevailed. The potential of IoT in business is huge and without question no doubt, as it impacts every single aspect of your workflow. Play it smart and seek aid from a top mobile app development agency, and you can make the internet of things the beating heart of a modern business that scurries to success.  
Nonetheless, complexities, myths, and skills gaps cloud the field of IoT. Companies are often left on the sidelines dreaming of possibilities as they seemingly lack a clear path in, due to the smokescreens that have traditionally hindered adoption over the years. If your business would like to rev up its workflow through the power of IoT, but you aren't quite sure how to get on this bandwagon, let our guide shed some light.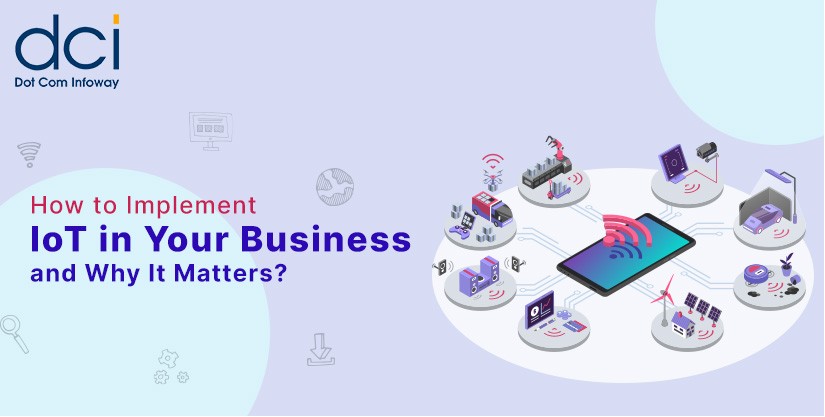 The State of IoT in Numbers
Presently, IoT remains a goldmine and a force to reck with, there being over 20 billion IoT-connected devices with estimates indicating we'll explode to 75 billion by 2025. IoT brings with it a raft of benefits, and let's paint the picture in numbers: 
43% of owners agree that business agility improves with IoT adoption

83% of businesses that go the way of IoT harvest better efficiency

36% of executives have IoT to thank for new business opportunities

53% of companies adopt IoT for better regulatory compliance
How IoT Is a Game-Changer Across Major Verticals?
43% of enterprises across the planet have embraced IoT as it spearheads change and stretches its reach to every sector imaginable, including: 
Healthcare
IoT is chipping in to tilt the battle to save lives in our favour, with predictions showing it will have a hand in increasing revenue in the healthcare industry by 135 billion within the next 3 years. More specifically, healthcare providers are turning to a healthcare app development company for innovative solutions such as:
Heart monitoring products like Apple Watch

Asthma management software like ADAMM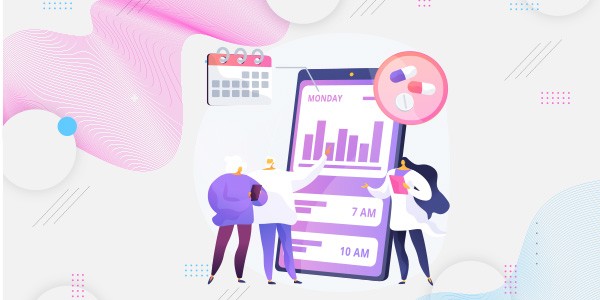 IoT also takes the plaudits for enhancing healthcare collaborations among patients, physicians, and their workmates by 27%, while improving emergency turnaround times by 40%. 
Logistics & Transportation
The benefits of IoT in logistics industry verticals are bountiful, with some pivotal examples including: 
Smart parking has enabled a 10% bump in road traffic capacity 

IoT-based passenger booking systems that reduce waiting time by 30%  
With the ability to track vital factors like weather & traffic patterns, IoT apps are helping transport agencies across the US to oversee and manage infrastructure better. 
Retail
The retail sector also continues to feel the revolutionary touch of IoT and its auxiliary technologies, as smart apps for retail businesses continue to take root. Walmart, for instance, uses an ecosystem of IT to improve shopping experiences, including: 
Smart drones that provide better customer service, which drives more business as 73% of consumers are willing to pay more for faster deliveries

Smart energy-efficient systems for cool storage and improved product longevity
Beyond Walmart, it is estimated that 8 in 10 retailers today customize store visits more profitably due to IoT technology. 
Homes
The benefits of IoT in business are also permeating into our homes, with systems such as Google Home Voice controller enabling us to control thermostats, alarms, and more by voice commands. Inventions such as Foobot, meanwhile have also become part and parcel of modern living, enabling homeowners to keep track of air quality and improve comfort within and without the home.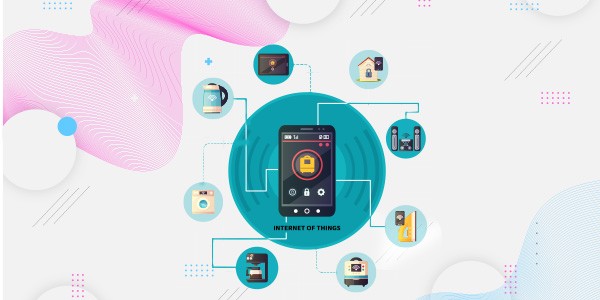 Agriculture
The agricultural scene has also reaped fruits from AI & IoT, rising from strength to strength due to IoT and the countless possibilities it unearths, some of which include: 
Cowlar company has designed smart IoT-enabled collars for cows that increase milk production by at least 15% 

Pycno uses smart soil sensors to ensure informed planting decisions leading to better yields

The Nexus Corporation is imploring smart greenhouses to kick up water conservation efforts and improve the quality of yield.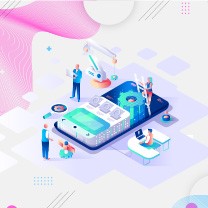 Build Smarter IoT Solutions for Business
With our IoT app development services in the United States, we develop smarter connections between people and machines to improve your business proficiency by connecting, communicating, controlling, and managing your business services centrally with the Internet of Things.
What IoT Brings to the Table for Businesses?
Better Process Optimization To Turbocharge Efficiency
Research findings indicate that 83 out of 100 organizations that have embraced IoT have reported tremendous jumps in efficiency. This bump in efficiency is due to: 
Smart workplace systems that allow remote work, which can improve output by up to 47% 

Businesses reducing workflow downtimes by up to 50%, thanks to predictive maintenance
With human workers handing over the baton of iterative tasks to IoT apps, this means companies can shift their attention to more critical workflow functions. 
Decreased Utility Expenses & Enhanced Bottom Line
No matter your industry vertical, IoT holds enormous cost-cutting potential for your business. A mobile app for business, for instance, can provide the IoT software bridge to run your electricity and other utilities more efficiently thus reducing monthly expenditure. As an example, smart lighting solutions have saved Barcelona City a whopping $37,000,000 annually in energy bills. 
Prolonged Equipment Life
When paired with AI technology, you can build a business app that predicts equipment malfunction. This concept is known as predictive maintenance, and it can: 
Lower equipment downtime by up to 20%

Save on impromptu repair costs by up to 10% as well
As an example, PdM is adding millions to its bottom line with IoT-driven predictive maintenance. 
Workplace Danger Averts
Most workplace dangers involve workers having to interact with heavy machinery. However, building IoT applications for hazardous workplaces is eradicating the danger factor by eliminating human contact from the equation. That aside, companies like Ford Motor are also using IoT-equipped vests to monitor their employee's vitals to track fatigue and reduce workshop injuries. 
IoT Business Opportunities
An IoT application for business opens up so many possibilities. For one, you can make better decisions as IoT enables you to unearth vital data that would otherwise remain siloed or dark. But don't just take our word for it. SMA intelligence revealed that 49% of decision-makers attest to IT being positively transformational to their workflows. 
How To Implement IoT From the Ground Up?
Round-Up Your Building Block
IoT in business continues to be a big hit. If you'd like to take matters into your own hands and build an app for business functions from scratch, you'll need a couple of essential components first, including:  
The cloud: This enables your IoT app to have great scalability, reach, and uptime, and will take care of your data processing and storage needs.

Software: There are specific software tools you need to create your IoT applications or system. Some are OS-specific, others cross-platform, but the common denominator for great software is that it should be cloud-based, and have a single dashboard for all your analytics so you're not running back and forth. 

 
Tech Stacks To Spare a Thought For
Mastery of particular programming languages and subsequent frameworks or libraries is necessary for development. So you may need to brush up on either one or a combination of the technologies in the following Image.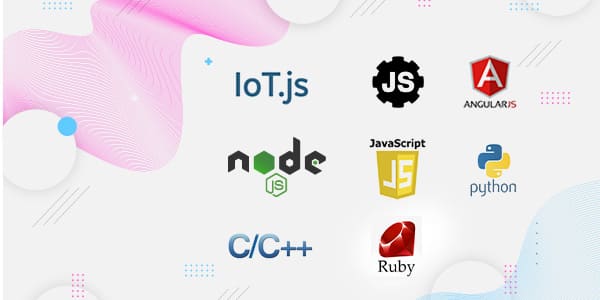 In case of any knowledge gaps, why not hire dedicated developers to lend a hand?  As for hardware, you may need a microcontroller such as Arduino and protocols like Wi-Fi, MQTT, and others, not to mention a variety of sensors depending on what elements you'd like to analyze. Moreover, you'll also have to ponder what cloud platforms to use, e.g. AWS, Google Cloud IoT, and others. 
Development Process, Where It All Comes Together
There's no one-fit-all design process because app development services for startups and businesses at large varies depending upon the complexity of the design and the goals to be met. That said, you'll find that the business app development process generally breaks down as follows: 
UI/UX: Naturally, you'll start by thinking about your user-interface design, and you may begin by drawing up your wireframe for good measure. Ultimately, you want your app to be easy to use from an end user's perspective, with seamless user flow logic devoid of functionless buttons. 

Front-End Development: This is a little related to UX design, although it delves a little deeper as you now code to meet the UI needs of your users. Of course, you'll need mastery of a front-end programming language and accompanying frameworks. 

Back-End Development: Now this entails development on the server-side of things and this is where it gets interesting. Apart from programming know-how, backend development requires in-depth knowledge of relational and non-relational databases and their query languages. Not to mention a host of other containerization and automated testing tools like Jenkins, Docker, Kubernetes, and others. 

Quality Assurance: Once your app is ready, you'll need to perform QA testing to ensure bugs don't slip past during market release 

Continuous Improvement: Your app will be a work in progress. Users will leave feedback regarding what they'd love to see in your app going forward and problems or minor inconveniences that they'd want you to sort out. Leverage this information to continually tweak and update your app to meet their changing needs and preferences. 
Overall, in North America, the cost to develop a mobile app for IoT will set you back anywhere between $80,000 and $150,000 or more, depending on the complexity and number of features needed for the IoT app. Of course, this hangs in the balance depending on the experience level of your mobile app developers as well. 
Let Us Hold Your Hand Into the Future With IoT
Anyone who resists change will be destroyed by it, and the IoT in the business wave is similar to game-changing disruptions that have sent many companies to their early graves. Embracing IoT is quite frankly a matter of self-preservation. A traditional corporate IT DNA may not have the complete skill set required for not just building an IoT app but also implementing a holistic solution right from sensors to embedded systems. You'll need the intervention of an experienced IoT app development company to go the distance, so schedule a call with us today.