Marketing Blueprint: The Complete Guide to Success in Marketing your ICO [ Infographic ]
Alfred
2017 was the year of ICO (Initial Coin Offering). Speaking numerically, over five billion dollars were raised by the 900+ ICOs launched in 2017. However, less than 50 percent of these ICOs were actually successful. The reason – well, it could be a flawed product or flawed marketing, but even a great product is bound to fail without the support of an ace marketing strategy, isn't it?
So, even as ICOs remain hot in 2018, due to increased competition and higher regulation, it is going to be more difficult than ever before to make your ICO work. Consequently, it is your ICO marketing strategy that is going to make the ultimate difference on your journey and decide the fate of your startup.
But how do you decide upon the best marketing strategy for your product?
At Dot Com Infoway, a globally leading IT and digital marketing agency, we understand your conundrum. So, to help you market your ICO in the most effective manner, we have prepared an infographic that explains everything from what is an ICO to the benefits of ICO to tips on successfully marketing an ICO in a simple and easy to understand manner.
This lucid infographic is a repository of useful information presented in a palatable manner. The data for the infographic is derived from credible sources such as Visual Capitalist, Cointelligence, Blockalive, etc.

How to Create a Successful Marketing Strategy for ICO?
What is ICO?
ICO is a new way to raise funds for a start-up or project through the sale of a new type of cryptocurrency, usually using Blockchain Technology.
Top Industries for ICO Funding
Infrastructure – 37%
Trading & investments -12.9%
Finance – 9.4%
Data Storage – 8.8%
Payments – 6.6%
Other – 27.5%
Reasons to Participate in ICO:
Long-term investment – 60%
Interest in Technology / Product – 22%
Speculation – 18%
How to Market your ICO Successfully?
1. Build a Killer Website for your ICO:
Before you launch your ICO, make sure you have a well-optimized website with:
Simple & Modern Design
Clear Navigation
Content with Relevant Information
Engaging video about what viewers can expect
---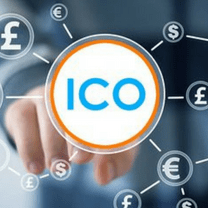 Looking for ICO Marketing Services?
Dot Com Infoway provide End-to-End ICO Marketing Services in helping new businesses promote their ICO through successful marketing campaigns and make them reach their fundraising targets. Book a free consultation with our experts.
---
2. Using Social Media:
Facebook: Participate in groups that regularly discuss ICOs, blockchain, and cryptocurrencies
Quora: Stay active on regularly-updated threads on ICO
Forums: Marketing on popular specialized forums to target the right audience
3. ICO Marketing Channels:
Reddit: Expose your ICO to popular subreddits dedicated to cryptocurrency
Slack: Many ICO investors frequent the Slack group, making it a great outreach platform
Telegram: Get engaged in more Telegram groups covering cryptocurrency & market your ICO
4. ICO Listing Websites:
CoinSchedule.com
ICOAlert.com
ICORating.com
ICOWatchList.com
CoinGecko.com
ICODrops.com
ICObench.com
Coinstacker.com
5. Bounty Programs:
Provide compensation and incentives to attract investors to your ICO
Used to accomplish a wide range of tasks at the cost of the project's token
Both pre-ICO and post-ICO offers available
Successful ICOs Who Used Bounty Programs
https://status.im/ – $100 million
https://www.bancor.network/discover – $153 million
https://www.iconomi.net/ – $10.5 million
6. Crafting an ICO Whitepaper:
It must include:
How is your ICO solution different from competitors?
How reputable is your company?
It's important to outline the process of how tokens will be distributed
Dealing with legal issues that surround token purchases
How the product works & technical details about the platform?
Other Important ICO Marketing Strategies:
SEO optimized website and an off-page link building plan with online reputation management
Placing banner Ads on websites, blogs, forums related to cryptocurrency
Optimize your ICO through email marketing
Approach to several top-tier websites to publish your press releases
Get your articles published in the most popular crypto media outlets
Quick Tips for a Better ICO
Make your ICO story interesting & engaging
Focus on the target audience to produce the best and most cost-effective results
Make your offer to be transparent
Makes the ICO process safe, compliant and easy