Infographic: Recent Influencer Marketing Trends
Raja
Influencer marketing never fails to astound individuals, brands and companies alike with the stellar results it can deliver. And the fact that there is no shortage of growth in the online marketing services only affirms its inherent value for all marketers. This value is only bound to increase with the passage of time as trends come and go on a yearly basis. This characteristic simply serves to exhibit the rate in which influencer marketing agency is currently evolving. By the same token, it merits the need to pay close attention to them. Any savvy modern entrepreneur would settle for no less than detailed knowledge about these trends. After all, it allows him/her to conduct preemptive strategies to make the most of the partnerships with the influencers of their choice. We at Dot Com Infoway have been keeping a close look at these very trends. In so doing, we have pinpointed, specifically, the ones that would surely dominate the influencer marketing trends 2020.
This infographic is as concise as it is rich in the fundamental information you need to utilize this veritably effective online marketing strategy.

---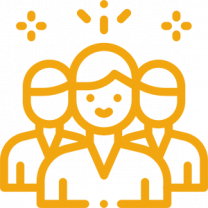 Ready to Dive Into Influencer Marketing?
Influencer Marketing is the best way to introduce your app to your preferred targeted audience and we pioneered in the field of influencer marketing. Our influencer marketing experts will help your business shine through the large pool of competitors.
---
An effective tool that helps direct a company toward its goals. The number of "influencer marketing" searches on Google has surged by 1500% during the last three years. This demonstrates the abundance of opportunity in influencer marketing's future.
"According to a study, influencer marketing is set to become a $10 billion market by 2020"
1. Spotlight on Nano-influencers & Micro-Influencers
Larger brands are moving from macro- to micro-influencers due to rising costs and declining engagement rates of macro-influencers. Micro-influencers overtake top-tier talent, and 61% of consumers say they produce the most relatable content.
Nano-Influencers: 1K-10K Followers
Micro-Influencers: 10K-50K Followers
Mid-Tier Influencers: 50K-500K Followers
Macro-Influencers: 500K-1M Followers
Mega-Influencers: 1M+ Followers
"Influencers with 250-10,000 followers provide maximize engagement and authenticity"
2. Adopt a Storytelling Approach
Narrate the story in a manner and language that your audiences understand the best
Brand storytelling drives emotional engagement, resulting in enhanced business performance
"92% of consumers want brands to make ads feel like a story – One Spot"
3. Utilize Alternative Platforms
Important to have a keen awareness of where your target audiences are interacting.
List of the core platforms that marketers focusing now:
Instagram: 74%
Twitter: 51%
Blog: 45%
Facebook: 25%
YouTube: 16%
Pinterest Resembles Instagram
More than 250 million people use Pinterest every month
Fits well into the e-commerce business
TikTok Growing Very Rapidly
1.1 billion installs as of March 2019
The best option for B2B & B2C companies with a younger target audience
"41% of TikTok users are aged between 16 and 24"
4. Video Content Will Grow
Videos have a maximum engagement rate across social media
Live videos of influencers engaging with the brand product will provide the highest ROI
Motion contents like gifs, stop motions, cinematographs, and simulations will be of high demand
Short-Form Video Platforms
Snapchat
TikTok
Instagram
Long-Form Video Platforms
IGTV
YouTube
Facebook Live
"Videos get 135% more organic reach than images, status, and link posts"

"The user spends 3X more time watching live videos"
Influencer marketing reaches a larger audience in 2022 and appears more genuine to the audience. You can now clearly understand the influencer marketing trends for 2022. In DCI, we offer specific Influencer Marketing for Mobile Apps, Products, Brands, etc based on Niche Category.
Related Articles: