Infographic On ASO in Numbers
Venkatesh C.R
Many app developers have been performing App Store Optimization for their apps/games. However, only a handful of them would probably be able to confidently say that they know the entire process like the back of their hands. How about you? Can you claim without hesitation that you already have a firm grasp of app store optimization?
If yes, then good for you because reading this ASO infographic will only affirm the knowledge that you've acquired. If not, then consider it as an all-in-one resource that will supply you with more than just app store optimization essentials. What specific factors should you pay attention to in order to boost app installs? What does a good app profile look like? And what are the most relevant ranking factors?
These are but some of the questions this ASO infographic will answer for you. We opted to focus on basic facts and figures pertaining to app store optimization services to give you an inkling about what it would take for your app to start ranking successfully, especially in its current state. This way, you do not have to take the time (which could last for days) to research them yourself.
Basically, this infographic is Dot Com Infoway's expertise and knowledge of ASO condensed into a single reference that you can read in minutes. We are sure that you will be able to stay on top of current trends in this field as well once you are finished reading it. Do not be surprised if a spark of inspiration ignites in you as you read about them.

---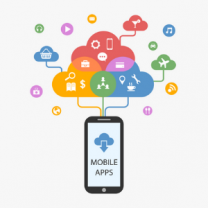 Are You Looking for Dedicated iOS/Android App Marketers?
Our experts provide the best app store optimization service to improve your app ranking and visibility. Get your app discovered in the top Search!
---
Know Your Field!
Smartphone Users Across The World: 3.2 billion
Everyone spent 88% of mobile time on the apps
Research shows that there are 80+ apps installed on the average smartphone
The average person uses 9 mobile apps per day and 30 apps per month
Know Your Competition!
Total Mobile Apps Available For Download:
Google Play Store: 2.56 million
iOS App Store: 1.85 million
Total Mobile Apps Released Every Month:
100,000+ Android apps
30,000+ iOS apps
These figures are growing every year, and along with it, the market for mobile apps.
Know Your Opportunity!
Worldwide Mobile App Revenue Projection (in billion U.S. dollars)
2020: $581.9
2021: $693
2022: $808.7
2023: $935.2
Know Why ASO Is Important!
40% of apps are discovered through app store searches
Avoiding ASO is missing the largest discovery channel
Know the Top Ranking Factor!
The key ranking factors that influence iOS apps on the Apple App Store & Android apps on the Google Play Store are:
App name
App subtitle
App Description
App URL
Keywords
The number of installs
Reviews and ratings
App updates
In-app purchases
Know How A Good App Profile Looks Like!
A successful app profile should contain:
Title – not more than 5 words
Description – around 267 words
Average rating – minimum 3.3
Reviews – At Least 12k
Images – Minimum 3 app screens
App Price – cheaper than $2.33
App Size – Maximum 116 MB
Supported Devices & Languages – 37 iOS devices & 7 languages
Know Your App's Listing Limit!
Number of Character Limits for App Title in App Store – 30 characters
Number of Character Limits for App Title in Google Play – 50 characters
Number of Character Limits for App Description – Up to 4000 characters
Number of Screenshots Which Can Be Used on App Store – 10 images
Number of Screenshots Which Can Be Used on Google Play – 8 images
Number of Videos We Can Use in Google Play – Only one video
Number of Videos We Can Use in App Store – Up to 3 videos
Number of Languages We Can Localize on App Store – 40 languages
Number of Languages We Can Localize on Google Play – 77 languages
Character Limits for Keywords – 100 characters total, with terms separated by commas and no spaces
Know Other Factors That Boost Your App Installs!
First Impression Frame
Optimized first impression frame can increase CVR by up to 26%
60% of visitors won't scroll beyond the first impression frame
50% of app installs come from the first impression frame
Same Creatives for Different App Stores
This reduces iOS app installs by 20%-30%
Videos with Value Proposition
Good app video can boost CVR by up to 40%
Repetitive Messaging
This causes a 14% increase in instant drop rate
App Localization
Focusing on app localization increases the conversion rate by 26%
App Store success is a result of continuous work not just on the listing, but also on the app itself.