Infographic on Mobile App User Engagement
Ruban
Mobile app engagement is the metric that provides an insight into the success of an application. It describes the intensity of activity on an application. In simpler terms, it monitors the frequency of any user getting active on a particular application.
The Android ecosystem has grown enormously in the last two years, having more than a million installs every month. The recorded growth rate is 35% since last year. Presently, there are two billion monthly active Android devices adding on to the engagement.
Talking about iOS, it has come a long way since 2008. In 2018, Tom Cook announced 500 million weekly visitors to the App Store; still, Android remains the leader in this market with a higher number of developers and applications.
The infographic provide readers with few importance of Push notifications, In-app messaging, SMS, E-mail and goes on to explain the advantage of incorporating mobile app user engagement effectively in a few beautifully illustrated steps.
Below our mobile app marketing company have created an infographic rich with data and insights on mobile app user engagement. This is not just to help you understand the concept better, but also create a wider awareness so that more businesses can benefit from this form of marketing.

---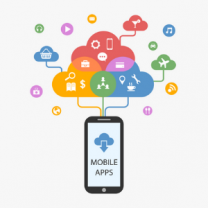 Want to Increase User Engagement for Your Mobile App?
Our app marketers will help make your app a success by increasing the user engagement, conversion, and retention rate. We will help you create compelling push notification and also help you create the response-inducing engagement messages for an optimized response rate and CTR.
---
Mobile app development is successful only if it gets an adequate number of downloads along with appropriate engagement on the app. Hence, it is essential to monitor the status of participation for every app regularly to get the desired returns.
Mobile app engagement can be achieved by various methods like enabling push notifications, in-app messaging, SMS & E-mail.
Push Notification
Push Notifications is a way to reach out to your non-active users and plays an important role in preserving the old as well as new customers.
Push notifications are essential when you focus on messaging strategy as it helps in retrieving the users back to the app
Push notifications can increase app engagement by 88%
52% of users look for offers and enticing proposals in the push notifications
40% of users react within one hour of the receipt of push notifications
Moreover, when push is enabled, two-third of app users will start using the app within 30 days, and app retention will increase up to 10 folds
Importance of Push Notification
Stimulate user engagement
Retain users
Increase conversion rates
Target right users
Enhance brand consistency
In-App Messaging
In-app notifications are the messages that appear on the screen when the user is active on the application.
The response ratio of In-app messaging is 8 times higher than push messages
In-app messaging has decreased the retention of new users, from 80% to 50%
The In-app messaging works great when used for app-based events giving a conversion ratio four times better than the other methodologies
Importance of In-App Messaging
Reach your whole app audience
Easy to author
Highly personalized
There are several ways to use in-app messaging to engage users and increase their customer lifetime value. Here are three of the best ways.
Grow your subscriber base
Customize each segment
Add in-app messaging without re-releasing your app
SMS
SMS appear on the mobile screen as a pop-up and allows you to reach out directly to your targeted customers. SMS is not confined to the internet and hence enables you to communicate even when the users haven't installed your app on their smartphones and not connected to the internet.
SMS campaign reaches a significant audience within a few minutes. A study says that 98% of text messages are acknowledged on the same day
74% of users claimed to have no unread texts in their device
Women within the age group 18 to 34 use the SMS service 3 times more than calling
32% of consumers react to promotional SMS received from dealers or vendors
Importance of SMS
Increase customer engagement, promote products and services
Deliver immediate notifications to your audiences
ROI is measurable
Personal and value-added activity with a clear CTA
Short messages are easily preferable by users
SMS comes as a standard feature on most mobile phones around the world
SMS messages produce engagement rates 6 to 8 times higher than e-mail
E-Mail
E-mail may not be a stimulating technology for a marketer to enhance user engagement, but it remains a vital component of a marketer's arsenal. Universal e-mails are essential for positive user experience on mobile and create an excellent opportunity to drive customers and prospects to your app.
71% of smartphone users prefer using the app for email purposes against surfing on websites
The open email rate on the app is 50%
A non-responsive email can get deleted by the user in 3 seconds, whereas responsive emails increase the click rate chance by 15%
Importance of E-mail
Use e-mail to request feedback
One of the most cost-effective ways of acquiring new users for your app
E-mail allows people to foster long-lasting and long-distance communication
E-mail easily triggered the user to get back into the application
You can use deep links within e-mails to take users directly to a specific page within your app to your app store listing to install
Follow this approach to ensure your mobile app engagement with the user remains intact now and in the coming years. Whichever mode you choose, remember to create a connection with your users for long-term association. Happy Engaging!
Related Articles: