Introducing ClubPro: A Godsend for All Your Club Management Endeavors and Activities
Raja
Managing a club or any other kind of association can be very challenging without the help of proper organizational tools. Most of the time, you have to carefully consider how each member would be accounted for and how consistent communication would be established and maintained between each one. These issues barely scratch the surface, though. Good news is that we have launched a new platform called ClubPro seeks to provide ready solutions to them, and we mean to outline just how it is able to do this in this product launch announcement.

A Boon for Club Organisers and Member Alike
Let us introduce you to the ready benefits the app provides. ClubPro streamlines all your club management endeavors by presenting all the necessary elements and tools in a single dashboard for ready access. These elements include updating schedules, news, and keeping your members in the know about your latest guidelines, to cite a few. That they are all found in practically the same interface makes it doubly easier for you to perform these managerial tasks, saving you precious time in the mobile app development process.
Of course, members enjoy practically similar perks, with the more obvious benefit of being more connected with each other because of the dedicated app that they will be given. Member engagement forms part of the essential factors that keep a club efficient and going strong for a long time, and ClubPro smoothly improves this aspect with the way it delivers its features.
Club Pro Features Highlighted
As a part of this ClubPro launch announcement, allow us to introduce you to each feature more intimately so you'll gain a good overview of just how effective this app is fulfilling your club management tasks. As said above, virtually all the necessary features can be accessed in a single interface called the Admin Panel where you'll be able to conduct most of the activities and actions you need to perform.
Get an Immediate Overview of All the Latest Happenings in Your Club
Each time you launch your club's app, you will be greeted by the Home screen there are separate tabs dedicated to the fundamental goings-on in your club. From Events and News to communicating directly with your members, these can all be promptly accessed in this initial screen. Directly below these tabs is a feed of all the notable events and happenings in the club made readily available for your easy reference.

Look for and Chat With Each Member of Your Club Conveniently
You can reach out to every member immediately by going to the Member Directory section, where there is also a search function so you can promptly single out a member you need to talk to. This section also provides you with a comprehensive list of the names of all your club's members. Each listing displays the position that the member holds as well as his respective contact number. Click on the Call button anytime to communicate with him directly.

Enrich Your Club's Engagement With Photos and Videos
ClubPro realizes the value of having visual media to make club activities more fun and interactive. This is why it dedicates an entire section for this aspect in the Gallery section. In here, all kinds of photos and videos can be accessed, and they can be organized into separate albums that connote to specific activities and endeavors that the club engages in overtime. Uploading them makes them immediately available to all the members of your club.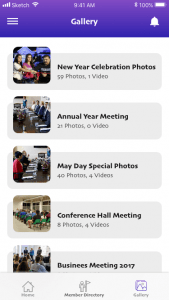 ---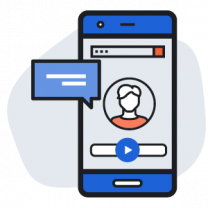 Are You Looking for Developing a Custom Branded App for Your Club?
Our team of experts develop a club app which offers your club or organization a total digital solution for communicating with members. Give your members the level of service and convenience they have come to expect at the club.
---
Keep Your Members Updated With the Latest News
In the News section, the app gives your members all the most up-to-date events and other happenings in the app. Subcategories like Today's News and news for that specific month immediately sort the articles so that your members will quickly get the information they need or get to the ones that pique their interest.
The articles are labeled with the specific topic they expound on as quick reference, and this is complemented by a summary of its contents. Members need only to tap the article to read its entire contents, and they may share these articles promptly using the Share button attached to each one.

Send Text Messages to Each Member Directly Using the Built-In Chat Module
Same as the call list, you may also use the chat feature of the app to send messages to your members anytime you want. Notifications alert them once they receive a message, emphasizing the app's focus on establishing a steady line of communication between club members.

Club Meetings and Other Events Can Be Sent to Every Member With RSVP Option
One sure way of getting members involved is to always inform them of the notable events that your club will be holding. ClubPro lets you share these events conveniently to your members with a header and description that inform what the event is all about, as well as the exact time and date that it will be held.
The app goes further by including a nifty RSVP option in the form of a button so you'll be able to encourage your members to participate and know immediately whether they'll be able to attend it or not.

Plenty of Other Exciting Features to Look Out For
This ClubPro launch announcement of the perks of this platform does not stop here, for there are surely more features to anticipate that will serve to complete your app's functionalities as a whole. Proximity technology, for instance, allows you to connect and chat with other members nearby; contact forms further enhance the way you can send private messages.

Let's Build the Perfect App for Your Club
What's certain is that building your club's app according to your specific requirements and preferences does not get any easier with ClubPro. Simply provide us with all the pertinent details of your app, like the complete list of its members and its overall design aspects, and we will do the rest for you. The app operates on both iOS and Android platforms for versatility, and you can expect to have it distributed among your members two weeks after we begin building it.