Killer Website Design Tips That Can Improve Your Reputation and Conversion Rate
Alfred
For every business in the current world, one essential requirement for gaining new customers, fostering client relationships and establishing credibility is a professional website. Ideally, an effective website should be able to provide a steady flow of targeted leads, an optimal and user-friendly experience while facilitating ongoing sales. A customer-centric and data-driven approach can help teams in measuring, tracking and monitoring website performance and your website in improving sales.
Alongside Google's advances and updates on algorithms, SEO ranking factors are constantly changing every year. Considering the complexity of search engine optimization, this means that top digital marketing agencies have to stay nimble and always be ready to adjust. As a matter of fact, this pretty much influences their competence and ability to consistently deliver excellent results. There are tons of ranking factors that have a huge impact on your reputation and performance to extensive degrees which makes it easy for search marketers to forget or miss the occasional consideration.

The following are 10 web design tips you can leverage to improve your reputation as a business and conversion rates from your website,
1. A Growth-Driven Web Design Strategy
One of the most common problems with web design is actually the incredible amount of time invested in completing the process. Without a proper and effective web design project plan, you'll probably end up burning a lot of time and so much in your budget. Unless you establish the purpose of your website and the goals or objectives you intend to fulfill with it, you may end up with an undesirable website that you can't manage, which could, in turn, build into a negative attitude ahead of the launch.
Web design can come with lots of challenges that may include exploding budgets, scope creep, and drifting timelines. For this reason, it is important to adopt a growth-driven design. This means defining your priorities not just on the basis of your goals and objectives but also on data-driven optimization decisions.
Defining the metrics on the measurements of success with regards to strategy, content, design, cleanup and ultimately the launch will go a long way in ensuring that the website is up and running in no time and consequently improve performance. Of course, there are tweaks you'll need to work on post-launch, which means you need to accommodate these additions and ensure that there are resources available to see it come to fruition.
2. Using a Professional
The concept of web design and development might seem simple but in actual sense, it's as complex and farfetched as it can get. Finding the cheapest option may be quite an attractive and convenient alternative for new companies but in most cases, these are operated by inexperienced and unprofessional interns and probably people who barely have a background or understanding in website design and development or anything it entails.
Building website requires a range of expert-level skills including search engine optimization, quality assurance testing, database implementation, programming, marketing, copywriting, user-experience optimization, branding, graphic design, web design among other technical skills to make it work. These may not necessarily be bound to one person but partnering with credible freelancers and agencies can get you most if not all in one suit.
For most websites, the design process takes about a month for completion and launching. Assess whether the person or agency you're working with can complete the project within your desired time and at a reasonable price range that fits into your budget — if they can't it's probably because they are not professionally qualified or experienced in the field, which would mean you may end up paying so much for a result that is less than satisfactory.
3. Adopting a Reliable Domain Name and Hosting Service
Among the first things, you need to do before even thinking of launching a website are finding a domain name that uniquely identifies your brand to your readers and a hosting platform to keep the website afloat, both of which are billed. In order to earn the right to use a domain name, website owners are required to make yearly payments to their domain registrars.
It's possible to forget to renew your domain and since you can't be sure your web partner will remind you when it's due for expiry, the domain name might be released to the public. Consequently, the domain name can get scooped up by another company intending to sell it back to you at a more exorbitant price or profit from the goodwill and existing traffic of your website with advertising.
Even if you do not set up the website yourself, it's important to know who your domain and hosting platform. Being aware of your domain registrar and hosting company averts the challenge of having to create a new website or spending more on one you already owned. Prior to launching your website, you need to refer to the WHO'S database to check the details of domain registration. Also, it's important to keep the contact details of your host and domain registrar in order to rectify any errors that may come up concerning billings and to settle claims to your domain should you fall behind on your payments.
4. Authoritative Content
Content is king, and making it relevant to your target audience is a key component when it comes to ranking. Simply put, authoritative content is basically the bread and butter or the glue that holds SEO together. It's actually ranked as the most effective on-page SEO tactic. In the past decade, content has been of growing significance and greatly rewarding when it comes to consumer satisfaction. Along with quality, content relevance is extremely important. Such search engines as Google strive to provide users with relevant and useful content. Publishing authoritative posts that captivate readers while providing real value tend to place websites ahead of their competition.
5. Keep it Simple
When it comes to web design, simplicity rules! Providing an easy access for your online audience in their search for useful information, requesting a service, ordering a product, contacting site admins through contact forms or making online payments is an essential requirement if you're aiming at high conversion rates. Great designs are the pillar of high engagement. Therefore, avoid making designs that are too complicated and focus more on making every process easy simple to boost online sales. This strategy goes hand in hand with a proper content layout — it offers excellent readability as a valuable contribution that makes your website simple for interaction with prospective customers.
---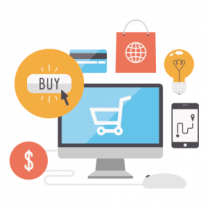 How to Develop a Successful E-commerce Website?
This definite guide explains various web development factors that determine the success of the e-commerce websites.
---
6. White Space
White space is also referred to as the negative space — a design element that makes the main subject in the foreground of the frame pop and stands out. Asa hallmark of ideal visual design, it acts as an empty space in the background, highlighting what needs to be obvious on the webpage. In turn, this makes them more distinct for visitors to see and could significantly drive them to act on this attraction.
7. On-Page Performance Factors
Providing a satisfactory user experience is actually more difficult than it sounds. There are certain on-page factors worth considering. For one, page loading speed can greatly influence a person's decision to stay on a page. Online audiences are picky, and a site that takes longer than 3 seconds to load can discourage a user leading to a high bounce rate and thus a bad user experience. Mobile friendliness and HTTPS can also boost the confidence of visitors.
Additionally, optimizing meta-descriptions and page titles can help improve the click-through rate and with an optimized internal structure, visitors can see more of your site This helps crawlers discover pages that can be indexed and spread the link juice from authoritative, contextually relevant SCUM.
8. Include Testimonials and Customer Reviews
Social proof means everything for target audiences when it comes to making an informed purchasing decision. Should you want to use your website as a tool to drive sales for your business, one ideal starting point is including testimonials and customer reviews. It is one thing to try to convince everyone that you have the best product that could solve their problems but it's a different thing altogether to show your prospective buyers the results you others have achieved using your product. This could help build a positive perception of your customers for your brand.
People want safety and assurance that they aren't the first ones to try something out — they need to know that there are other real people who have tried it out before and that it worked for them. This is the kind of evidence that will give visitors the confidence of engaging your business. Remember to always share customer reviews and testimonials from your satisfied customers and ensure that they are verifiable. Otherwise, it could be counterproductive for your business. If done well, this strategy is likely to increase your conversion rate by an average of 30-40%.
9. Web Maintenance
Anyone can tell you how important having a well-structured website. Yet, you don't want to just launch your website and leave it atrophy. Just like cars, websites require regular maintenance to operate perfectly. Proper maintenance helps in boosting site traffic, increasing the number of site visitors, ensuring site security and more.
Your website is one worldwide window into your business that has a great impact on the products and/or services you offer. And because the internet is a public place, your website is an easy target for malicious cybersecurity threats. Partnering with a maintenance company can ensure that you have a web maintenance plan and everything else you might require for all of your website maintenance needs. It's not enough to just set up the website — there's still the need to keep your visitors engaged and interested in what you do.
A great way to optimize visitor experience through maintenance is getting rid of outdated information and updating your website with new, relevant and engaging content such as blog posts, image galleries, and upcoming events. This does not just give the audience an idea of who you are and what you do; it conversely helps in promoting your mission, work, and brand.
But consider going for a professional service provider — they can help you come up with a maintenance plan that includes conducting a site audit to track any issues or errors on the site and would be a better fit for ensuring all updates are regularly conducted and in good time to provide your visitors with the best possible user experience.
10. Striking Color Contrast
Your website visitors will be drawn to bold bursts of color because they are very noticeable. For this reason, color contrast is one of the most ideal tactics you can use to drum upconversion. The thing about contrast, especially color contrast, is that it guides shoppers' eyes to what is more important on your client-designed webpage. Often, this is the call-to-action button but you can optimize it during the peak seasons when the most significant element of the page becomes the announcement of great offers.
Color contrast is similarly an in-your-face design strategy that ensures site visitors do not miss what you want them to notice since you are making it pop right off the entirety of the webpage. When there's little friction in the way of your visitors noticing your offers, they are highly likely to check it out and probably buy something.
Conclusion
Research indicates that 46.1 percent of internet users will determine the credibility of your website on the basis of its design. This implies that as much as you concentrate on leads, social media and SEO marketing, the overall website design remains a crucial factor when it comes to improving conversion rates. People are more willing to consume a website that is more aesthetically pleasing as opposed to a plainly planned one It is extremely important to maintain an attractive design to keep users engaged.
This is guaranteed to increase the chances of gaining from high rankings on search engines. The above 10 tips are focused on improving user experience, something internet marketing gurus like to refer to as UX, how it reduces bounce rate and how it impacts the likelihood of your website converting visitors into customers.