10 Myths Uncovered About Mobile App Marketing
Ruban
Mobile apps, like most products and services, need marketing and publicity to reach their potential fully. However, some myths about mobile app marketing have sprung out of nowhere. They range from which firm is the best mobile app marketing agency to the kind of fonts that are used in successful apps. Here is a list of mobile android app marketing myths that have been uncovered.

1. Dealing with Mobile Apps
Are Mobile apps not necessary at this age?
Mobile apps are critical in this current climate of connectivity, especially in e-commerce. Well-established businesses and young startups are investing in mobile-first strategies and solutions. This is because a mobile-first mindset is more likely to penetrate further into a demographic than any other strategy. To successfully engage your audience, you must reach them wherever they are, and whenever they are ready. Only mobile apps can help in this regard.
Mobile apps are no longer a fad or a trend; they are the real deal that can provide businesses with many benefits.
2. Install Fraud
Does Install fraud affects the app marketplace?
App install fraud is a malicious practice of deceptively taking credit for a user downloading an app. The fraudulent installs occur in two main ways; through publishers and advertising networks.
The publishers could be boosting the genuine app installs with fraudulent ones to increase revenue, or they could be fraudulent from the get-go, running applications, and sites designed to manufacture fake installs that access ad networks.
The ad networks could be legitimate businesses that have unknowingly fallen victim to fraudulent activities, or they could be negligent and willfully ignore the fraudulent activities, or they could be deliberately fraudulent.
3. Unleashing Email Marketing
Should email marketing focus only on conversions?
Email marketing is an effective tool to use when marketing a product. Email marketing tends to convert a lot of recipients from ad viewers into customers more than social media, postal mail, and more. But if every email is focused on creating conversions, the performance of the email marketing strategy will decline steadily and fail.
Email marketing can be used to engage with your daily active users, to retain users of your app, to remind users to send reviews after it has been used for a while, to promote your new offers and rewards or to request feedback from your customers.
4. Optimal Usage of Push Notifications
Are push notifications useful for creating conversions?
A push notification is an alert you receive in a similar vein to a text message but with a limited number of characters on the lock screen. So, it is vitally important to get the message across with as few words as possible. Push notifications are always free to receive. Push notifications have been shown to produce high click-through rates when the number of words was small enough.
Tools like Google Firebase, Mixpanel, and Kochava, can be used to create targeted push notifications. When push notifications are personalized for users, it increases the chances of creating conversions even higher.
5. Getting Featured in the App Store
There are no features in the app store to describe your app?
The app store will allow developers to enter detailed descriptions of the product, screenshots of the app in action, and a short preview video of the app's functions. These allow the users to see what product they are potentially installing and determine its value to them.
Getting featured on an app store is a bit trickier. Each app store is different, but there are a few requirements they have in common and that drive an app into a prominent and visible spot in an app store.
These are:
Frequent Updates – Regularly updating your app's description helps your app to stay featured for a longer period and also remain on the top of the app stores. You can achieve this by regularly adding new features and refreshing and optimizing the content at regular periods.
UI Design – Great apps are easy to use! Make sure that your app's UI is simple, logical, and aesthetically pleasing. In short, users should not only find your app attractive but also easy to use. Consider hiring a professional team to get a clean and modern UI design for your app.
Ratings – Leverage the power of word of mouth marketing with real ratings and reviews for your app. Users trust the opinions of others who have used your app before. Therefore, the number of reviews and ratings, as well as the average rating received by your app, influences its rank in the app store search results.
---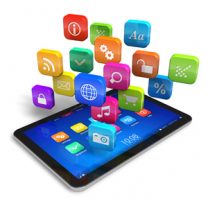 Want to Succeed in the Mobile World?
Our app marketing experts help your mobile app get the attention it deserves. We provide a suite of marketing services to skyrocket your downloads & grow your app's revenue.
---
6. ASO to Drive More Organic Installs
ASO solves your visibility problems automatically?
App Store Optimization (ASO) is a ranking tool that positions apps in the app store. ASO doesn't just automatically adjust your app into a favorable position. You need to work at it to earn a high ranking. Users who see highly ranked apps are more likely to download those. ASO is influenced by your app store assets (Screenshots, Icon, Promo text, Short Description, Video, Description etc.. ), user reviews of the application and the quality of the application itself.
7. How to Use Analytics
Are analytics irrelevant?
A lot of app developers are inclined to treat analytics as irrelevant or frivolous, and that would be a huge mistake. Analytics serve a critical role in learning needs, wants, and tendencies of your customer base and keeping them satisfied. No marketer can know what his audience wants based on personal experiences; he or she may not even know their target demographic. Collecting and analyzing data and conducting research is necessary to inform the decision you make about your product.
Many mobile app analytics platforms perform different functions. Information from qualitative analysis, quantitative analysis, and crash reporting can be used to drive app improvements. With the proper platforms from each analytic class, you can get a complete and comprehensive view of your app and optimize it to improve user experience.
8. Making Use of Influencers
You need influencers to make your app succeed?
Social media is a good space to market your app to a host of people around the world, but most people won't look for or pay attention to your message. They will, on the other hand, pay attention to influencers.
A social media influencer is a person who has monetized his or her personal life to draw the attention of their audience to products, services or relevant issues in the ether or to shift opinions in one way or another. Some companies pay influencers to plug the story about their app on their social media platforms, but if the product being advertised is no good, users will not stick with the product for long.
9. Updating UI & UX
A good UI and UX aren't necessary as long your app is good?
The user interface (UI) and user experience (UX) is the customer's gateway into your product. A competent UI and UX design are not enough to draw users in to use your app. The interface must please the users aesthetically, allowing them to marvel at the design of the application and holding their attention for as long as possible. The experience must be consistently good throughout the time they use your app.
10. Dealing with Customer Feedback
Customer feedback doesn't matter?
Customer reviews and feedback of your product are the most necessary data sources you will ever get. Ignoring them just put you and your application in danger of failing. Customers who use the app you have developed full time are more likely to find the bugs in your code. The features of the app that irritate users will be indicated in their reviews. It's your job as an app developer to listen to those viewpoints and try your best to fix the problems.
Conclusion
Marketing mobile apps is just as important as developing them. With a clearer idea of what is fact and what fiction is when it comes to marketing apps, making the right choices become easier.