The Rise of eLearning & Education Apps in the Pandemic Era [Infographic]
Venkatesh C.R
Educational apps' game-changing benefits could not have been made more apparent by the steady demand for eLearning worldwide. In a world that has since been massively transformed by a pandemic, one thing must still be maintained: high-quality, accessible education. It lays the foundation for the future generations to come, after all.
We all know how much the field of education has changed. But are you curious about the details of the said change? How much impact has the COVID-19 pandemic had in the industry, to the point that it catapulted the importance of educational apps that previous trends direly overlooked?
On the other hand, are you interested in making your own educational app so as to meet the rapidly rising demand for it? Did you know that, as we write this, numerous children worldwide have literally minimal to zero access to affordable and competent educational platforms? Now maybe the best time to work with a reputable mobile app development company to make your ideas come to life.
Otherwise, an adequate dose of curiosity would certainly do you a world of good. Just read our education app infographic and you'll soon enough know why. This educational app infographic is based on the "first-hand experience Dot Com Infoway has with developing our own educational product EduKool + helping other startups to build education Apps".

---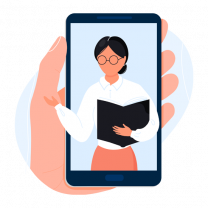 Looking to Build an Online Learning App/App to Conduct Online Classroom Sessions/Online Tuitions?
We can build you engaging and interactive educational app development services and make your application available on multiple mobile platforms.
---
The global pandemic situation and the rising popularity of learning apps of all kinds have prompted the growing interest in educational app development.
Types of Educational Apps
Online Classes
Learning Management System
Education Institute Management System
Trending Ed-Tech Startup Ideas/Money-making Educational App Ideas
Language learning apps (Eg: Duolingo, Memrise)
Education apps for kids (Eg: YouTube Kids, Quick Math JR.)
Online courses apps (Eg: Udacity, Coursera)
Storing learning materials apps (Eg:Google Classroom, Schoology)
Tracking students progress apps (Eg: Kahoot, ClassDojo)
Gamification apps (Eg: Seesaw, Additio)
Educational Stats During COVID 19
According to Statista, it is expected that the educational app market will grow by over $46 billion by 2024.
While more than 90% of the countries adopted digital and/or broadcast remote learning policies, only 60% did so for pre-primary education.
Children across the world have lost an average of one-third (74 days) of education each due to school closures and a lack of access to remote learning.
3 Pillars Of E-learning Apps Development
User Video
Improved UI
Easy Navigation
Must-have Functionality Of An Educational App
Sign up / Log in
User Profile
Dashboard
Search Functionality
Messaging Functionality
Social Networks Integration
Database
Learning Materials Storage
Scheduling System
Download of Materials
Projects
Exams
Analytics e. g. charts, reports, etc
Feedback
Push Notifications
Payments
How To Market Your Educational Apps?
Do market research
Give 1st preference to digital channels
Reach out to influencers
Focus on App Store Optimization (ASO) strategies
Go with paid advertising
Don't ignore PR activities
Blend with partnership programs