World-class educational mobile app development for your school or institute
Our best online education app solutions are being used by independent educators as well as renowned educational institutions, all over the world. Whether you want to provide a free online learning app to your students as an online tutor or you are looking for an online school app to provide professional grade education, our online learning application will provide the best e-learning experience both for you and your students.
We can build for you an engaging and interactive educational app for overall development and productive sessions. You will be able to use features like videoconferencing, whiteboards and screen sharing while taking live classes. Once your app is ready, you can conduct timed quizzes and exams. The app will also accommodate automatic attendance.
The world of education these days functions in a rapidly changing world. Education is no longer confined to classrooms. Most of the students have become quite comfortable learning from their laptops, smart phones, tablets and iPads by either streaming educational material, or downloading and saving it for off-line studying.
Even in the conditions when students are unable to attend school, educational mobile apps can play a pivotal role in changing the course of education. We can help you make history in the field of education. If you have ever wanted to explore the possibilities of delivering education through online learning apps, now is the best time to take the plunge.
You can engage with us for the following possibilities:
Developing an online education app.

Developing an e-learning mobile app.

Mobile app for conducting online classroom sessions.

Introducing a free online learning app for your students or to market your institution.

Long-term engagement with an educational app development company.
Mobile app development services for delivering online education
Give your students a real-world experience of receiving online education through live video streaming. This includes videoconferencing and digital whiteboards.
Build a library of courseware that your students can access while receiving online learning through your online classroom app.
Allow your students to pay you education fee using a flexible structure such as paying you monthly or per session.
Generate extra income streams by leveraging your existing course content. Allow your students to access your digital content by paying a monthly subscription.
You and your students can decide whether the online educational sessions are going to involve group education or one-on-one sessions. We will also include easy screensharing so that you can explain intricate concepts on your computer.
You can make your educational app available on multiple mobile platforms including Android and iOS.
We will provide educational app development services entirely tailored around your target audience.
What will be the main features of the educational app that we develop for you?
Automatic student registration
New students will be able to register themselves on their own including making payments and fee processing. This will also include automatic attendance and report generation.
Digital courseware
You can create and upload digital courseware for your e-learning app for education that your students will be able to access as and when needed, and even in real time. Your students can use digital courseware during live classes or when they are going through at their own pace.
Online groups
You can encourage your students to form online study groups so that they can have an engaging e-learning experience through your online school app.
Web conferencing
Through the online class app you can hold video classes that multiple students can attend at the same time and they can also interact with you within the ongoing session.
Very light mobile app
Your students will be able to download your educational app really fast. All the course material will be saved on the cloud and will be downloaded on-demand, as and when needed.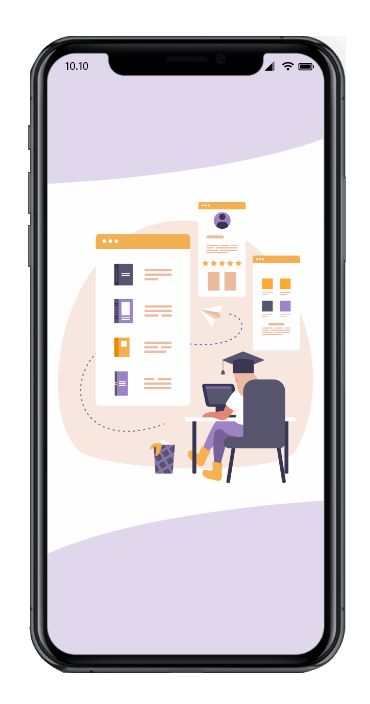 Multi-currency payments
Since you can impart education through your online learning app internationally, multi-currency payments will be facilitated within the mobile app.
Individual assessment
Through our best online education app you will be able to conduct individual as well as group assessments for your students to know what progress they are making while taking your online classes. Timed quizzes and exams will give them a sense of real-world examinations and will prepare them for future competitive exams.
Social media authentication
Since most of your students are likely to have social media accounts, they will be able to sign in using their Facebook or Instagram accounts.
Parental monitoring
To create a secure online learning environment, you can also give access to parents to remotely monitor online class activities of their kids, whenever they feel like.
Digital course creation facility
You can have a module in your education app that allows you to create new course material on the fly. You can have it as an add-on module or it can be integrated within your educational mobile app from the beginning itself.
Our process as an educational app development company

Understanding of your teaching environment

To be able to create the best online learning app for your needs, we will develop a complete understanding of how you impart education online. This will involve understanding the various formats of your course materials, the nature of your teaching, and the way your students grasp your access to knowledge.

Wire-framing and prototyping
We will present you with a sketch of your mobile app. You will be able to view different screens and different elements on those screens. It will be like viewing your mobile app as a drawing. We will also use a special digital tool to create a prototype that will help you gain a sense of the actual app.

Designing and Developing
Once you have approved of the wire-frame and the prototype, our developers and designers will create the mobile app for you so that you can start providing e-learning and online education as early as possible.

Testing and debugging
As an experienced educational app development company we understand that an e-learning mobile app is a very serious undertaking considering many of your students will be building their lives through your education. Hence your mobile app will go through rigorous testing and debugging at multiple stages.

User testing
After completing the app on our side, we will put it through user testing. At this stage, you may like to get involved. You may also rope in some of your prospective or current students. This will help us understand how the app functions in the real world.

Deployment
Once your app is complete, it will be deployed on different app stores including Google Play and Apple's App Store. Even during this time if there are some issues, they will be taken care of. By now, you and your students should be able to download and install the app and set the ball of online learning rolling.
What are the main benefits of having an online education app?
Digital course material is less expensive and easier to manage.
Real-time learning across borders.
No need to travel for you and your students and assemble at a central location.
No educational infrastructure required except for the mobile app that gives you everything you need to conduct successful online classes.
You have automatic fee handling. You don't need accountants and fee administration staff. Students can pay using multiple modes including net banking, debit and credit card and digital wallets.
Instant assessments can be carried out to know how well your students are receiving education.
Students can learn on their own using their login information, through the course material that you upload for them.
You can hold one-on-one sessions as well as group sessions.
Permanent records of student activities and their assessments can be kept in the cloud for as long as you want.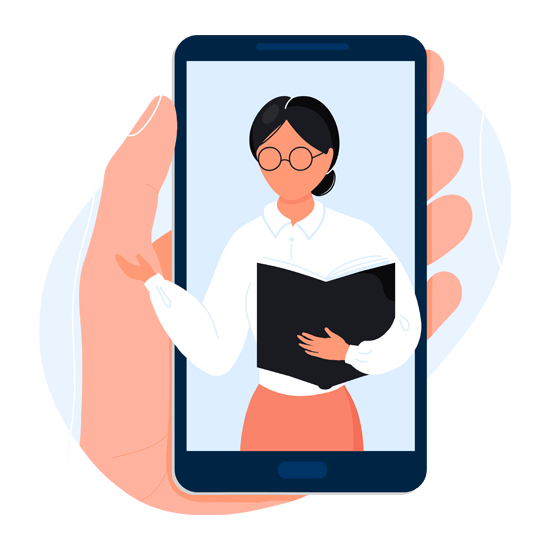 ---
Experience You Can Trust
I'm so proud of this program and what we've built as a team, it really is going to set the bar on what's available for hunters globally. It's easy to use, fast, pretty much as flawless as a program gets and it also looks really nice. It looks really great – I cannot tell you or express to you how pleased I am with the application! GREAT JOB!!!
Kudos to Dot Com Infoway for delivering Galatta Cinema on iPhone! Their high-end programming is so effective that GC on iPhone eBook reader reads just like the hard copy – you can flip through pages as swiftly as you would flip the magazine. Also, the high-res images download faster and retain the flashy look. Indeed, I love every bit of GC on iPhone. Thanks, DCI!
---
What makes Dot Com Infoway the best educational app development company for you

Intensive experience in developing online classroom apps.

We have already developed commercial, off-the-shelf learning management systems that are being used by schools and colleges.

We provide uncompromising support even when we have delivered the mobile app.

A world-class team of developers, designers and digital marketers.

No steep learning curve required from your side.

We will create a highly engaging design for your online teaching app that your students will love.
Why choose DCI as your preferred education app development company?
We have had a long history of developing online learning apps, e-learning apps and educational mobile apps. We have closely worked with experienced educators and school and college administrators to develop a complete understanding of how the flow of information takes place when education is being imparted and received. Hence, there is no better mobile app development company than DCI for your needs.
Although we are a highly technical company, we understand the human side of technology. Hence, when we develop your educational mobile app, we will be using cutting-edge technology, but our primary concern will be your comfort level and convenience, and the comfort level and convenience of your students. Learning to use the mobile app and figuring out how its various functions work shouldn't in itself become an ordeal. When we develop the mobile app for you, you will be able to use it from the word "go".
Contact us and we will love to give you more information on our educational app development services.

Explore Our Other App Solutions
Book a Quick Consultation
Share your details and we will get back to you as soon as possible to schedule a meeting.