What is Mobile App Marketing? A Step-by-Step Guide
Raja
Are you wondering how to exponentially grow the user base for your App? Or you have just developed a great mobile app and looking forward to releasing it into the market?
There are 8 million mobile apps in the Google Play store, 2.2 million in the Apple App Store, around 669,000 in the Windows Store, and even the Amazon App Store has 600,000 mobile apps (2017 figures).
In 2017 197 billion times mobile apps were downloaded. That's a big number.
It's almost like a cosmos out there.
How do you increase the visibility of your mobile app?
How do you make people take notice of your mobile app?
Remember that these days people are constantly in a state of excessive distraction whether they are quickly browsing through their favorite app store or simply reading a mobile app review. In a flick of a second, their attention can be taken away.
This is why, in this crowded web, you need a reliable mobile app marketing services that can push your mobile app in the league of well-known mobile apps in all mobile phone operating system environments.


How Do You Gain a Competitive Edge?
On the web, it's all a big game of who can gain the maximum attention of your target audience.
How do you communicate to your prospective mobile app users the overwhelming benefits of selecting your mobile app over your competitor's mobile app?
One of the best ways gaining a competitive edge is getting your mobile app listed higher in the order, in your category. If people have to scroll a lot to come across your mobile app, very few people are going to try it out.
On the other hand, if your mobile app begins to feature among the top 5 mobile apps in your chosen category, you can leave your competition behind and gain thousands of users in a matter of weeks.
Through strategic placement, promotion and optimization, you can increase the visibility of your mobile app in the chosen App Store, compared to your competitors.
How to Research Your Market?
This phase happens before the actual development takes place. Is there really a market for your mobile app? Knowing in advance is going to save you lots of effort, time and money.
Using advanced research techniques, you can use big data to find how much demand your mobile app is and based on the results of your research, you can work on your mobile app.
How to Increase Your Brand Presence?
Want to be another Todoist or Snapchat in your niche? It's all about branding.
When you are a renowned brand people don't just download your mobile app, they make an effort to seek out your mobile app and use it.
Online branding involves creating an environment of blog posts, information articles, social media updates and app reviews published on different platforms so that your brand becomes familiar to people.
Using the entire spectrum of digital marketing services you can create a strong brand presence for your mobile app so that people boast about using your app.
---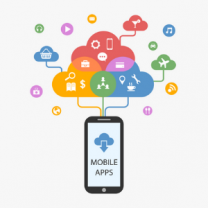 Need Help with Your Mobile App Marketing?
Talk to our experts. We are an award-winning marketing agency with 10+ years of experience in promoting mobile apps.
---
How Do You Grow Your User Base Consistently?
Consistency is very important for a sustainable growth of your mobile app.
You need to improve search engine rankings of your landing page and optimize your listings in the App Store so that it appears at the top for relevant searches.
You need to carry out a sustained digital marketing campaign for your brand visibility.
How to Generate More Revenue from Your Mobile App?
Wondering how to increase your cash flow as early as possible so that you can invest their money back into further development of your mobile app? We can help you.
Whether you are offering your mobile app free with the intention of in-app advertising or in-app purchases or you want to sell your mobile app at a decent price, we can help you promote your app accordingly.
For every app developer, it is very important that cash flow begins to manifest as early as possible so that you can invest further and even attract venture capital.
Gain a competitive edge with market analysis
Minimize delays and failures
Create a strong user base
Design and implement an Internet marketing campaign consisting of multiple channels like blog posts, articles, social media updates, podcasts, contests and YouTube videos
In-app monetization
Keep your users engaged so that they keep coming back for more
Create a sustainable monetization plan
Keep an eye on your competitors and tweak your marketing strategy accordingly
User testing
Optimization of your online marketing in terms of cost and conversion
Get the needed technical support
Frame a well-defined PR strategy
Aim for macro and microtargeting
With in-house research and development
Recognize encounter copycats
Establish and increase your search engine and social media visibility
How to Reach Your Target Group?
Marketing is an altogether different ballgame. It's a specialized field and you need a dedicated team to market your mobile app.
You can either have an in-house department to take care of your entire marketing need, or you can outsource to an agency like Dot Com Infoway.
One of the biggest benefits of outsourcing your marketing needs is that from day one you work with a team that has already been working in the trenches solving real-world problems for mobile developers like you.
All the marketing problems that you are facing right now, we may have already solved them for scores of other mobile developers. We have the right tools. We have the right expertise. And we have the much-needed knack to recognize opportunities and make use of them.
How Do You Know Your Mobile App Marketing Works?
The best kind of marketing is based on the data insights you have pulled from your very own user data. You will want to look at,
Retention rate.
Daily/monthly active users.
Session length.
Time in the app.
Acquisitions.
Screenflow.
Lifetime value (LTV).
Related Articles: