Guide to Perform Competitive Analysis for your Next Mobile App Idea
Raja
Even if you are a wonderfully innovative individual who routinely engages in original thinking, the chances are slim that your next idea for an app has never been thought of before. That shouldn't be so surprising, since there are literally millions of mobile app developers & designers out there, creating new apps every minute for both PlayStore and Apple. This being the case, it is very much to your advantage to perform a thorough competitive analysis of the existing marketplace, before attempting to go live with your next brainstorm app.

What is a Competitive Analysis?
In the world of mobile apps, a competitive analysis attempts to evaluate the strengths and weaknesses of currently existing apps which are similar in nature to the one you expect to launch. This involves identification of your competitors and gaining a clear understanding of what their apps do well and what they may lack, so you can capitalize on that information, and hopefully fulfill a need which is still lacking among rival apps.
Having this information will help you to decide whether or not you have a viable app which has the potential to be received well by consumers. It's also very useful as something you can show to investors to demonstrate your own preparedness and business acumen, to encourage their financial support.
Step 1 – Identifying the competition
This is an essential step to competitive analysis – you have to know exactly what you're up against so that you can devise a successful app marketing strategy to compete with them.
A good start would be to search the Internet using keyword phrases that are strongly related to your own app idea, to see what's already out there. If you're having trouble with thinking up those keywords, just pretend that you are a user in need of the app's actual service – which keywords are associated with its function and performance?
Step 2 – Check your rivals' web presence
Online tools like Quantcast will help you to find information about your competitors' web presence, simply by supplying their URLs. This will give you an idea of the level of traffic visiting their websites, as well as the demographics of those visitors.
Next, you should determine how active they are on social media, and how they use the social media to reach their target audience.
Step 3 – Find out their Unique Selling Point(s)
This is a very important step in the process. You will need to find out exactly what it is that makes the competition's apps appealing to customers. There is usually at least one way in which an app differs from all others in the same market, and which provides customers with a reason for purchasing that particular app rather than a similar one.
Ideally, your app should also include these selling points – and then go one step further with something new that makes it unique and more appealing than others.
Sometimes the USP provided by rivals doesn't even relate to the app itself but has something more to do with customer service, discount pricing, or some other selling point. Whatever it turns out to be, you'll need to consider whether it should become part of your selling strategy as well.
---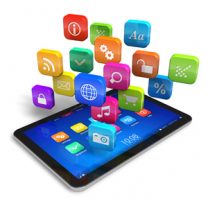 Mobile App Business Consulting Services
Looking to implement your mobile app business ideas into reality?
Dot Com Infoway provides business consulting services and offers end to end mobile solutions to all your specific requirements.
---
Step 4 – Discover how their apps are rated
Knowing how highly your competitors' apps are rated will tell you just how well they're doing in your market, and it should give you an idea of how hard you'll need to work to dislodge them or to surpass their rankings.
An online tool like Sensor Tower will help to give you some sense of rival ratings, and that should then form the basis of your strategy to overcome their foothold in the marketplace.
Step 5 – Assess reviews of competitor apps
This is another very useful method for finding out just what users think of the products bought from your competitors. Since reviews are unsolicited (at least, for the most part), they are the truest indication of what people really think about apps they've purchased and used. You'll also find out about features they love and don't particularly care for, so you can include/exclude these from your own app.
You need to pay particular attention to common threads that you observe running through these reviews, both frequent complaints, and frequent praises. When these are mentioned by a number of different users, you can have a fair level of confidence that those features are legitimately either appreciated or disliked by a majority of users.
Step 6 – Consider rivals' strengths and weaknesses
By now you should have a pretty good idea of the competition's strengths and weaknesses, and that should tell you how you can exploit weaknesses, and nullify their strengths to some extent. If you can surpass the strong points of your competition while avoiding any missteps or problems they've encountered along the way, you should be well positioned to become a player in your desired market.
You may have amassed a ton of information through this competitive analysis, but don't get overwhelmed by it, and don't lose sight of why you did it in the first place – you want your product to be more appealing to customers than anyone else's.
Step 7 – Compare your app to theirs
Now that you've collected all this data about your competitors. How do you use it to best advantage? You should use it to determine
Where your app ranks right now, compared to your competitors?
Is their app better than yours currently?
Does your app have some of the same flaws mentioned in user reviews?
Does your app lack some of the strong selling features that rival apps have?
If any of these are true, you have some work to do. Make whatever tweaks are necessary to bring your app at least up to speed with other highly rated apps, and then see if you can add value that makes yours the best in class.
This is a process you should get used to anyway because, in the highly competitive world of mobile apps, you will need to constantly supply updates that give you an edge, and which make your product more appealing than that of your rivals.