The Future of Web Apps: Trends, Ideas, and Insights [Infographic]
Venkatesh C.R
Web app are one of the best types of apps for business simply because of their accessibility and versatility. You can breathe life into your ideas through them, and prime examples like Netflix, eBay, Reuters, and Shopify serve as clear proof that the sky's the limit in revenue potential.
This infographic gives an overview of what web apps are and why it's worth developing one for your startup. It outlines all the latest pertinent stats and the various types of web apps – especially, their various profit-building benefits. This is must-know information if you're interested in building your own and want to set yourself up for success. 

---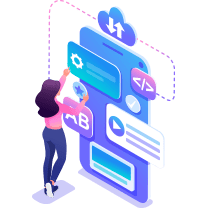 Start Your Web App Project Today
Kickstart your web app project today and embark on a path of growth and success. Our dedicated team will work closely with you, ensuring a seamless development process and timely delivery of your custom web app.
---
Web app A.K.A website application can be termed as an application program that is stored on remote servers and served to the users over the internet using a web browser as a medium.
What Are the Types of Web Apps?
Static Web Application

Cost Effective

Enhanced Security

Loading Speed

Quick Creation

Dynamic Web Application

The Dynamic web app market size is north of 1.13 billion

Examples of dynamic web applications include news apps and e-commerce apps.

Top news apps include Reuters, AP Mobile, CNN News, Flipboard, and Google News.

E-commerce apps that remain popular are Shopify, WooCommerce, eBay, and Kajabi

Single Page Web Application

Single-page web apps like Gmail have over 1.8 billion users

Single-page web apps such as PayPal have a revenue of $25.37 billion 

Netflix & other SPAs have a CAGR of 35.68%
eCommerce Web Application

eCommerce web apps like Shopify is responsible for building 4.39 e-commerce sites and has a 10% share of the entire e-commerce market worldwide.

eBay has a net value of over $27 billion. 

More than a million WooCommerce sites accumulated a gross merchandise volume (GMV) of $11.8 billion. 

Progressive Web Application

PWA can increase site usage time by 119%

PWA apps lower bounce rates by over 37% 

The PWA market exhibits a CAGR of 31.9% 

The PWA market size will reach $10.4 billion by 2027 
Major Components of Web Applications:
Web Server – Handling of user requests

Application Server – Execution of user requests

Database – Storing all kinds of information
Why Should You Consider Developing a Web App?
Lyft, an American transport service provider, launched its progressive web apps. PWA records 11% more rides than the native mobile application of Lyft

Thomas Kent, a rapidly growing clock shop powered by Magento, was experiencing higher bounce rates. After the launch of PWA, Thomas Kent's bounce rate was reduced by 57%
Global Progressive Web Application Market
Market Size 2019 Value – USD 1,100 Million VS Market Forecast for 2026 -USD 7,600 Million

Expected CAGR Growth –

CAGR 34% from 2020-2026 
7 Unique Web App Ideas for Beginners
CRM for Businesses

CRM is now expected to reach more than $80 billion in revenues by 2025.

Examples – HubSpot, Salesforce, Salesflare

Professional Services Web App

The professional services industry will rise to $5,964.79 billion in 2023, up from $5,452.96 billion in 2022.

Examples – NetSuite, Asana, monday.com

Online Classroom App

Since its inception, the online learning market fact suggests that by 2025 to hit the $325 billion mark with over two decades.

Examples – Google Classroom, Zoom Education, Kahoot

Language Learning App

The global language learning market is expected to grow by 6.6% yearly through 2023.

Examples – Duolingo, Memrise, Babbel

Workflow Management Web Application

$86.63 billion is the global workflow management system market size by 2023, at a projected CAGR of 33.3%

Examples – Trello, Nintex, Bit.ai

Review Web Apps

Review web apps play a crucial role, with 93% of buying decisions swayed by online reviews. 

Examples – Yelp, Glassdoor 

Invoicing Web App

By 2027, the E-invoice market is expected to hit a CAGR of about 20.4% 

Examples – Zoho Invoice, Invoicera
How Do Web Applications Help You Make Money?
Through advertisements

Sponsored content

Freemium

E-wallet interest

Borrowed time
Advantages of Web Applications
Lesser maintenance and support

Cost reduction for end users and business owners

Executable on diverse platforms irrespective of OS or device type

Lesser compatibility issues

No space limitations