5 Step Action Plan to Improve your Online Reputation
DCI
With consumers now able to leave comments, likes and other post about your business, it takes a lot more to manage your reputation now than it has in the past. Do you know if there are any negative comments about you or your business online? If you're not paying attention to what is being said about your company, you don't know the current status of your company's reputation. In fact, if you don't have a strategy in place to monitor your company on an ongoing basis, your online reputation could change in an instant without you knowing it. Nowadays, there are different ways to improve and better control your online reputation. Below is a five-step action plan that you can implement right away.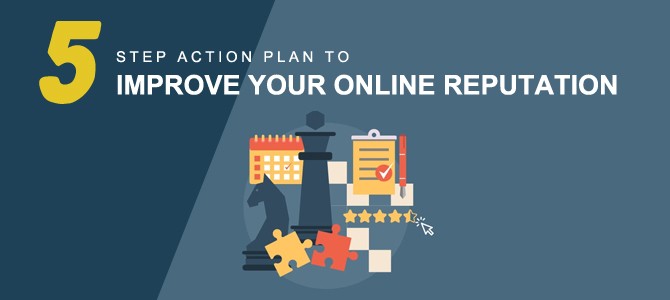 Develop an Ongoing Monitoring Strategy
Since your company's information is exposed to people on a global basis, 24 hours a day, seven days a week, it's almost impossible to know what kind of reaction your company may get from web users and previous customers. Therefore it's important to first develop a plan and a strategy that allows you to monitor your company's reputation on an ongoing basis.
Establish a reply plan
Another important thing to do is to have a general reply already planned out and ready to go when needed. For example, you will need:
A plan based on typical comments that you expect to receive.
To know who will actually be making the responses.
To know what position you should take on negative comments, and
To have an understanding and sensitivity to the voice of the company prior to making the actual response.
Always Maintain Professionalism
Sometimes it may be challenging to respond to negative remarks that or not justified or that are harsh. However, it's important to maintain a level of professionalism and friendliness that best represents your company during your response.
Use Positive Comments as a Launching Pad
It's important to also respond to good comments and reviews so your reviewers know how important their feedback means to your company. Inviting them to participate in any of your other online forums or other online communities is also a very welcoming way to encourage customer engagement.
Follow up and Follow through
In order to determine the outcome of your online communications with those who have engaged with your company, it's important to do the following:
Follow up on any promises that you have made, such as in store discounts offered, online discounts, upgrades or some other promise. Keeping your word in a timely fashion is critical.
Track your progress and measure you're its outcomes. This is one way to determine if your responses have been effective. For example, you can monitor follow up replies, make note as to whether not your post have been retweeted, and so forth.
Consider using review tools to help expedite the review process.
Brand reputation management is more critical now than ever before. Now is the time to invest in your business' online reputation by being proactive and responsive. Knowing who to turn to in advance and what type of responses you'll likely need to prepare for will prevent you from getting caught off guard and will help you to respond in more of a timely manner.