8 Ecommerce Email Automation Flows that Many Customers Love
Venkatesh C.R
Dot Com Infoway as an email marketing agency is well aware of the pivotal role that ecommerce email automation plays in driving businesses' success. That's precisely why we decided to share this vital information about certain strategic automation flows that have served as keys for our clients' success.
These tips and steps take you through the entire process, from welcoming new customers to re-engaging repeat buyers. You'll also be able to know the secret to more impactful campaigns that resonate with your audience.
What Is Email Automation?
Email automation involves sending targeted emails based on predefined triggers and workflows. Unlike manually sending numerous newsletters over time, automated email campaigns are triggered by specific factors (e.g. customer behavior or specific dates). 
Think of the triggers as the conditions that must be met for the ecommerce email automation workflows (or sequences of actions) to kick in. 
This way, you'll be sure that your email messages are reaching the correct people at the most appropriate times. You're essentially delivering relevant content every time due to the specific conditions and smooth workflows you can create. 
Since you're here, you're obviously wondering how to do email automation the way the pros do it. Without further ado, here are the eight ecommerce email automation flows that should pave the way for a great start to your campaign. 
Getting Started with Email Automation: 8 Must-Try Flows for Success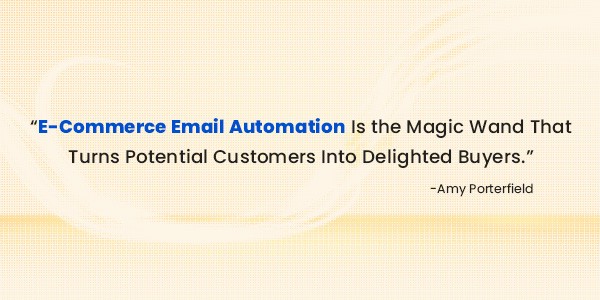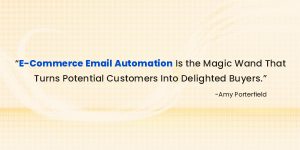 1. Energize Shoppers with Automated Abandoned Cart Emails
Revive your sales potential by converting abandoned carts into fruitful purchases. The power of automated cart abandonment emails could not be more apparent in its ability to drive impressive returns by simply sending follow-up emails or offering discounts.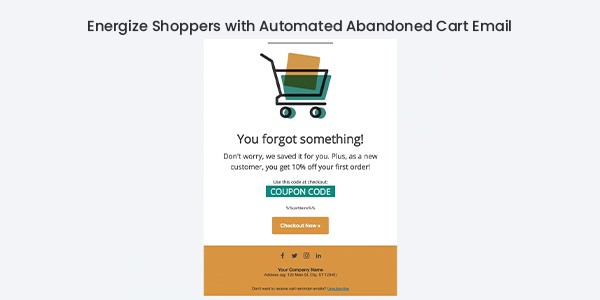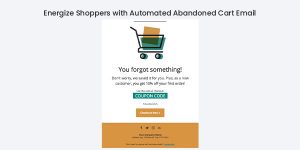 Goals or Revitalizing Abandoned Carts
You can reduce cart abandonment rates by using metrics like conversion and click-through rates. 

Craft compelling emails that resonate with potential customers, urging them to revisit their carts.
Effective Strategies for Abandoned Cart Emails
Basically, you focus on sending emails based on various timeframes. 
Prompt action by sending initial emails within 24 hours of cart abandonment. 

Address objections with follow-up emails within 48 hours. 

Seal the deal by offering incentives like discounts in your third email at 72 hours.
2.  Deliver Personalized Product Recommendations Direct to Customers
With this, you can present tailored product recommendations that captivate your audience. It's able to increase the average order value and leads to an overall better customer experience.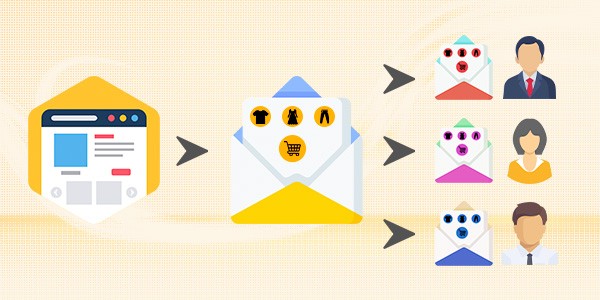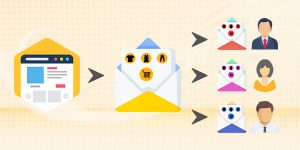 Objectives for Personalized Product Recommendations
Elevate your repeat business by encouraging purchases from satisfied customers. 

Evaluate success through clicks, conversions, and customer surveys to ensure recommendations align with your audience.
Crafting Attractive Product Recommendations
Dynamically customize recommendations based on customers' buying history. 

Experiment with timing, introducing recommendations a few days after a purchase, even within order confirmation emails.
3. Activate Discounts Automatically Based on Customer Actions
By optimizing your automated e-mail marketing campaign with strategically timed discount offers, you can attract price-sensitive customers and, in turn, drive sales.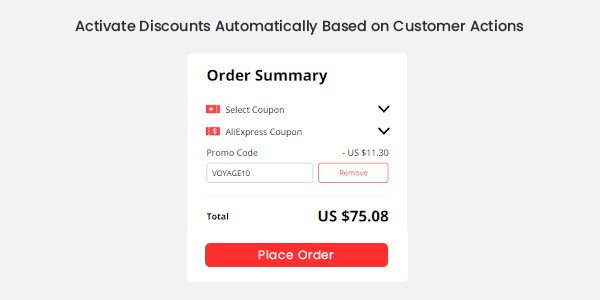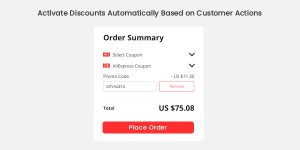 Objectives for Targeted Discount Emails
Drive conversions by offering timely discounts to customers exhibiting specific behaviors. 

Gauge success through conversion rates, click-through rates, average order value, and customer lifetime value.
Techniques to Implement Automated Discount Emails
Trigger discounts based on customer interactions such as browsing, abandoned carts, or past purchases. 

Tailor offers to reward loyalty and rekindle interest in your products.
4. Greet New Customers with Automated Welcome Series
E-mail marketing statistics show that welcome emails boast an impressive 50% open rate and contribute significantly to revenue growth, outperforming other promotional messages by more than 300%. 
And, it's all because you can make a strong first impression through automated welcome emails alone.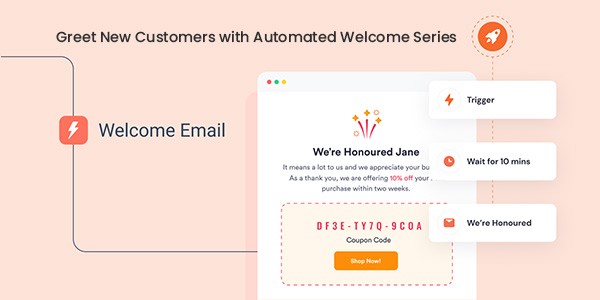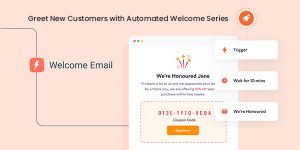 Goals for Eye-Catching Welcome Emails
Transform subscribers into loyal customers by emphasizing conversion rates. 

Elevate open rates by highlighting the value of engaging with your emails through discounts and exclusive offers.
Strategies for More Impactful Automated Welcome Emails
Instantly greet new subscribers with a warm welcome. 

Showcase product highlights and entice with special offers.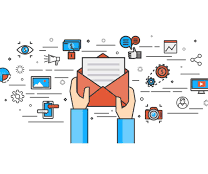 Amplify Ecommerce Impact with These 8 Smart Automation Tips

Learn to engage customers with personalized recommendations and re-engage inactive subscribers for sustainable growth, and more!
---
5. Streamline Customer Updates Like Confirmations, Receipts, and Shipping
Capitalize on the efficiency of automated email sending, ensuring customers receive timely transactional emails. Leverage lightning-fast order confirmations and receipts with an impressive 70% average open rate.
These can be especially helpful for small businesses that don't have the desire or resources to hire a dedicated staff that will handle sending every information about receipts, confirmations, shipping, etc.
If you happen to be looking for marketing automation for small business solutions, we suggest you learn more tips about it in this post. 
Objectives for Efficient Update and Confirmation Emails
Provide detailed, accurate information to alleviate customer concerns. 

Monitor open rates, service metrics, and conversions to ensure seamless customer experiences.
Guidelines for Implementing Transactional Emails
Immediately send order confirmations with detailed receipts. 

Share shipping updates, including tracking numbers, to proactively inform customers and reduce inquiries.
6. Engage Loyal Customers
With this, you can enjoy the leverage provided by repeat customers, who contribute significantly to revenue. Targeting repeat customers, done through remarketing, has been a perennial part of the ecommerce email best practices because of this alone. 
Now, you can fully harness automated emails to target their behaviors and interests, fostering ongoing loyalty, without having to exert extra effort for it.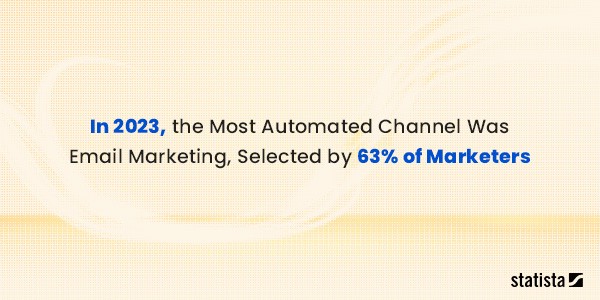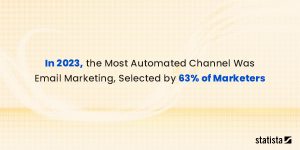 7. Gather Valuable Insights with Customer Feedback Emails
Discover insights through automated surveys that capture crucial data. By crucial, Collect feedback regularly and encourage reviews, enhancing your understanding of customer perceptions.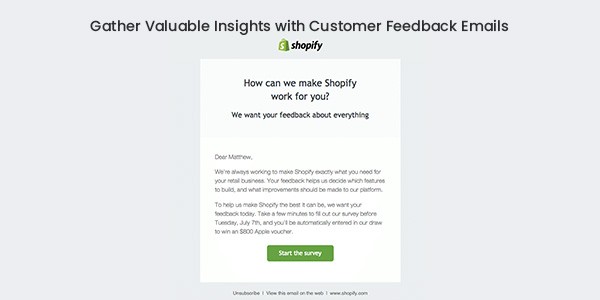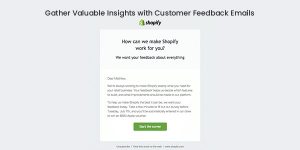 Remember that one of the main formulas for a successful ecommerce email automation will always be knowing your customers. Their preferences vary and change over time, as proven by the equally various feedback they'll share over time. 
8. Revive Dormant Engagement with Re-Engagement Emails
Declining engagement is a natural part of marketing. By doing re-engagement, you win back the attention of inactive subscribers. Reignite their interest through personalized content and incentives, ensuring your emails remain impactful.
Continue to improve your email automation knowledge and skills by checking out our ecommerce CRO checklist. You'll more than likely learn more email marketing ideas for ecommerce there. 
How Can Email Automation Get You Ahead in Ecommerce?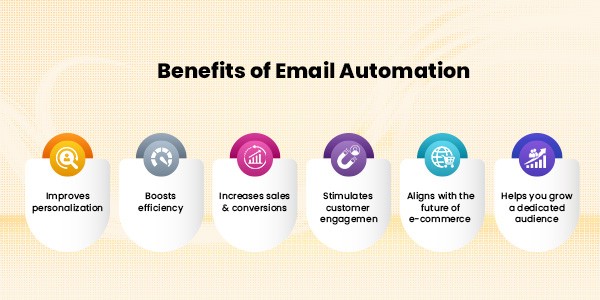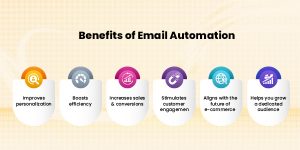 You don't have to look further than the proven benefits of ecommerce email automation to see just how thoroughly helpful and effective it is. Most of them have been mentioned above, but I've summed them up as follows
Improves personalization

Boosts efficiency

Increases sales and conversions

Stimulates customer engagement

Aligns with the

future of ecommerce 

Helps you grow a dedicated audience
Conclusion
Just ecommerce email automation takes most of the load off for you doesn't mean that you should stop dedicating time to tweak and enhance your campaign once you start seeing positive results. 
Keep in mind that there's plenty more ways to use email automation; these eight strategies are actually just an orientation of how to properly go about with it. If you're working with e-mail marketing services, be sure to discuss every available and suitable course for you.