Internet of Things: How It Transforms the Future of eCommerce Industry?
Raja
E-commerce revenue is set to hit $387,158 billion by 2019. However, this number won't be achieved without the help of Internet of Things (IoT).
The IoT has made its way into just about every industry. However, the impact that its had on e-commerce is remarkable. The IoT has revolutionized e-commerce in many ways. Never has customer service been more personalized and efficient, leading to unparalleled revenue that continues to grow.
The IoT creates a digital footprint that links customers, processes, and things. This digital footprint provides the customer with a highly personalized experience, boosts revenue opportunities, and creates a more transparent supply chain. Machine learning and computing allow machines to interact with customers in a more meaningful and engaging manner, resulting in a better customer experience; Plus, automation creates a more efficient shopping experience in custom ecommerce app solution when it comes to tracking real-time inventory as well as the shipment of purchases.

What is the IoT?
Simply put, the Internet of Things is the connectedness that devices, machines, and other electronics have with each other and the internet. Imagine a network of physical devices, electronics, cars, home appliances and many other things, monitored by sensors. These sensors allow the status and condition of different machines and other devices to be monitored in real time, creating a constant flow of information. This is possible with the help of connected software, actuators, and sensors.
What is the Impact of IoT on E-Commerce?
The IoT connects machines, appliances, and many other things and the internet serves as the highway that connects all these things. This digital connectedness has lead to a rise in interest in the IoT from retailers. In fact, devices that were once connected by closed circuit, now communicate through an internet network. The IoT provides digital communication through specialized hardware and embedded systems and also allows remote tasks to be performed.
The IoT has had such an impact on e-commerce that the retail investment in IoT is set to hit $2.5 billion by 2020. Furthermore, by 2021 the IoT will have an increased impact on technology in these ways:
A 68% increase in the e-commerce investment in machine learning and cognitive computing
A 57% increase in e-commerce investment in automation
Real-Time Inventory
One of the obvious benefits of the IoT is the transparency it creates for inventory and the online shopping experience. Customers are able to shop and view available inventory in real time. Inventory is easily tracked through the use of IoT sensors and RFID tags. As a result, there is less opportunity for human errors. This allows inventory to be monitored and tracked with precision, which helps with reordering inventory.
In fact, the IoT allows detailed information like product type, expiration dates, and other pertinent information to be stored and accessed as needed, without human intervention. This allows products to be reordered through the use of smart shelves that automatically reorder products once inventory has reached a diminished level. This helps to eliminate the occurrence of low inventory or instances where a retailer may run out of stock.
Less Trial and Error
IoT devices do more than connect devices, and machinery through the internet, they also have the ability to track machine or product performance and catch defects and malfunctions. This reduces the trial and error process and allows information regarding a device or machines' performance to be funneled to the right parties. IoT devices provide detailed information about the malfunction and allow any problems to be ramified quickly and accurately. This enhances the overall customer experience.
---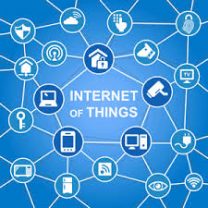 Need Free Consultation for your IoT Project?
Dot Com Infoway has an ability to provide IoT app development solutions for a wide spectrum of industries and services. We deliver high-performance IoT apps with minimal possible turnaround time.
---
Personalized Customer Service
IoT enabled devices have the ability to refine customer engagement through identity-based information, geographic location,  and much more. Details like this make it much easier to personalize marketing to suit a specific customer. Such a personalized customer service experience enhances customer engagement.
IoT devices help retailers to create a more refined and personalized e-commerce experience for each customer, which in turn greatly improves conversions.
Automation, Cognitive Computing, and Machine Learning
Machine learning and cognitive computing utilize analytics and other predictive tools to personalize the e-commerce customer experience. These tools also help manage inventory demand and predictability. Automation enhances customer engagement by creating an efficient shipping process as well as precisely tracking in-store inventory and helping customers find what they are looking for with real-time inventory to choose from. The IoT all encompasses three of the elements and so much more.
The collective use of machine learning and cognitive computing to create a more refined experience for the customer and the use of automation to produce accurate information regarding inventory, create an enhanced customer experience.
The impact of IoT has far-reaching effects. The ability to track and monitor the entire e-commerce experience from the time a customer first engages with a site to the shipment of products help the whole e-commerce experience to run smoothly.
Intricate details about the entire e-commerce experience can be garnered from IoT devices like GPS systems and RFID tags that allow the shipping process to be monitored all the way down to the temperature of the product. This allows the retailer and the customer to anticipate the arrival of a particular product. IoT devices also allow retailers to anticipate the condition of the product as well. The IoT helps:
Create a smooth, seamless, and efficient e-commerce experience.
Refine and personalize the customer experience.
Provide detailed information regarding the condition of product and machinery.
Allow product delivery to be tracked and monitored with real-time information.
The IoT is projected to continue to gain traction and popularity in the world of e-commerce. E-commerce retailers value the benefits that the IoT has on the overall customer experience. In fact, 70% of retailers are interested in employing the IoT to improve conversions and better serve their customers.
The IoT is set to continue to connect even more devices to further refine the whole e-commerce process. Consider the impact that more connected devices will have on the IoT and the ability to further hone and personalize the e-commerce experience.