App Store Search: Increase App Downloads with Keyword Optimization
DCI
Many of us have heard of search engine optimization as being associated with obtaining high rankings in the search engines as a result of having the proper use of keywords. But did you also know that you can also optimize keywords for the use of apps as well? Whenever someone needs to perform a search, certain keywords or keyword phrases need to be used. Knowing which keywords to use is half of the battle. However it this will determine whether your app can be easily found by app users or not. In the article, below we talk about how you can increase app downloads with the use of keyword optimization.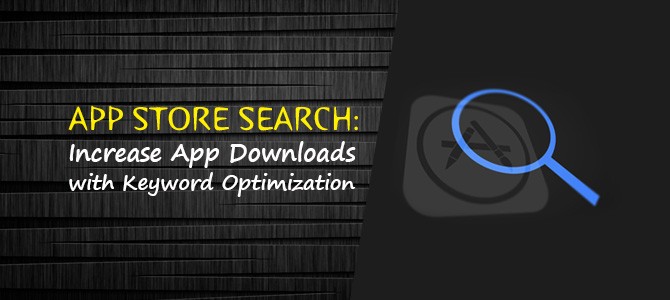 How optimized apps have a greater impact on search results?
According to research, when a search is performed by app users, it plays a very large role in how users are able to discover the apps that they are searching for. Additionally search queries according to further research, account for 65% of all of the downloads that take place from the App Store.
As an mobile app developer, you can also determine how you can have a greater impact on your app's ranking in the search results in the App Store, which will help users find your app a lot easier.
With stats like those indicated above, it is extremely important for you to make sure that your app is optimized by developing relevant keywords.
Here's how it works
Before placing your new app into the market please hoping that it will gain some momentum, first write out some relative keywords. It's best to find relevant keywords that tie to your product that your app best represents. You can perform a keyword research by performing the following steps:
1. Brainstorming
Sometimes it's worth it to take the time that is needed to think through all of the possible keywords that best describe your app. Before implementing the brainstorming process, setting aside time for a brainstorming session can be very helpful. You could do this by making a list of all the possible keywords that you can think of or any possible keyword phrases that this describes your app along with its benefits and its features, the tasks that it performs as well as other components of your app.
When going through the process, think of the best features of the app and the best value that it can bring to potential users.
2. Evaluating suggested keywords for consideration
To begin evaluating the suggested keywords that appear in the search bar, first enter the keywords from your brainstorming session (or the of keyword phrases) to see what other suggestions appear in the search bar. Then see if the suggestions are better for your app than the ones that you selected during your brainstorming session.
Often times suggested keywords are those that are searched for more frequently by others. Considering those keywords as an option may put you a step ahead of the game.
3. Checking out the competition
Checking out the competition may also be helpful as well. This gives you an indication as to what keywords are already working. Checking out the names that your competitors are currently using within your industry should also be included as a part of your research and due diligence as well.
Be sure to compare the functions and benefits of your app to the functions and benefits of your competitor's app as well. This can be very useful when deciding on whether or not their keywords are a good fit for your app.
4. Select an appropriate app name and/or title
After you have gone through the brainstorming session and have selected the appropriate keyboards, use them to better determine the most appropriate name and/or title for your app.
Add descriptive keywords next to the name of your app also. This allows users to have a better idea as to what the app does. For example, if you have a scheduling app, next to the keyboard you can add words or phrases such as time management or scheduling appointments.
5. Creating subtitles
Keeping the keywords in mind, create a 30 characters subtitle to be added to the appropriate field. This will allow users to quickly identify the main purpose of your app or game.
6. Promo Text
Developing promotional text is another important element of naming your app for search optimization. The promo text should be at least 170 s long and should appear above the description of the app.
7. The app developer's info
Since some apps may be searched for by using the name of the developer, it's good to also incorporate keywords to describe the developer whenever possible. This will allow users to pull up a list of apps that have been created by this particular developer or through other search options.
8. User-friendliness
Make sure that the app is user-friendly or as some may say, URL friendly (and after that is free from special characters.) URL's should also be shortened as often as possible to increase user-friendliness as well.
To conclude, creating a narrative about your app using relative keyboards is a great way to increase optimization. In doing so, using keywords to create an app name, meta tags and meta descriptions, along with other bits of information can enhance how frequently users will likely be downloading the app.
Also keep in mind that each app will have its own website, as well as a profile on Google play as well as iTunes in the Apple store. Planning to use the proper use of the keyword in advance will increase the user's interest in the app and ultimately increase sales. Use of keywords will also determine not only its relevance but its competitiveness and where it fits in in the marketplace as well as its perceived value by its users. Although selecting the proper keywords may not seem very important to you, it's actually the gateway to providing the needed exposure to your app.
Related Articles: