Email Marketing Trends to Expect in 2022
Raja
When Ray Tomlinson first invented email back in 1971, few visualized the benefits that it would to people. Come the 21st century, the email service still remains on the key platforms to relay information. In this case, entrepreneurs get to use these services to market their brands. As 2022 unfolds, great expectations are likened to the use of email services. For this reason, I find it prudent to walk you through the eye-catching trends to observe this year. Let's review the email marketing trends here.

Laid Back Tone
Gone are the days when email messaging thrived on formal and rigid communication. In 2022, companies have to focus on the larger target group which is the millennials. This generation has become accustomed to the use of casual language.
Moreover, more millennials are getting into managerial positions in companies. What will casual look like? Well, you will see more humor and laid-back texts being sent to the target audience. All this effort will be geared towards driving the message home to the millions of millennials out there.
Focus on Personalization
In the previous years, there have been various attempts to personalize email messaging. So far, companies have been able to pick the first name to reach out to users. Nonetheless, this strategy needs to be taken a notch higher given the competitive edge in the market.
Come 2022, businesses will have to make use of market automation to identify the target group. This implies that you will be able to identify people that are bound to benefit from the products being marketed. If the data is well refined then you will be able to improve on customer engagement.
Shift to Account-based Marketing (ABM)
Aside from coming up with emails for end-users, you need to keep tabs on other companies. Given that there are myriad firms out there, you ought to pick the right businesses to work with. In 2022, there will be an emphasis on the use of account-based marketing (ABM).
This platform will be used to assist you to get leads from companies that will benefit from your products and services. To attain the desired output, you ought to spare some time to understand the needs and the working of the company. Once you have done this research then ABM will save you the hassle of sending email blasts to entities that add no value to your business.
Mobile Responsive Emails
Based on a study conducted by email, 22% to 77% of email opens are done via mobile devices. This trend is anticipated to continue in the subsequent years as more people get accustomed to smartphones. As an entrepreneur, you will be forced to avail put more emphasis on mobile responsive emails.
However, this will not be a walk in the park as you have to consider compatibility issues of various gadgets. For instance, you need to have emails services for tablets and other smart devices. Remember, mobile-responsive emails make it easy for users to go through the content in any location.
---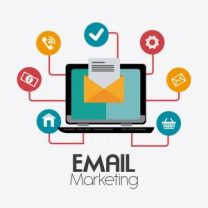 A Guide to Successful Email Marketing Campaigns
Email Marketing is the most inexpensive way of reaching out to your core audience. Small businesses claim that email marketing is 40 times more effective than Facebook and Twitter combined.
---
Quality Over Quantity
Conventionally, business groups thrived in sending countless emails to online users. The overuse of this strategy has necessitated services such as Gmail and Yahoo to introduce spam option. In 2019, more emphasis will be on the quality of the content availed on the email.
Essentially, you will be frustrated when coming up with emails that will only end up as spams. You should thus take some time to focus on the information entailed in the emails. This further means that you have to look at aspects such as email verification and segmentation. At the end of the day, you need to get revenue from the subscribers.
Hands on Deck for Consumers
Endless emails sent to users have made it quite stressful to make use of the platform. At times, you will hear of scenarios where email users change their accounts due to excessive spams. On your end, there is so much that you can do control the number of emails sent to subscribers.
This year, you should expect companies to work on ways to enable customer control incoming emails. For instance, end users may have the option to subscribe or unsubscribe the emails received. You should note that this will be achieved based on research lingering on the preferred products and services here.
Expect More Inbound Marketing Strategies
Majorly, emails are used to popularize the brand and services offered. However, there is the need to educate email users on the information entailed in this field. At this juncture, you will have to make use of inbound marketing.
Under this, it is anticipated that you will create an environment where users can make inquiries on certain issues. It is through this that visitors get to trust your company and the services provided. You should not forget that this is no phenomenon. The only difference is that more entities will be looking forward to integrating this marketing strategy with the outbound tactic.
Integration of Audio Services
Nowadays, there are the likes of Amazon Alexa and Google Home that make use of voice commands. Come 2019, this application is highly expected to make its way into the email world. So what will be able to do? Well, you will be able to compose, delete and send email messages by the use of voice.
That's not all you will be able to get prediction services when it comes to email marketing. The beauty of this is that you get to save on time when it comes to these services. This will give you a chance to focus on other things that will improve the output of your business.
Summary
Despite there being alternatives such as social media, email marketing, one of the digital marketing strategy that still proves to be a force to reckon with. Instead of turning a blind eye on this platform, you ought to get accustomed to the trends. At the end of the day, there are millions of email users that may help you to get your business to the next level. All you need to do is jump on the bandwagon and follow the trends.