Job Portal App Development: Exploring Its Development Cost and Features
Venkatesh C.R
Nowadays, you can have your favorite mobile app development company develop any app to fulfill a specific purpose, all the more so if it's made to address a rising need or demand. 
A job portal app is one example, thanks to its ability to bridge job seekers and people looking for skilled workers. In fact, in most major industries like food service, media, retail, and transportation, job seekers who use mobile devices number more than 60%. 
Gone are the days when people solely relied on job-hunting websites. After all, we're seeing an uptick in job portal app development precisely because these apps bring more unique perks to the table.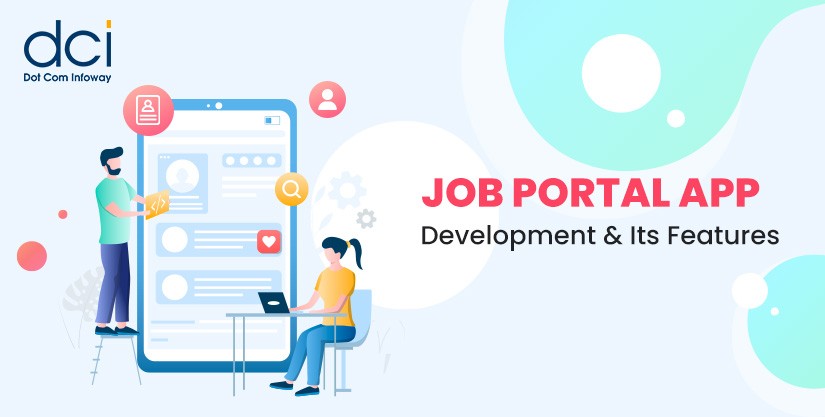 Advantages of Job-Portal Apps
For Hiring managers
Helps filter through numerous resumes, providing you with a list of qualified candidates in no time. 

Through automation, you'll be able to seamlessly manage multiple recruitment funnels with ease. This minimizes potential human error and maximizes productivity. 

Keeps all the tools and data you need within arm's reach for better time saving and efficiency.

You'll be able to reach out to prospects much faster and respond to their messages with minimal delay. 
For Enterprises
Broaden your horizons by streamlining the hiring process and seizing talent with ease.

Enhance your reputation by having a dedicated job portal app that showcases your commitment to innovation and attracting top talent. 
For Candidates
Save time looking for your dream job with the help of nifty tools.

Keep yourself abreast of the latest openings and a step ahead of the competition.

Receive real-time notifications when new listings are made.

Millennials and Gen Z look for the convenience provided by the intuitive features of a job portal app.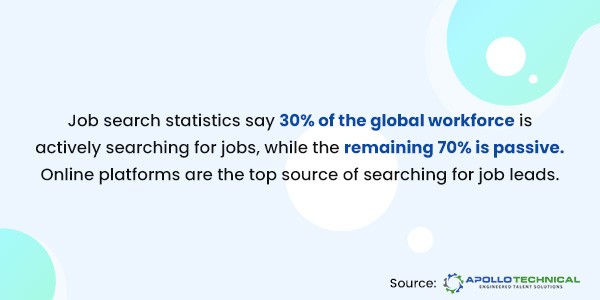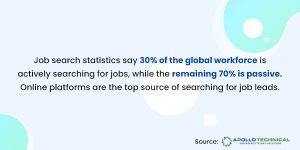 How To Build a Successful Job Board App: Requirements and Key Features
Planning your job portal app development mainly entails knowing the exact features you need to integrate. Defining your objectives, identifying your target audience, and competition are but some of the preliminary steps you need to take to make sure that you're aiming for the most appropriate features.
Feel free to ask for guidance from your chosen job portal development company when deliberating the key features and functionalities of your app.

On the whole, we can also categorize essential job portal app features based on the type of user you're building the app for.
Job Seekers
User Registration and Login – For seamless account creation and secure login functionality.

Profile Editing – Allow users to update their personal information, skills, and preferences.

Resume Upload – Aim for a user-friendly feature to upload and manage resumes for job applications.

Job Filters – Implement robust filters to refine job searches based on specific criteria such as location, industry, or experience level.

Resume Sharing – Enable users to send their resumes directly to potential employers through the app.

Job Alerts – Notify users about new job opportunities that match their preferences, ensuring they don't miss out on potential openings.

Saved Jobs – Allow users to bookmark interesting job listings for future reference and easy access.
Employers and Recruiters
Registration – Ensure a streamlined registration process for employers and recruiters to create their accounts.

Job Posting – Offer a platform for employers to post detailed job listings and descriptions.

Job Posting/Invitations – Let employers reach out directly to potential candidates by sending job offers or interview invitations.

Email Communication – Facilitate efficient communication by allowing employers to send job offers and interview invitations via email.

Resume Filtering – Provide powerful tools for recruiters to filter and sort through submitted resumes based on desired qualifications.

Payment Options and Membership Plans – Implement flexible payment options for employers and offer different membership plans based on their needs.

Resume Download – Enable recruiters to download and access candidate resumes for further evaluation.
Administrators
Dashboard – Offer a comprehensive dashboard with key metrics and statistics to provide an overview of app performance and user activities.

Content Management System (CMS) – Enable easy management and updates of app content, including job listings and other relevant information.

Job Ad Management – Share tools to manage job listings, including visibility settings and expiration dates.

Real-Time Analytics – Offer real-time data and insights on app performance, user engagement, and job listing performance.

User Profile Management – Allow administrators to manage user profiles, access control, and permissions within the app.

Recruiter Profile Management – Let administrators manage employer and recruiter profiles, ensuring accuracy and quality of listings.

Review and Feedback Collection – Integrate mechanisms to collect and analyze user reviews and feedback, allowing for continuous improvement and optimization.
Job portal app development projects should also plan the advanced features you're going to include. For standard users, these can come in the form of document scanners, in-app chat, CV creation tools, eLearning resources, and customized dashboards, to cite a few.
Don't forget about the tech staff and tools that can help them out a lot like a CRM based on candidate and employer management, CMS for regular content updates, ERP for resource management, etc. Any further personalizations and tweaks can be taken care of by custom mobile app development.
Be sure to discuss all of the features you mean to develop with your mobile app development company, and let them explain how they're going to.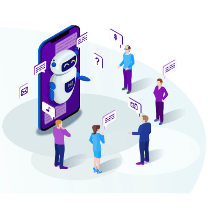 Discover the Future of Job Search

Step into the future of job search with our expert mobile app development services. Let us create a cutting-edge job portal app that revolutionizes the way job seekers and employers connect.
---
5 Best Monetization Strategies for Job Portal Apps
The top mobile app development services should already have a solid idea of the different ways they intend to monetize their creation and, subsequently, your app. You can start with these five actionable strategies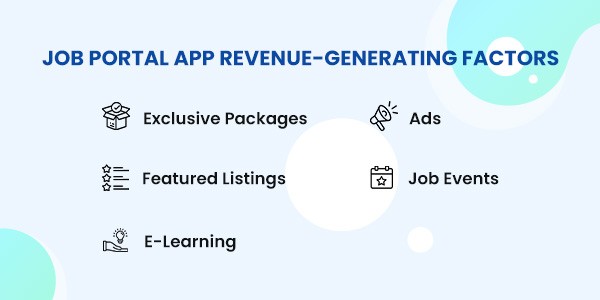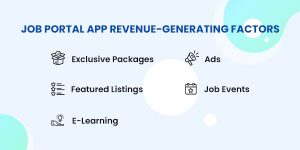 Exclusive Packages
You can charge users to give them access to premium features like job listings, resumes, and educational resources.

Subscription plans also work if you can offer a feature that will cater to various user needs. 
Ads
Sell ad space on your app's homepage, in the listings themselves or in newsletters.

Partner with relevant brands for native advertising or sponsored content. 

Target ads based on user interests.
Featured Listings
Offer different featured listing packages to meet the different demands of employers.

Charge them to feature their listings on your app, particularly in a prominent spot in search results.
Job Events
Ask for a fee from users when they attend events.

Organize webinars or seminars to help job seekers.
E-Learning
Offer paid programs and subscriptions that enhance resume writing, job searching, and interview skills.

Even digital certificates of new skills they acquire can be offered to boost their portfolios.
Last but not least, invest time in searching for top trends in mobile app development to get more ideas about how you can make money from your app. Look in particular at AI in app development because it will undoubtedly unlock more dynamic opportunities – and we're not just talking about job opportunities when we say this. 
How Much Does Job Portal App Development Cost?
Expenses related to job portal app development are no different from any type of mobile app development in general. Development cost typically varies based on geographic factors. The same can be said when we're considering long-term maintenance and updates.
With the usual range of total development costs in mind, we can safely say that the average is around $52,500. Take note of the cost variations per locale:
| | |
| --- | --- |
| Region/Country | Cost Per Hour |
| United States | $200 to $250 |
| Europe | $125 to $170 |
| India | $20 to $25 |
Don't expect your expenses to stay true to these figures if you're going on a wholly different route with plenty of customizations in mind. On-demand job portal app development may cost more because of the urgency aspect, for instance. 
Conclusion
Job portal app development puts you in the role of pioneer if we consider the freedom in creativity and innovation that most apps allow nowadays. 
This fact underscores the importance of working with mobile app development services that realize the importance of those qualities because they greatly afford the opportunity to stand out from your competitors. And, yes, expect them to be plenty.