Infographic: AI Trends and Mobile App Development in 2020
Raja
Artificial intelligence – what was once a concept that flourished in science fiction is now not a reality – and it's rapidly growing as well. AI remains at the forefront of the many great changes that will occur in the tech industry, and its impact could not be more apparent in the ever-expanding field of mobile.
What's equally wondrous about Ai services is that it easily synergizes with other emerging technologies like AR/VR and IoT. But there's more.
The following infographic will exhibit just how huge of a change AI will bring in the mobile industry. These are changes that our highly experienced mobile app developers have been anticipating.
Whenever we mention AI, we always readily associate it with convenience and personalization – both welcome leverages in just about any industry. But you'll soon find that AI goes well beyond these benefits once you digest the information shared here.

---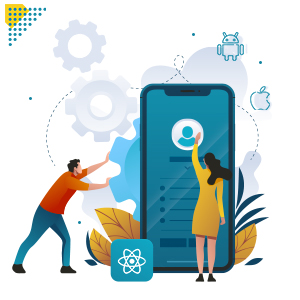 Are You Looking for a Mobile App Developing Expertise?
Dot Com Infoway is a leading mobile app development company, which creates scalable and interactive mobile applications that can amplify the level of user experience to meet any specific business requirements.
---
WHAT AI BRINGS TO MOBILE INDUSTRY?
"Artificial intelligence is set to nestle in the field of future technology. It's inevitable"
4 Billion – The number of devices that will carry AI-powered voice assistants this year
The projected growth of the AI software market from 2016 to 2025

2016 – $1.4 Billion
2025 – $59.8 Billion

$15.7 Trillion – The projected growth of the global GDP in 2030 as a result of AI
30% – The percentage of businesses that will employ AI in at least one sales process by 2020
86% – The percentage of cyber-attacks AI can prevent
1 Billion – The number of AI-enabled video cameras that will monitor cities around the globe by 2020
41% of consumers believe AI will ease their lives
97% of mobile users are already using AI-powered voice assistants
TOP 5 COUNTRIES
United States
China
Japan
UK
Germany
THE IMPACT OF AI ON VARIOUS INDUSTRIES
1. AI in Internet of Things
"Expect AI to be married to IoT" – Practical & logical move that will unlock the full capabilities of both.
80 % of all enterprise IoT projects to include AI as a major component by 2022
41% of consumers believe AI will ease their lives
Makes processing of large quantities of data uncomplicated
Maintenance and continued operations are less costly
2. AI in AR and VR
The projected growth of the AR and VR markets from 2018 to 2022

2018 – 8.9 million
2022 – 65.9 million

Precise depth perception when performing surgery
Headsets detect horizontal and vertical planes
AR and VR headset sales are expected to grow to $9.7 billion in 2020
3. AI in Social Media
"All fundamental features of social networks rely on AI now"
The projected market growth of "AI in social media" from 2018 to 2023.

2018 – $633 million
2023 – $2.1 billion

Image recognition
Newsfeed personalization
Audience targeting for ad campaigns, online marketing, and content designing
Access to invaluable user data to understand your audience better
4. AI in Medical Technology
The projected market growth of "AI in Healthcare" from 2020 to 2026.

2020 – $4.9 million
2023 – $45.2 billion

Quick non-invasive medical imaging
On-site diagnostics through smartphone
Easy analysis and comparison of medical records
AI Biotech – excise the lengthy process in drug discovery.
5. AI in Retail and e-Commerce
By 2021, 73% of retailers plan to introduce AI to optimize their pricing
Search recommendations
Helps keep track of your inventory better
Better transparency in search engines
6. AI in Logistics
The projected market growth of "AI in Logistics" from 2017 to 2030.

2020 – $1.21 billion
2030 – $10.30 billion

Lets you know the highest demand at present to quickly move your vehicle there
Cuts operational costs
Robotics in AI makes tracking, locating, & moving efficient
Management and operation of the warehouses enhanced
7. AI in Gaming
Google-owned AI lab's AlphaStar is capable of beating 99.8% of human players.
If it takes a human between 12,000 and 20,000 hours of practice to master a certain skill, then the bots burn through 100 human lifetimes of experience every single day.
AI Testing – Runs through the entire game map in less than 1 hour.
Very personalized experience
Enhanced visualization technology
Voice assistants
Are you ready to develop Mobile Apps? or Need any Clarification? Get Mobile App Consultation Services from us.
Related Articles: