Hiring Dedicated Developers for Your Business – Proven Tricks for Success
Ruban
An mobile app developers plays a vital role in bringing to life your ideas. This fact alone underscores the need for most business owners and corporations to be more selective when it comes to choosing their developers. Ultimately, mobile app development requires no less than the best team of developers for an app to, at least, have a chance to succeed.
In most cases, dedicated developers really deserve such a title, as proven by the number of individuals and companies that have worked with them and have received a good measure of success with their apps. Of course, "best" is a very general term that's vague at best. This is why, in this post, we opted to explain just why these types of developers would be your optimal choice for app development. We even shared a few proven tips that you should follow to make the most of out of hiring such developers.

What is a Dedicated Developers Model?
The term "dedicated" attached this kind of app development model should prove to be enough to give people an inkling as to how it works. Simply put, dedicated developers fully commit themselves to a specific mobile app development project to ensure quality and timely completion of the work.
In such a model, these developers are deployed by a company to help in not only the development aspects of the project but in subsequent support for the finished product as well. The ready advantages of this stand out, especially in areas such as expertise, adaptability, security, and overall quality. Usually, they ask you to sign a non-disclosure agreement with them, so that your project (and app ideas) will remain confidential all throughout the project.
Why Not Freelancers?
While there are a lot of competent freelancers out there, the main issue that usually arises when you decide to choose this route is the question of hiring skilled ones. Yes, it's possible to hire more than one freelancer to help build your app. But you still have to come up with a thorough screening process just to build your own team from scratch. Of course, this might save you a bit of money, but is it really worth the time interviewing and testing each one?
In a dedicated developer team, each member already has specific expertise that he can immediately offer and utilize. There's also the advantage of having worked as a team for a considerable amount of time already. They've enriched their synergy, in short, allowing them to increase their efficiency while working on any project as a team.
This same advantage rarely applies to a hastily arranged group of freelancers. And obviously, there's also the risk of security when you choose to go for them, particularly when it comes to safeguarding the leaking of your ideas.
Document the Requirements to Build Your App or Project
Once you decide to go for the infinitely better route, which is to hire dedicated developers, you have to take the time to start listing down your requirements. What specific needs do your apps require? Your app's primary features often dictate this, so it's vital to make this known to the prospective mobile app development agency you're going to hire.
Define a Sourcing Process
Any type of outsourcing decision should have an organisation, and the same applies when you decide to hire dedicated developers. This reveals how serious you are in having your app be built in the exact way that you want it. Be extra careful when evaluating the following important criteria:
As said above, every developers' expertise should be thoroughly checked. Besides the actual development, there are other aspects that you shouldn't overlook, after all. From design and research analysis to testing, every team member should be able to adequately prove his expertise in his assigned area through his portfolio.
Prioritize trust-building from the get-go by observing an app development company's willingness to be transparent. This quality shows how professional and honest a company is when dealing with their clients. Any good developer never hesitates to be open about everything that's going on in any given project.
Of course, language should never become a barrier when outsourcing. One sure way of maintaining communication and lucidity is to make sure that you are using a language that both parties can easily understand. In most cases, English stands out, for it's the language of globalization.
Working on a timezone that's amenable for you both is also crucial. How can you work optimally if such a factor is in total disharmony? Timezone usually dictates your chances to communicate directly, which is extremely important. Carefully deliberate this to avoid time-related inconveniences for you both.
Great dedicated developers always go the extra mile when offering assistance beyond actual development. Even after completing an app, you should still receive support for possible adjustments and even promotion.
What's worse than having an app go stagnant due to lack of room for growth after it's been created? A competent development team focuses on app scalability, for success usually hinges on introducing enhancements to it over time. Of course, scalability also entails partnering again to develop more (even greater) apps in the future.
---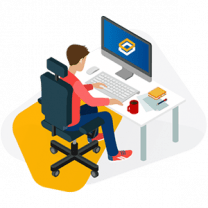 Are You Looking for the Top Offshore Software Developing Expertise?
Our dedicated resources excel in end-to-end web and mobile development. Hire your offshore development team at flexible hiring models to save time, reduce cost and bring large monetary gains to your business over in-house development.
---
Make the Best Use of Time When You are Interviewing the Agency
The interview determines how well you'll work with the agency. It gives you the opportunity to know the developers' skills, qualities, and personalities, and this chance should surely not be wasted. It would be best to come up with a list of the pertinent questions you should ask, so you wouldn't have trouble sharing your vision and business model in general.
Work Out on the Engagement Model that Suits Your Requirement
Take the time to check whether your requirements suit the dedicated developer engagement model. Most engagement models of such app developers almost always adhere to clients' requirements, hence, proving why they're the most efficient choice.
Their benefits altogether effortlessly stand out, making it easy for you to attune your project's requirements with them. In the end, it's better to be sure that the engagement model is agreeable to the entire team. This, of course, takes discussing this said model with each other.
Lead the Team with Commitment and Build Morale
Expect the team to look to you for inspiration and assurance that the project will be finished successfully. Don't overlook boosting your team's morale as well, since there will most assuredly be bumps along the way as should be expected from any long term project.
Dedicate More Time with the Team While Getting Started
Any good leader takes the time to acquaint himself with his team and encourages its respective members to do the same. Fostering familiarity with how each of you works, in effect, ensures your work relationship's foundation is solid from the outset. It says a lot about a leader when he eagerly does this every time, much more so in an app development setting.
Monitor the Team Performance on a Regular Basis
No other step assures the quality of work than this. Consistent monitoring of every team member's performance in mobile app development equates to knowing where to steer the ship towards the right direction every time. Any shortage in delivering quality work during each stage of app development affects the end result (i.e. the finished app), after all.
Provide Regular Feedback
Feedback of current progress goes a long way in informing your team of how satisfied you are with their work. This also makes it known to them the areas that need further improvement, so these enhancements can be done quickly. Think of this as a way of ensuring that the app will be nothing short of perfect once completed. And a lot of clients actually attest to the efficacy of open, objective feedback.
Aim for a Long Term Commitment to Work Together
This enriches cooperation, after all, which could prove to be invaluable to all of you in the long run. Showing that you're committed to working with the team for an extended duration would also convey your belief in their abilities.
When developing an app, this quality in a team tops everything else. After all, how could you even expect an app to be finished flawlessly if there was no mutual commitment from each and every one of its developers? It wouldn't be improbable to say that this is one of the keys to ensuring an app's success.
Take note of each tip we listed above, and you'll surely find the best mobile app development company to work within no time. You already know that dedicated developers are the better option; you now just need to find time to look for the one whom you're most compatible with. Don't hesitate to base them on the guidelines above if it happens that you're struggling with your decision.