The Unconventional Guide to Hire Dedicated Developers
Ruban
Hiring a dedicated team of developers to build software and web applications for your business can be very tricky. This is because it requires great care and skill to understand their working experience and proficiency. To ensure that you hire dedicated developers, you need to consider a number of factors. Some of these factors include the ability to communicate effectively, review and ratings of the development company, their customer feedback, pricing, and etc.
For hiring offshore developers, following the right procedure is always advisable. Many are the times when companies hire inexperienced developers just because of concentrating on one factor such as the cost-effectiveness. They ignore other important considerations like the company's portfolio but only to realize later when the project has been done unexpectedly. Hiring bad developers not only lead to the creation of wrong applications, but also can cost your company a lot with reference to money, time, and reputation.

In this outsourcing guide, we are going to discuss nine things that should reflect on while hiring individual developers or offshore development companies. The following are the considerations.
1. Expectations & Experience
You should hire dedicated developers based on your expectation. Not based on how much they have done in the software development industry. For instance, when you are hiring a developer to build a mobile application on electronics, and your business is dealing with electronics, then you need to hire a person who has developed or worked on such an application before. This will reflect that they have enough knowledge and experience about electronic systems. An experienced developer has the capacity to ensure that your project is done correctly based on your customer's experience.
2. Company Reputation
This is actually what people say or how they view the development company you want to hire with regard to their services, products, or the brand, based on the previous experience with the company. After you have carried out all the research, gathered the portfolios, and know everything else about a particular company, their reputation should be the next thing to determine whether you are hiring them or not.
Hiring a development company with a good reputation ensures a higher trust, fewer errors or risks, better treatment, and experienced developers. Considering this factor before hiring the best developers always warrants successful projects in development.
3. Transparency
When used in the right way, transparency can be a piece of very powerful equipment in application development. It is usually implemented in every part of development in connection with various relationships which makes development more enjoyable, smoother, profitable, and efficient. These relations include communication, honesty, and integrity. Every developer should have these values in order to achieve guaranteed success in development. This is because they reduce the risks of project failure, enables open communication, increases collaboration, and promotes accountability.
4. Cultural Difference
This is a very significant consideration when developing applications. It is also one of the challenges of outsourcing development. The reason behind this is that every country in this world has a unique social behavior or idea that guide their way of life. They also have different identities based on their respective-cultural-beliefs. One unique identity is color. This is thought to have different meanings in different cultures. For instance, a color such as red may suggest "danger' in one particular region, but to another, it might show peace or passion.
Language is another identity that defines-different-cultures. Developing an application in one language such as Spanish might affect another country which only speaks in English or French. Metaphor is another very-crucial-identity that needs to be considered. All these tend to affect developers when they want to include a visual design in their applications. Other differences in culture include the-dressing-code, typefaces, symbols, and the environment.
When you want to hire dedicated developers, you need to put into consideration these cultural differences. Let the developers or the development company understand how you want your applications represented and with respect to which culture.
5. Understanding Business
Professional developers not only need to have a good understanding of writing software applications but also how businesses operate. This includes understanding customers, what they want, and their relationship with the business. Knowing this is the key to developing responsive applications which meet the needs of your customers. It also determines whether customer data is to be integrated within the application, but this is necessary when designing or developing e-commerce apps. This factor is also good in developing applications with good customer experience and also the user interface. This is all based on understanding the business and its customers.
---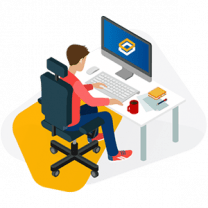 Are You Looking for the Top Offshore Software Developing Expertise?
Our dedicated resources excel in end-to-end web and mobile development. Hire your offshore development team at flexible hiring models to save time, reduce cost and bring large monetary gains to your business over in-house development.
---
6. Infrastructure
Infrastructure plays a crucial role in successful-application-development. It refers to basic systems and facilities that serve a city, country, or even business. This includes transport systems and telecommunications. For outsourcing development to work according to plan, there must be efficient telecommunication networks such as broadband speed and internet connectivity.
Countries without good infrastructure including transport systems are not the best to outsource developers. This usually hinders good transport and communication between the hiring company and the development company. It is good to note that communication of any form including Emailing, SMS-ing, and social networking relies on telecommunication which is a form of infrastructure.
7. Communication
This is one of the most important things to examine before hiring any developer or development company. During the project, there will be a lot of explanations and interactions with the developer. You should, therefore, choose a developer who is able to communicate effectively in your language. Failure to do so may lead to misunderstandings which can contribute greatly to the failure of the entire project. Communication not only increases productivity, morale, and commitment of developers but also leads to successful development.
8. Time Tracking
Ability to measure-and-document the time consumed during development is one great advantage for every project manager. This helps to know the amount spent on every project in a particular period of time such as a day, week, or even months. This has never been easy, but with the right tools such as Podio, Asana, and Trello, everything has been very straightforward. You can also measure the productivity-and-efficiency of your development team when you are using advanced time tracking tools.
When you are planning to work on multiple projects at the same time, then getting a perfect time tracking software will be necessary. Hiring developers that are able to manage time effectively is also to your advantage and ensures that projects are completed successfully. Time tracking your current projects can help a great deal especially when you want to estimate your budget for the upcoming projects.
It also helps to know which developers are more efficient and which one to keep for the upcoming projects. This is done based on those who are able to meet deadlines and deliverables.
9. Coding Standards
The best developers must be able to follow the general-coding-guidelines and rules when writing software. It doesn't matter whether it is web software, mobile software, or desktop software. The code must conform to the coding standards defined by a particular programming language. For instance, in Java and C programming languages, variables must be named, declared and defined in the right way. The errors must also be handled correctly to prevent software bugs in the future.
Other best practices and coding styles include writing test cases, using helper-functions or methods, writing documentation and comments, writing readable but efficient-source-code, and avoiding hardcoding whenever possible. The importance of these practices is to minimize the complexity and any complications within the code helping other developers understand it clearly.
When hiring any dedicated developers or offshore development company, ensure that they are able to follow all the coding styles, conventions, and best practices when writing code.
Conclusion
To make sure that you have a better team of developers for your mobile, software, or web projects, you need to follow the above developer guide. This will lead to the creation of better and more featured applications. It is also recommended to hire developers from the result oriented and well-proven development companies. These are reliable, more experienced, and have a lot of quality developers who are believed to create wonderful applications in accord with their client's requirements.