Is It Always Smarter to Hire a App Marketing Agency Instead of Doing It Yourself
Raja
The mobile industry's trajectory remains pointed upward, with no sign of it ever changing any time soon. As a direct result of this, businesses are consistently scrambling to overtake the competition in not only app development but marketing as well. That said, both aspects have since become thoroughly cutthroat. To successfully conduct app marketing, you have to come up with ways to truly make your product stand out, reach the appropriate audience, and make conversions. And, more often than not, companies hire mobile app marketing agency to take care of this issue. This is especially for those who are willing to invest and partner with them. They simply bring their invaluable experience and skills to the table, which can bring about game-changing and even salvaging results for any company in need of better app marketing.
That is not to say that some individuals and companies rely on themselves when it comes to promoting their apps, though. But is this ultimately a wise choice? Or will the decision always be eclipsed by opting for mobile app marketing agencies? What ready app marketing agency benefits can you get? Does the DIY strategy have its unique advantages that become apparent when the two are juxtaposed? Let's find out.

Appraising the Real Nature of DIY App Marketing
The notion of DIY online marketing, much like any other DIY approach, readily connotes taking the time to learn app marketing from the ground up. To merely scratch the surface of something as vast as this field would only result in immediate failure of any campaign. Consequently, you need to be prepared to go all the way in your learning, and it's also not a onetime thing. Because you have to always be open to learning more to keep up with the continuous expansion of the app marketing field and the mobile industry as a whole.
That being said, time stands out as the main resource that you have to be prepared to invest and expend should you choose this route. Understandably, not a lot of business owners have the opportunity (or patience) for this, hence, they almost always opt to hire mobile marketers.
However, learning app marketing proves to be rewarding as evidenced by the benefits of the DIY approach. It would not have been considered as a viable option otherwise.
Benefits of DIY App Marketing
Take a look at the main ones we have listed below, and you will see just why companies and entrepreneurs still go for this strategy:
You retain full control of the direction where you want your app's promotion will always be heading.
Partnering with an agency entails sharing your app and marketing ideas with a third-party, a scenario in which solid trust figures greatly.
It is arguably cheaper as well, assuming you manage to enjoy the relative success that is not at the least marginal compared to what topnotch app marketing agencies can accomplish.
At best, these remain as the sole, logical reasons why it might still be viable to go the DIY way. But, considering the sheer amount of time and effort this will take, it will not be surprising if you end up getting burnt out in the long run. Should your campaigns fail as well only makes the possibility doubly daunting.
Why Mobile App Marketing Agencies Are the Smarter Choice?
We are going to answer the main question of this post outright with a resounding yes, app marketing agencies definitely outshine doing the marketing yourself. And the mere fact that it is a completely vast field that exists independently from app development only drives the point further.
Just thinking about the myriad factors you will have to take into consideration can be headache-inducing already. Imagine getting yourself tangled in HR issues and choosing which employees require more training (and being responsible for said training). Of course, there's also the actual planning and execution of the marketing strategy.
Hitting the books and learning all of them will certainly provide you with the technical know-how. However, it takes immense confidence and willpower to even start laying the groundwork for a single campaign. All app marketing agencies, at least the very good ones and those that have plenty of achievements under their belt, have the ready tools on-hand to do the quick and smooth planning then proceed to execute just as efficiently.
Likewise, these are, more or less, the other app marketing agency benefits you should remember:
Takes care of App Store Optimization, which is in itself, already a consistent challenge faced by many app owners. ASO ensures you will reach your target audience without relying on other, more direct marketing techniques to do it. Of course, like SEO, you should maintain this regularly.
Onboarding support for customers who are using your app also has to be provided consistently. Agencies take the initiative to assume this responsibility for you.
You get to work with an entire team, composed of members that have highly specialized skills and have developed chemistry through years of working together. The latter is specifically crucial as it determines how smoothly and quickly positive results can be brought about. Compared to a DIY method, where you have to pinpoint and hire professionals for each specific aspect of mobile app marketing, this option is a veritable time-saver.
---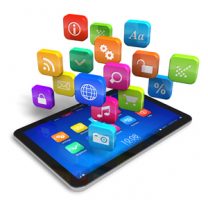 Want to Succeed in the Mobile World?
Our app marketing experts help your mobile app get the attention it deserves. We provide a suite of marketing services to skyrocket your downloads & grow your app's revenue.
---
The Best Time to Hire a Mobile Marketing Agency
You might ask, "When should I hire a marketing agency?" Well, do not forego hiring one in should you decide to choose this route. Better if you're still only starting out in planning and creating your app. It's the optimal time simply because you can divulge your vision for your app immediately and even take suggestions the agency will be more than happy to share.
What are your goals? What direction will your overall marketing strategy be taking? How will you tackle vital elements like promotion, analytics, and customer retention and user engagement? You will be able to answer these questions together and not be limited to your own ideas only. This alone already lets you avoid disaster from the get-go.
In the process, you build your relationship with the team as well. And, without a doubt, this lends itself in excising any potential trust issues you may have to put up with as we mentioned earlier.
Important Traits to Look At When Hiring Mobile Marketers
We all want to have results, and we want them to be as positive as possible. Giving an A for effort simply won't suffice in the dog-eat-dog world of mobile app marketing. Your agency should be able to provide tangible results, instead of mere forecasts. Make sure they will be able to deliver nothing less than what they promise.
Maintains Consistent Communication
Since this is basically a partnership, don't overlook agencies that make it known to you their communicativeness. Communication builds relationships and, in turn, trust. Reach out to prospective agencies, when you are trying to gauge this quality. Take the time to talk to them and see how they respond to your prompts and queries. If they manage to provide outstanding communication and support, then they are definitely a winner.
Actions speak louder than words. It's easy to be seduced by an agency's flowery statements and false promises, so only take them with a grain of salt. What matters if they are actually able to act on them. How do they perform as time goes by? Do they manage to maintain a systematic and timely approach when delivering results? Or are they constantly delayed?
Knowing the answer to these questions should help you decide whether it's best to continue with the partnership or not.
Conclusion
The benefits of hiring mobile marketers far outweigh those given by any kind of DIY method you adopt. As long as you know how to pick the best agency that will be suitable for your needs, you will always be a preemptive step closer to achieving your goals. It won't have to be rocket science, knowing you'll always have a dependable agency available to help in earning milestones for your app.