How Contract Staffing Takes Care of Workforce Woes and Brings Value to Your IT Company?
Raja
For IT companies looking to cut costs in terms of their workforce yet still don't want to sacrifice the quality of the staff that they hire, contract staffing serves as a solid alternative. In the IT industry, where employees have to be trained consistently due to the rapid changes occurring in more than one subfield, this can be very costly for most companies. But that's just one issue, so to speak, that Contract Staffing can overcome. And before we highlight why contract staffing is better than hiring permanent employees, let's take a look at how it works first.

What is Contract Staffing?
Contract staffing, as hinted above, lets you forgo conventional hiring methods by recruiting workers on a contract basis instead. Most of the time, the contractor will only be working for you fora set duration and a specific rate of pay will also be agreed upon prior to his recruitment. That being said, the company exempts the contractor from its payroll; instead, this responsibility falls on the staffing agency, which offers the manpower.
Contract staffing has since become a go-to staffing solutions strategy for plenty of companies because of the stark benefits they provide. Below are some of the most valuable contract staffing advantages that a lot of IT companies can enjoy should they choose to go down this route:
Slashes staffing expenditures substantially
Contract staffing attracts many companies because it readily allows them to conduct significant cost saving. As said above, if you have to train your employees regularly, this will inevitably take a huge toll on your long-term expenses. On the other hand, there are plenty of staffing agencies that already have plenty of experienced specialists that already possess the necessary skills to fulfill a particular task or project that needs to be done in a particular amount of time. As an IT company meaning to optimize your finances, would you willingly still opt for the former?
Staff quality is still assured
Contractors rarely accept projects that they think they aren't suited in or don't think they'll perform well in. Frequently, they offer highly specialized skills that prove to be invaluable in not only getting a project done but in sharing their expertise to the other employees working on the project as well.
In this way, companies can hit two birds with one stone because most of these contractors are willing to train other personnel as well. And since these contractors eagerly expose themselves to various markets, technical environments, and projects, you can only imagine the vast amounts of knowledge and expertise they can share to your own company's staff, as well as the fresh ideas that they will promulgate.
More time is saved and is just more convenient overall
Since most contractors make themselves available on shorter notice, your company will always be able to save more time. This rings true especially if you'll consider the usual hiring process involved for a permanent employee that has the specific skills needed to get a certain job done. Obviously, training your present employees takes an even longer amount of time.
Once they opt for contract staffing, companies can manage their workloads easier and meet project requirements without the usual hassles involved. This, in turn, makes sure that workflow remains steady and constant, minimizing disturbances that might occur.
Why It's Better to Limit Hiring Employees for Your IT Company?
Besides considering the primary benefits of contract staffing mentioned above, there are also logical reasons why companies should refrain from solely hiring permanent employees. Besides the obvious disadvantage of costing more because of factors like taxes and benefits, these other reasons demonstrate just why hiring may not be the optimal route to take for IT companies in the long run:
Hiring makes it hard for you to be more flexible in terms of managing your workforce. If work is not flowing smoothly, you may have no choice but to fire your employee.
Accountability issues also tend to commonly occur in employee-only settings. For companies meaning to maintain an unblemished reputation, they should consider hiring only the best specialists in their respective subfields.
---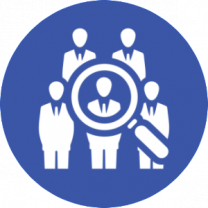 Want to Hire IT Staffing Agency?
Dot Com Infoway has shown a pinnacle in helping businesses fulfill their IT staffing solutions with temporary and permanent IT staffing. We works closely with you to find the talent you need.
---
How Agencies Can Help in Contract Staffing?
Plenty of excellent staffing agencies out there do more than provide ready contractors to their client companies. Most go the limit in providing other benefits. For one, some offer Employer of Record services that even take care of the majority of the personnel and administrative processes involved in the recruitment process.
From the processing of timesheet and handling federal and state taxes to taking care of employment paperwork, insurance, and conducting background checks, companies no longer have to take care of this essential aspect of staffing as a whole. This readily reveals the sheer value of such agencies for companies intending to hire contractors for shorter periods of time.
Plenty of them list down the types of contractors that they offer as well as their specific expertise. In short, they are the ones that employ the contract workers while the latter will render the service to the client company. For companies looking to minimize taxes involved in managing their workforce and save plenty of money, these agencies serve as solid options for staffing solutions since they also ensure companies that the staff they hire is always high-quality.
How to Shortlist Agencies?
Of course, looking at the established reputation of the agency should be your primary priority. Conduct a background check of their credentials or whether they're willing to provide workers' compensation insurance.
Also, take a look at the number of contractors that are willing to work for them. This not only immediately reveals their legitimacy but also the way they treat the workers that partner with them. They should be willing to communicate with you, especially on how they will be able to bring value to your company. Maintaining this connection is necessary because you might end up hiring the wrong person for the job.
Conclusion
Contract staffing remains a veritably compelling choice for IT companies who are open to not limiting themselves to always hiring permanent employees. The fact that contract staffing advantages go beyond cost-saving really asserts just how efficient its established system and process already are. Don't overlook it for it may very well greatly contribute to your company's continued growth.