How Custom Store Listing Leads to Sizable App Sales?
Venkatesh C.R
As mobile app developers, we want the "work of our hands" to succeed. Inevitably, that's always a challenge, given the fierce competition in the field. As such, we have to be constantly looking for strategies, often with the help of a mobile app marketing agency, to overcome it; one of the strategies that are quick to stand out is custom store listing.
Who among us doesn't want more localization and personalization for our apps? Wouldn't you seize every opportunity to boost user experience, A/B testing, and analytics? All these come as direct advantages if the Google Play store listing is set up properly.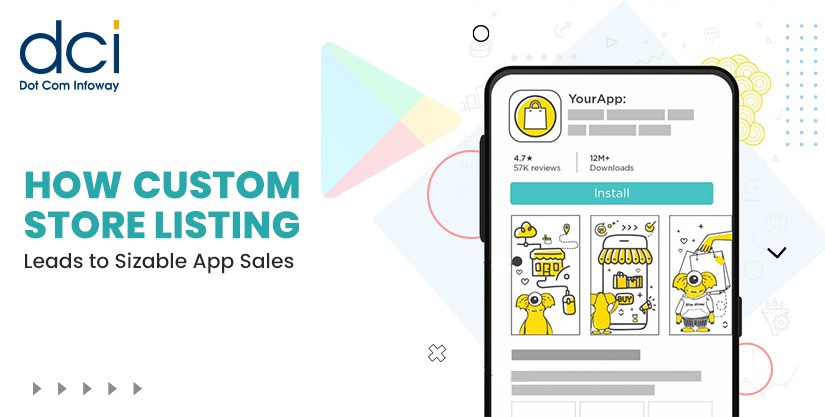 What Are Custom Store Listings in the Play Store?
Google Play Store publishers who have been struggling with the fundamental aspects of app marketing campaigns mentioned above can take heart in the fact that they can rely on custom store listings going forward. 
Basically, it's a highly adaptable feature in app store optimization services that lets you create alternative product pages for your app. For each page you create, you'll be able to target a specific country, offer specific offers, or use value propositions (e.g. pre-registered or country-specific users) with almost the same sure-fire precision as well-targeted Apple search ads.
Incidentally, if you've been publishing Apple apps as well, you'll likely realize that they're a lot like App Store Custom product pages. 
Same as in that platform, custom store listings' powerful personalization and localization perks quickly stand out. The end goal and result, of course, is more sales and conversions and brand awareness.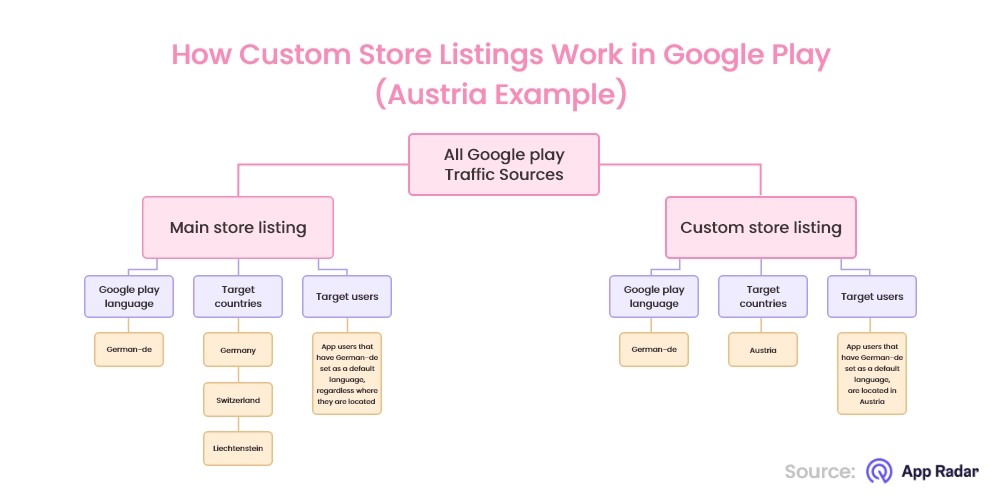 Up to 50 listings can be created, which is now 10x more than the 5-listing limit before. Recent updates have also led to better improvements in targeting the said segments, spearheaded by these two features in particular:
Deep Linking URL Targeting
Every listing you create will be assigned a link that you can then freely share with your target audience. You can place them on websites, emails, and pages. 
Integrating Custom Store Listings with a Google Ads Campaign
This allows you to direct users from your Google Ads campaigns to your store listings. You'll be able to navigate them to the most relevant landing pages to ensure better conversion. 
Why Developers and Publishers Should Use Custom Store Listings?
A custom store listing in Google Play Store goes beyond just the perks offered by the two features said above. Here are the other compelling advantages:
Craft messages that will resonate the most with your audience as you target specific user segments.

Use your listings to spotlight features you want your audience to notice more.

Create listings for any language or region your users use or are in. 

Showcase a feature that is relevant to your target users.

Conduct better A/B testing and tweak settings for optimal performance.

Raise your

mobile app ranking in Google Play Store

. 
Lower your costs, similar to how superior mobile app ad campaign management reduces CPI.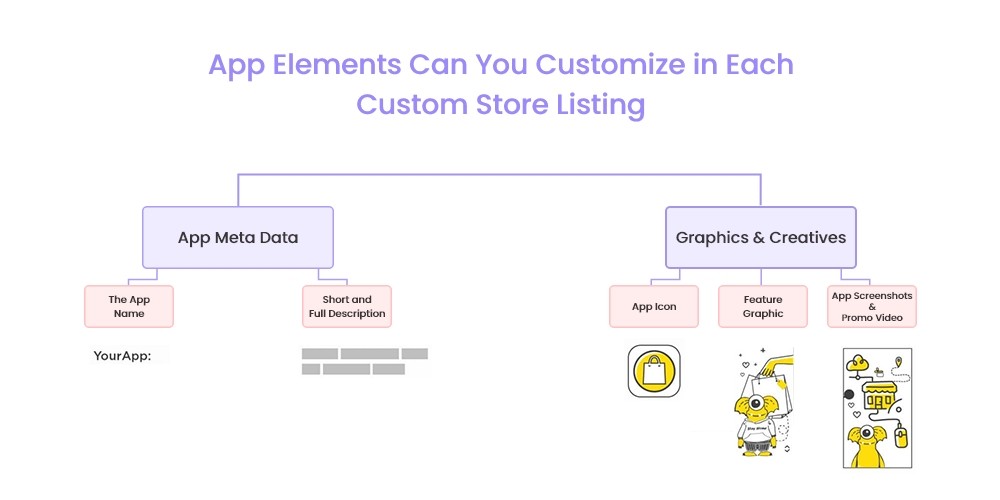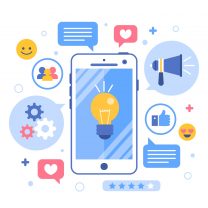 Start Customizing for Specific Target Audience
Boost up your ASO rankings & app conversions with custom store listing features. With our comprehensive strategic app marketing services, let's increase your mobile app's user base and revenue.
How to Maximize Your Efficiency and Results When Using Custom Store Listings?
1. Use listings to target several countries that share the same language/s (e.g. English-US, Spanish-US, English-CA) to send information or offer promos more efficiently and transparently. 
2. Weigh the impact of country-specific listings on your app marketing KPIs compared to using the app's localized main store listing. 
3. Take note that it's not allowed to have two custom store listings targeting the same country. If you want to show specific items to pre-registered users while differentiating messaging per country to non-pre-registered users simultaneously, create one custom store listing for pre-registered users worldwide with several translations, and other custom store listings for every country.
You can create one custom store listing that targets pre-registered users worldwide and include translations for different languages. This listing can feature the specific items or features that you want to showcase to pre-registered users, viewable only by them.
For non-pre-registered users, you can create additional custom store listings that target specific countries. These listings can include messaging that is tailored to the specific country and can feature different items or features exclusive only to them.
4. Keyword optimization for app store has always been a priority in any ASO campaign. This case is no different. Conducting targeted keyword research is crucial for every listing you make since, for one, you're likely targeting different languages with equally varying words and search interests. 
5. Experiment with your custom store listing using Google Play Experiments. You can run 5 experiments at the same time.
How to Create a Custom Store Listing in the Play Store?
Head over to the Google Play Developer then direct your attention to the 'Grow' section.

Click the 'Store presence' option. A list will pop out. Choose the 'Custom store listing'. 

From here on, what you need to do is pretty self-explanatory. You'll need to provide the basics in any app listing such as app icon, title, short and full description, videos, screenshots, and featured image.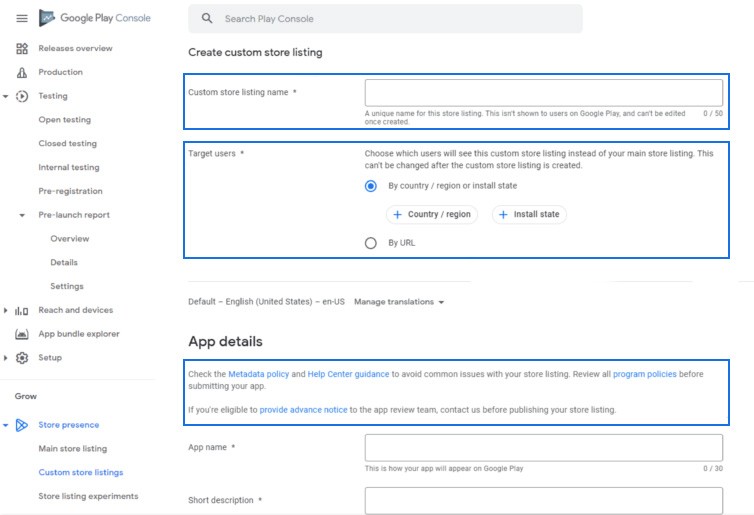 If you've listed apps before, we can't deny that it's quite similar overall to that process, right? Still, it's not hard to spot the differences, such as being able to provide a name for your listing and, of course, choosing the exact audience you want to target. 
Comparison of Custom Store Listings vs Custom Product Pages
Custom store listings tend to offer better advantages and the difference between it and App Store custom margins has a relatively big margin as proven by this table.  
| | | |
| --- | --- | --- |
| Fundamental Features | Google Play Custom Store Listing | App Store Custom Product Page |
| Customizable app elements | Title, short/long description, icon, screenshots, videos, featured image | Screenshots, videos, promo text |
| Page number limit | 50 | 35 |
| Can be integrated with paid channels?  | Yes, but limited to certain app publishers only through Google app campaigns | Yes, if used along with Facebook Ads and Apple Search Ads |
| Average length of time to review | No more than 1 hour | No more than 24 hours |
| Is country-specific targeting possible? | Yes | Yes |
| Will you be provided with a dedicated URL? | Yes | Yes |
| What kinds of traffic sources can be targeted? | Paid, organic, and referral | Paid only |
Conclusion
Whether you choose to include a custom store listing in your app marketing plan, we can't deny the efficiency and user targeting precision of this solution. By and large, it's something that you would expect to be an automatic part of an endeavour that plans to Optimize Google Play Store listings to the fullest (and better sales along with it).
With the help of a mobile app marketing agency, you'll certainly be able to make the most out of the flexibility and hyper-targeting potential of custom store listings in no time.