E-Commerce Mobile App For
Your business
Let your dream app become a reality with Dot Com Infoway. We are here as the top app development experts with an obsession to lay the roadmap to success for your business.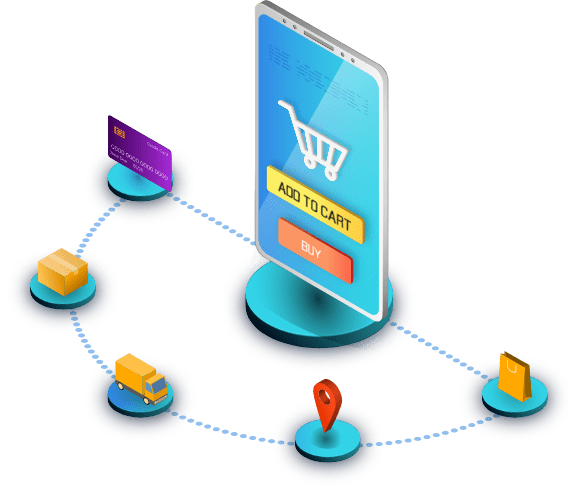 E-Commerce App Development
A study shows 9 out of 10 people feel more comfortable with using an app rather than browsing a website to buy things online. Indeed, it is a plus point for selling your stocks quickly. If your e-commerce site reaches to the users as a well-functioned mobile application, the chances of the product sales will increase rapidly.
We, Dot Com Infoway, a top-notch e-commerce mobile app development company have brought every possible functionalized and customized e-commerce mobile apps that make the purchases more accessible than ever. Catchy design, powerful control panel and smooth operating are our main mottos.
We frame up your dream with our day-and-night dedications by making a fast and sophisticated e-commerce app which helps you reach your products to the customers very first.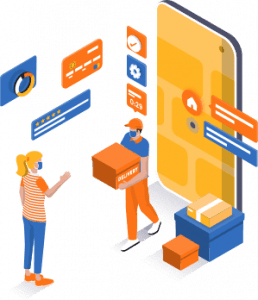 Core Features of Our E-commerce Mobile Application
Our ingenious app-developing team has brought you well-versed e-commerce apps. Every day, with every new project, they are endeavoring their year's knowledge and skills to create updated apps so that the customers get the optimal experience of an e-commerce multiverse app of the following core features-
Simplified & Advanced Product-Lookup
Users can find their necessary product very quickly with specific build up search options such as different filtering options, location-based searches, etc. Its intelligent product search engine shows other relevant items whenever a particular product is searched.
Uncomplicated Navigation & User Interface
Tidy and attracting user interface of the e-commerce app allows the user to surf the app comfortably while looking over the products.
Simplified Registration & Check Out
A user can open an account in your e-commerce store with a very simple and non-complex registration process. Besides, the detailing of product delivery option requires only a few but important information.
Multi-currency and Multilingual support
To make the e-commerce app in working order for people of different countries at the same time, we have incorporated a global system. A customer can personalize the app in his native language and pay in his currency.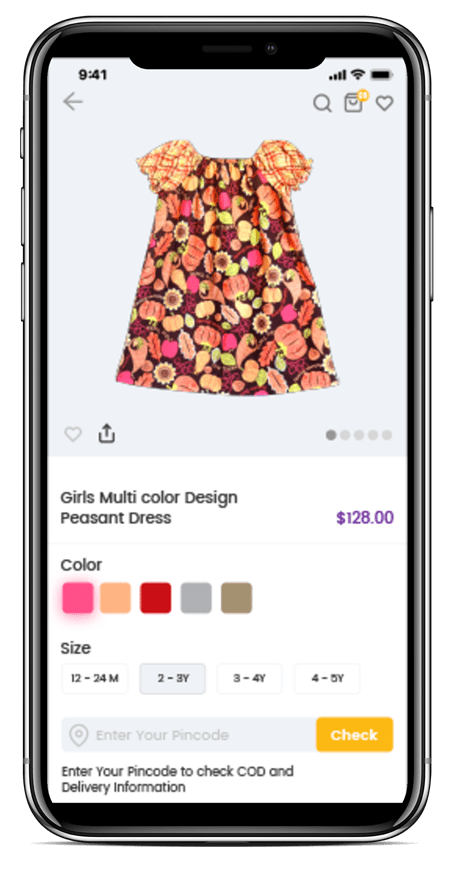 Easygoing Shopping Cart
Customers can save their chosen products by the shopping cart feature which help them in finding the products easily while purchasing them.
E-commerce Wallet
If a buyer of a product wants to pay in advance, the payment can be referred to the app wallet, which allows secure checkout for the customer.
Quick Like & Rating Function
After purchasing the product, your customer can also leave a feedback and rate your product with couples of taps. Also share their shopping experience with your site in their social media platforms.
Trouble-free Flexible Payment
This integration helps the users in paying their bills by versatile payment methods. Bankcard or cash card linking up option makes the payment fast. Cash on delivery, Advanced booking system can also be integrated.
Real-Time Order Monitoring
The user can track down the progress of their ordered product regarding delay reasons and so on.
Key Benefits of Having an E-commerce Application
Faster and easy product browsing than a website.
Easy to interact.
Reaching to the customers easily.
A fuss-free service for the customers.
Quick and verified payment option.
Boosting up the sales through online promotions.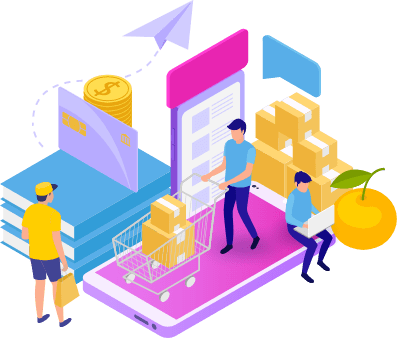 Ecommerce Mobile Application for all Stores
Launch your online furniture store with our e-commerce app where all your furniture can be showcased together.
Our well-defined e-commerce app promotes your grocery business to a different level.
Show your stocks and near future electronic equipment available in your stores via a quality mobile app to enhance your business area.
Bring your multiple drug and health care stores together to the customers by only one e-commerce app.
Start your online product selling business by an impelling e-commerce app where you can sell different products of diverse categories and types.
Being created by the creators of 60+ e-commerce mobile apps, our apps handle every kind of business formation and situation. So, try for your business, too!
---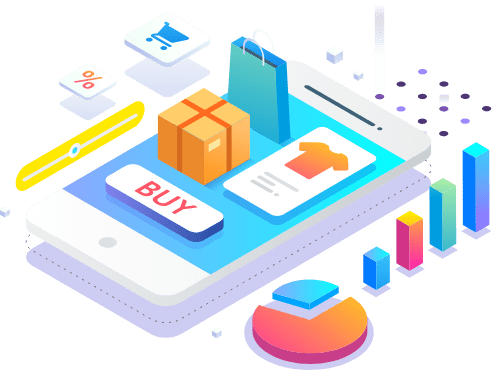 Success Factor for an Ecommerce
Business
Customer and visitor acquisiton
Online marketing effectiveness
Site usability and stickness
Product Demand and popularity
Customer related success factor
Conversions and sales
Backend process efficiencies
The process we follow to develop a E-commerce App

Studying Your Requirements

In the beginning, we review and analyze our client's requirements. Measuring the business area and considering your needs, we help you to get the perfect e-commerce app for your company.

Building Up a Wireframe
Next, we sum up all and create a draft for each page and panel by our expert team and show that to our customers for their recommendation.

Designing and Developing
Afterward, our UI designers give the approved draft a frame to figure, and our coding engineers imparts the app so that it can run with all Android and iOS platforms.

Testing
 Any bugs or malfunction if founded are removed as well as increasing the performance rate, and other qualifying factors are also considered.

Launching
After a full test, we take the final approve from the clients and launch the product in different app stores.

Deployment
Once the quality standards and security requirements of App Store and Playstore is met, we will publish the app to live.
---
The customers who chose us
Our clients are our biggest assets in this journey of providing unique app solutions.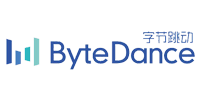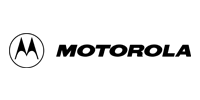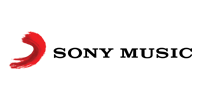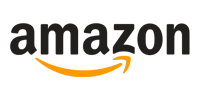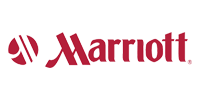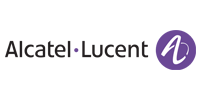 ---
Experience You Can Trust
I'm so proud of this program and what we've built as a team, it really is going to set the bar on what's available for hunters globally. It's easy to use, fast, pretty much as flawless as a program gets and it also looks really nice. It looks really great – I cannot tell you or express to you how pleased I am with the application! GREAT JOB!!!
Kudos to Dot Com Infoway for delivering Galatta Cinema on iPhone! Their high-end programming is so effective that GC on iPhone eBook reader reads just like the hard copy – you can flip through pages as swiftly as you would flip the magazine. Also, the high-res images download faster and retain the flashy look. Indeed, I love every bit of GC on the iPhone. Thanks, DCI!
Key stakeholders are pleased with the platforms ease-of-use and data-centric insights. Dot Com Infoway provides consistent communication and prompt responses, which ensures they deliver on schedule. Their diverse skill set and generosity with aftersale resources set them apart in the industry. They have members in all different areas and are able to find solutions to whatever we need.
They were able to deliver whatever technologies the website required. The development of the website and application is progressing well, with the team taking on board changes in the scope professionally. They offer excellent value, deliver according to expectations, and are dedicated to ensuring the product is developed properly.
Dot Com Infoway provides great support and is available to come on-site whenever we call. Parents appreciate the simple communication the app facilitates. Dot Com Infoway provides tailored service, offering custom development and support molded to their clients' needs. They're always available and willing to go on-site to resolve issues.
Explore Our Other App Solutions
Check Out Our Blog Posts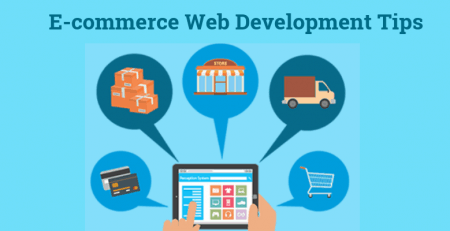 In today's business world, everyone is shifting toward e-commerce....
Book a Quick Consultation
Share your details and we will get back to you as soon as possible to schedule a meeting.