How Mobile App Is the Best Solution to Increase ROI for a Restaurant Business
Raja
Every business strives to ensure there is a sufficient and effective investment of its resources in order to generate high returns on investment. As a result, companies are looking for ways that will help them to invest wisely and reap great benefits.

But do you know what could be the solution to improving ROI for your restaurant business?
A Restaurant Mobile App
Yes, you got me right! Investing in a good restaurant mobile app is a great marketing strategy that can get you many customers and help you retain them.
Building a restaurant mobile app will help you increase ROI in many ways.
Discussed below are 10 ways on how a mobile app is the best solution to increase ROI for a restaurant business.
1. Localized Deals
A restaurant app can help attract people who are around your locality by sending them push notifications. These notifications could be about the discount offers or special meals that are available. The idea behind these notifications is to help customers with their decision making and lure them to your restaurant when they are hungry.
Apple's Beacon technology is one example that assists restaurant owners in attracting customers who are walking near their businesses. This device has a UPS to detect the location of app users and send them relevant notifications.
In case you have more than one branch, the device detects the location of the user and sends them information based on the restaurant that lies within a radius of 50 meters. This way, hungry app users can easily find your restaurant even when they visit new places.
2. Loyalty Programs
Customers love loyalty programs. And it's known to be one of the most effective strategies to help your restaurant business increase ROI.
For instance, Starbucks has an app that allows customers to earn stars' by paying through the app. To most customers, these programs feel interesting as they contribute to a free item after some purchases. Also, Starbucks offers double stars on special days that can be redeemed for free beverages.
Including loyalty programs in your mobile app development can help increase business during the special events. Research has also shown that loyalty programs can increase ROI to 780% on special occasions. On 2015 for example, Pizza Ranch ran a loyalty program during Black Friday that resulted to 780% ROI.
Mobile-based loyalty programs provide customers with a personalized experience, and they, therefore, entice more people to participate. They also do not require registration and loyalty cards for customers to redeem.
3. Increased Customers by Targeting Millennial
Millennial make a big part of restaurant customers. According to a study done by DMI Research on 2500 diners, 63% of these diners reported they had a restaurant mobile app on their phones, 73% had used these apps for quick serves while 35% said they use these apps before visiting the restaurants. So building an mobile app for your business can be a great avenue to leverage on the high number of millennial.
Besides, restaurant app development increases ROI by improving the dining experience for millennial. The app streamlines your business by making it accessible, as well as ensuring ordering and payments can be done easily.
4. Click to Call Button
Customers may need to gather information about your restaurant before they can make a purchase. This may include making a call to ask about the menu, directions to your business or even making reservations.
Adding a click to call feature during your restaurant app development will make it more convenient for your customers to contact you The customers will not have to take a lot of time searching for your contact information on Google before they can contact you This increases the number of people who contact you and make purchases, thereby increasing ROI for your business.
5. Social Media Sharing
A restaurant app usually has a social share feature that allows customers to share their positive experiences This is especially when you offer services like ordering, reservations or even making payments through the application.
Social share sends a good message about your services which boosts your brand name. This in turns grows your sales hence an increase in ROI.
---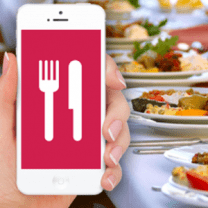 How Much Does It Cost to Build Your Own New Food Delivery App?
This guide lets you gain a better insight on cost and all stages of software development lifecycle to build the best food delivery app.
---
6. Improved Service Delivery
A restaurant mobile app can help improve services in your restaurant business. For instance, making orders online before arriving at the restaurant can help customers to save time and reduce congestion at your place of work. A customer can also be able to book their seats in advance to avoid arriving at a fully packed restaurant. This improves efficiency, and it leaves your customers feeling satisfied which leads to an improved ROI.
7. High Number of Referrals
In addition to rewarding your loyal customers for transacting through your app, you can have them refer your business in exchange for points. This can be done by sending SMS, via word of mouth or even by referring friends through social platforms.
If your mobile restaurant app has a great user interface and provides excellent user experience, chances are more users will be willing to take part in the referral program. Consequently, you will get more customers and maintain the existing ones.
8. Attractive Visuals
Having artful representation of foods available at your restaurants on your app will entice more customers to taste the delicacies. Additionally, more people will refer your business to their friends through word of mouth. So if you want an increase in the number of customers, ensure you include authentic photos of the delicacies you serve during your restaurant app development.
9. Streamlines Order Fulfillment
Physical ordering through phone calls can be hectic. It may even require an attendant who will serve one person at a time. Other customers may be required to wait until the first person has been served before they can make their orders. This can lead to dissatisfied customers who may end up canceling their orders.
Mobile apps, on the other hand, can streamline order fulfillment. Users can make their orders through the app with the guide of instructions. This, therefore, eliminates the need to have an attendant which helps in cutting cost for your business. In-app ordering and payments, it ensures all the details of the customers are captured correctly This makes the orders to be delivered on time and orders paid as required.
10. Better ROI During Special Occasions
Majority of people go out to dine with their loved ones mostly during special events. This could be on weekends or during holidays. You can set out discounts coupons or even cook special meals during these days and send out push notifications to your customers. Such special offers will attract more customers and increase ROI.
Conclusion
Almost every consumer today is using a mobile device. According to a comScore report, global app revenue has grown from $53 billion in 2014 to about $77 billion in 2017. Every business, therefore, needs an app to benefit from this high revenue. Besides the increase in ROI, there are many more benefits that you will reap from developing a good restaurant app as discussed above.