Infographic: Future of Mobile App Development 2018
Raja
As we settle in the new year and look forward to the next twelve months with excitement, one can't help but wonder, 'what the new year will bring for us?
Especially, in the field of technology, we often wonder, "What new gadgets and apps would surface on the market and what conveniences would they bring?"
Well, this year is certainly going to be significant with respect to a lot of forward-looking technologies and products. And at the core of all these technological advancements would be mobile apps as they are the key to unlock the treasure trove to fascinating possibilities.
Dot Com Infoway , an award-winning mobile app marketing company, has recently launched an infographic revealing the hottest trends in mobile app development for the year 2018.
The fun and engaging infographic has presented hard facts in an easy-to-understand manner. The infographic asserts the anticipated rise of AI and Virtual reality in driving the gadgets of tomorrow.
The most interesting aspect of the infographic is the use of examples (with stats) to illustrate a point or a forecast.
Designed to spread awareness amongst the mobile developers, DCI, has carefully crafted the infographic using information from credible sources such as Global Industry Analysts, Inc., SlideShare, newgenapps and Juniper Research.

---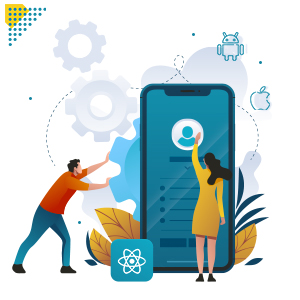 Build Your Mobile App with the Latest Technology!
We are a leading mobile app development company that creates scalable and interactive mobile applications. Our creations can amplify the level of user experience to meet any specific business requirement.
---
Future of Mobile App Development 2018
Mobile App Stats 2017
Time Spent on Digital Media:
57% – Mobile Apps
34% -Desktop
9% – Mobile Web
2/3rd of time spent on mobile apps – Entertainment & communication focused
Average user spends 2.3 hrs/day on apps
6.6 million mobile apps present in mobile App Store
The number of downloads is 197 billion
App Development Trends 2018:
1. Artificial Intelligence:
Google CEO Sundar Pichai has said that the company is undergoing
"An important shift from a mobile-first world to an AI-first world."
Gartner also estimates that 6 billion connected "things" such as connected appliances, cars, wearables and smart devices will be needing support from Artificial Intelligence platforms by 2018.
Gartner anticipates 200 of the world's largest companies will develop intelligent apps within the next year.
The $300-350 million spending for AI in 2015 is projected to be $30 billion by 2025 – Forbes
According to a new report (from IDC), the AI market will experience a revenue growth of more than $47 billion in 2020.
2. Internet of Things (IoT):
Global spending on the IoT across markets will reach $1.29 trillion by 2020
Smart home investments by consumers will more than double over the forecast period, reaching more than $63 billion by 2020
Number of connected devices is expected to rise approximately 23.14 billion in 2018 and 31 billion by 2020
Popular IoT Integrated mobile apps:

Bluesmart App – To track the location of the suitcases using GPS & 3G cellular technology for free
U By Moen – To personalize and control their shower from their smart phone
Ring Video Doorbell – Open your door from anywhere
3. Augmented Reality
Total number of mobile apps with built-in AR capabilities will cross:

1580 million in 2018
4670 million in 2022

The global market for mobile Augmented reality apps is projected to reach US$3.9 billion by 2020.
By 2025, the worldwide user base of AR and VR games is expected to grow to 216 million users.
Brands using Augmented Reality:

Ikea
Domino's Pizza
Starbucks
Walmart
Cadbury
Volvo

Augmented Reality Games:
Pokemon Go:
Total Downloads – 650 Million
Daily Active Users Globally – 5 Million
Estimated amount of revenue generated – $1 Billion
Real Strike:
World's first ever Augmented Reality First-Person-Shooting app
Ranked 1st in the U.S. and China during the limited free offering
Best ranked top 50 in the U.S. and top 10 in Japan and Germany
4. Chat Bots:
As per Gartner's top strategic predictions for 2018 report, more than 50% of enterprises will spend more on chatbots.
In 2018, we will see more brands adopting voice assistant bots and an estimated 30% of interactions in 2018 would be conversation-based.
Chatbot interaction is expected to increase from just 20% in 2017 to 93% in 2022.
Chatbot would save average of 4+ minutes compared with traditional call centers
Great examples of Native Chat Bot:

Duolingo: This learning app has gained 200 million users and raised $108.3 million in funding
The Luka app: An app that connects people and chatbots on one platform; the product scored $4.42 million in funding
Poncho: An app that sends funny personalized weather forecasts and alerts. It raised $2.4M in funding
5. Android Instant Apps:
Support with the latest version from 5.0 to 8.0.
Already been installed in more than 500 million devices
Helps users to view Android app content with deep linking without actually installing the app
Available on the "latest Android devices" in more than 40 countries, as of October 2017
Using Android instant app:

Vimeo: Average session duration increased by 130%
JET: Customer Conversion rate increased by 27%
One Football: Increases engagement by 55%
Related Articles:
Embed this Infographic on your site:
---