How Much Does it Cost to Develop a Marketplace App Like Amazon/Etsy?
Raja
These days online shopping is at its highest level, you might get it interesting to have your own marketplace on the web which can help you increase the ROI. Etsy, eBay, and Amazon are some big names which are big giants in the online shopping business. Definitely, their Marketplace app development increases cash flow and range of customers and which makes them the best and superior in the online marketplace.
According to a study, customers incline online marketplaces in order to find their desired items easily within the budget. It might be intriguing for you to know how to set up a marketplace like Amazon and Etsy.

With more than 600 million users active on the web, Etsy and Amazon are ruling the world. In this writing, we will describe "how much it costs to develop a marketplace app like Amazon or Etsy".
The cost to build marketplace app depends on the features and requirements you need in an app. Before going further it is important to know about e-commerce selling.
Marketplace and eCommerce app both are two different things. The eCommerce app is a type of single-seller online shopping store. On the other hand, the eCommerce marketplace is known for retailers or multi-vendors.
Also, the cost of eCommerce app development and marketplace apps like urbanclap both varies according to the functionality and features required by a client.
According to the 2017 eCommerce marketplace statistics, the business of online shopping was near about $2.3 trillion. And, because of rapid growth in the sales of this sector the market will hit $4.5 trillion till 2021 (based on a Statista report).
Types of Online Marketplace
eCommerce is all about selling, purchasing, and services offered by resellers and merchants
Buyer-oriented e-marketplace
Supplier-oriented e-marketplace
Vertical and Horizontal e-marketplaces
Independent e-marketplace
eCommerce Target Audience
B2B (Business to Business)
B2C (Business to Customer)
C2C (Customer to Customer)
Marketplace App Development- Features
Easy Registration Process
It sounds very easy to achieve, not every marketplace on demand mobile apps provides a hassle-free registration process to its users, and it is the main cause behind the increase in mobile app uninstall count.
So, to keep your visitors and turn them into potential customers it is very necessary to make the registration process as small as possible.
Social Media Integration
Social media is the biggest way of getting customers to eCommerce marketplace application.
It is not just about a one-tap login. You need to provide an easy entry into your application. The users should be facilitated to get into your application with a few taps via Twitter, Gmail or Facebook or any other social platform.
It is a matter of promoting your marketing process on social media platforms and allowing the customers to share their buy, reviews, discounts and referral coupons with their friends and others.
Multiple Payment Options
Customers have different mindset and way of making payments on the web. So, it is always beneficial to provide multiple payment options to your customers by using different payment gateways.
It may increase Amazon clone app cost but also help your customers to make their payments via debit card, credit card, Cash on delivery and PayPal etc.
Additional Features
Multilingual
Multi-currency Support
Subscription
Google Map Integration
Auto-tax Calculation
Predictive Search
Product Tracking
---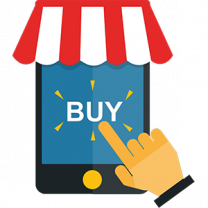 Want to Build a Marketplace App For Your Business?
Our marketplace mobile app development services help to improve your customer's engagement through highly interactive iOS & Android apps. We have a solution tailor-made for your unique needs to improve your business reach, efficiency & customer retention.
---
Let's check out the main features that a marketplace app must have to support the three main elements of an eCommerce store:
Key Features of the Market of Marketplace App for Users
Social & Sign-up Login
Product listing with features
Product detail page
Ratings & reviews
Favourites listing
Questions & Answers
User profile
Billing & shipping addresses
Delivery status
Add to cart
Checkout page
Order history & tracking
Key Features of the Market of Marketplace App for Sellers
Social and Sign-up Login
The product, order, returns, and inventory management
Reports & analysis
Offers & discounts
Settlement module
Feedback & seller support
Notifications
Ratings & reviews
Key Features of the Market of Marketplace App for Admin
User & admin user management
Product & seller management
Logistics & banner management
Offers & discount management
Payment & refunds management
Category management
Feedback & support
Reports & analysis
The Cost to Develop a Marketplace App like Amazon/Etsy
It is a typical task to calculate the exact on demand service app development cost because as said before it depends on the requirements.
The cost of the marketplace and other types of eCommerce application depends on the number of functional features and the time that is required to develop the application by a Marketplace Mobile App Builder.
Based on the functions we can calculate the cost according to three main factors – Wireframing, Designing, and Development.
Wireframe
In this process, a rough template or prototype model of the mobile app is developed to give the basic idea about the functioning of the app to the developers and the clients.
It may cost around $700-$1,100.
Design
Design of an app is responsible for getting the attention of customers towards your application. The GUI and flexibility that you present to your visitors make a big platform for its acceptance in the market.
For an eye-catching and intricate design, it would cost around $6,500 to $9,500.
Development
It is the final implementation of the ideas and design in developing an application with coding. Here developers add the type of Amazon app features you need in your on demand app solutions. The development cost of a marketplace application depends on two factors – the number of functional features and the resources required to be added in the development.
Considering both things the cost to develop a marketplace application is somewhere around $40,000 to $90,000.
Cost of developing a marketplace app like Amazon and Etsy also depends on the countries. Let's check out the cost according to countries.
Developers from Different Countries Have Different Hourly Rates:
In Eastern-Europe Based Company: $50-$150/hour
In U.S. Based Company: $80-$250/hour
India-based Company: $20-$80/hour
Wireframe: $700-$1,100
Department Wise Cost Structure:
Front-end & Back-end Development: $9,000-$12,000
QA & Testing: $4,000-$5,000
UX/UI Design: $2,000-$3,000
Also, it is not possible to run Amazon-like applications on a single platform. The best idea is to run this type of app run of different platforms like Windows, Android, iOS, and Web. You are required to use these platforms based on your budget.
Based on the requirement, if you need to develop a customized e-marketplace application, you need to spend more to get all the benefits.
The initial cost would come around $8,000 to $20,000. For a single platform the development cost would come near $25,000 to $50,000.
Related Articles: