Native App vs Cross-Platform App Development – Explore the Distinctions [Infographic]
Venkatesh C.R
What is the distinction between native and cross-platform mobile apps? How many native and cross-platform mobile apps are there? What are the various technologies used to build native and cross-platform mobile apps? What is the popularity of individual modes of developing mobile apps? These and many more native app vs cross-platform app insightful facts are covered in the infographic presented below.
Native apps are the apps that you build specifically to leverage the capabilities of Android or iOS. Both the operating systems have their ecosystems with their line-up of features that may not be present in the other OS. Hence, if you want to leverage the OS-based features of, let's say, iOS, you will have to build a native app for iOS.
The infographic lays down the pros and cons of both native and cross-platform mobile apps.
The primary stress of the infographic is that although there is a great demand for native apps, cross-platform apps certainly have their strong points.
With cross-platform mobile app development, you can cut costs by almost 30-40%. The time can be reduced to half, and 50–80% of the code can be reused by your developers.
For more such information, have a look at the infographic presented below.

---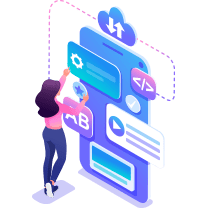 Searching for the Top Mobile App Development Agency?
No need to worry! Our expert mobile app development team helps to develop mobile apps with advanced features that accommodate your business requirements.
---
Native vs Cross-Platform App Development
Native Apps – Developed for a specific platform
Cross-platform Apps – Compatible with multiple platforms
Top Languages To Build Native & Cross-platform Applications
Native Apps: Android – Java or Kotlin iOS – Objective C and Swift
Cross-platform Apps: HTML, JavaScript and CSS
Most Popular Native & Cross-platform Applications
Native Apps: Pinterest, Spotify, WhatsApp, SoundCloud
Cross-platform Apps: Bloomberg, Skype, Instagram
App Download Stats that Highlight Why the Native & Cross-Platform Debate Continues
Cross-Platform
Zoom – 485 million downloads
Tik Tok -2.6 billion downloads
Instagram – 13 billion downloads
Native Apps
WhatsApp – 4.9 billion downloads
Facebook Messenger – 5.2 billion downloads
Snapchat – 281 million downloads
Percentage of Developers that Use Native and Cross-Platform
Native Application Developers
Objective C – 15%
Swift – 53%
Both – 31%
Cross-Platform Application Developers
| | | |
| --- | --- | --- |
| Pros & Cons | Native | Cross-Platform |
| Performance | High | Limited |
| Functionality | Broad | Limited |
| User Experience | High | Low |
| Device Capabilities | High | Limited |
| Cost | High | Low |
| CodeBase | Single Code Base | Multi-Code Base |
| Features | Less Dependent | Large Dependent |
| Development Time | High | Lower |
| Security | Highly secured | Secured |
| Customer Reach | Limited user base | Broad user base |
Suitable Development Choices for Native/Cross-platform Apps
Native apps
Graphics-intensive apps
Single-platform apps
Specific-device features apps
Cross-platform apps
Why Cross-platform Wins
Cross-platform development saves around 30%-40% compared to Native Apps.
It cuts 2X the time required to build an app, unlike native app development.
Cross-platform offers an opportunity for mobile app developers to reuse almost 50-80% of the code to develop apps.